3D-Printed Houses: What Do They Cost and Are They Actually Livable?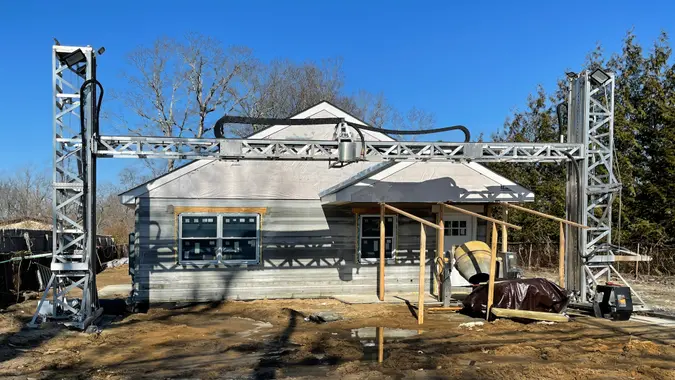 futurewalk / Getty Images
3D printing technology is now being used to build houses all over the world. While the practice hasn't replaced traditional construction, it's a trend that likely will continue to expand over the coming years.
Wealthy Millennials Aren't Banking on Stocks: Here's What They're Investing In Instead
Learn: 3 Things You Must Do When Your Savings Reach $50,000
Discover: 7 Florida Cities That Could Be Headed for a Housing Crisis
3D-printed homes are created using large concrete 3D printers, and they are typically more affordable than traditionally constructed homes — plus, they're also built in a sustainable fashion.
"3D homes will definitely have a large impact on the real estate industry because of two important reasons," said Theresa Raymond, broker and owner at TN Smoky Mtn Realty. "The first one is the increasing cost of construction. 3D homes are unimaginably cheaper to construct, and it's possible to build a complete house in 24 hours. This is a way to meet the massive demand for homes now.
"The second one is sustainability," she continued. "The world is running out of resources, and there should be a way to address it. 3D homes require very few materials."
Here's a look at the cost of 3D-printed homes and whether you should consider actually living in one.
How Much Do 3D-Printed Homes Cost?
Just as with traditionally constructed homes, 3D-printed homes are available at a variety of price points — though they are generally more affordable.
"Costs are determined by the location and kind of structure," said Rinal Patel, real estate agent and founder of Suburb Realtor. "With prices ranging from $10,000 to $400,000, these structures are designed to help improve the cost of housing by providing quality living areas for individuals at an affordable rate."
Dustin Fox, Realtor and owner of Fox Homes, said you should expect to pay $15,000 for a one-bedroom home — and the prices go up from there.
"Adding one more bedroom will [make the home] cost about $25,000 to $30,000," he said. "If you have a bigger family and are looking for a four-bedroom house, then [expect] about a $50,000 budget. Depending on how complex the design is, the price can touch as much as $500,000."
Should You Live in a 3D-Printed Home?
While you may be wary about living in a 3D-printed home, these structures are definitely livable.
"3D homes are durable enough to be lived in, especially as they are made from concrete," Patel said. "[A 3D-printed home] is sturdy enough to protect its occupants from major natural disasters."
However, these homes tend to be pretty basic and may not offer all of the amenities you would want in a full-time residence.
"A 3D home is an economical option to purchasing a regular house with many of the same features, such as insulation and airtightness, though they lack some of the amenities typical in more permanent options," said Martin Orefice, CEO of Rent To Own Labs, an online resource for finding rent-to-own homes.
If you prefer a home with more bells and whistles as your primary residence, you may still want to consider a 3D-printed home as a second home.
As Orefice said, "They can be used as vacation homes or temporary residences."
More From GOBankingRates