6 Ways To Get a Mortgage Even If You Think You Aren't Eligible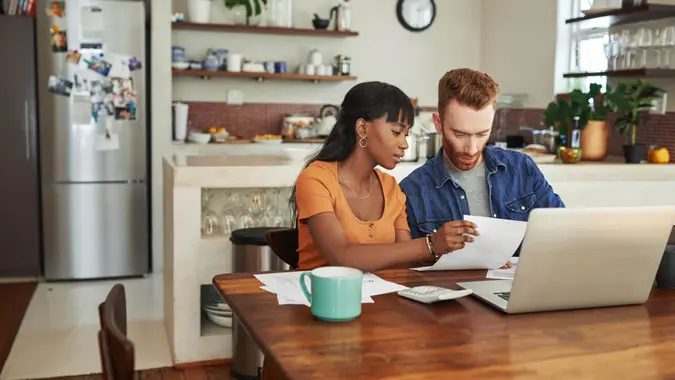 mapodile / Getty Images
Buying a home is an exciting and momentous milestone in many people's lives. But it's also an enormous investment upfront and a huge commitment over time. You may be uncertain about whether you are eligible for a mortgage due to concerns over income and credit history or your ability to come up with a down payment. But don't let doubts stop you from investigating. There are a lot of steps you can take to determine your eligibility, and improve it, if you aren't quite there yet.
Discover: 7 Things You Should Know Before Buying a House
Read: Common Real Estate Myths That You Need To Know
Pre-Qualify
The great thing about preparing to take on a mortgage is that you can go find out your eligibility before you ever have put any money down or sign any loan documents, in a process called pre-qualification. A lender runs your financial picture (your income, expenses, credit score) through their system to see how much of a mortgage loan you would be realistically able to afford and whether you're truly eligible for one. You can then take this pre-qualification letter to lenders to tell them that your financing is a go.
"Pre-qualification can help you understand how much home you may be able to afford as well as be taken more seriously by agents when putting in offers," said Brian Walsh, senior manager and CFP at SoFi.
Learn: What Homes Will Be Worth in Your State by the End of 2021
Assess (and Improve) Your Credit Score
"Before you leap into home loans, it's important to take a look at your credit score. Ideally you need a minimum of a 620 FICO score to qualify for a conventional mortgage," said Tyler Forte, co-founder and CEO of Felix Homes.
If your score is lower than you like, Andrina Valdes, COO of Cornerstone Home Lending Inc., said, "It's still a good idea to improve your credit. A healthier credit score could make you eligible for a lower mortgage interest rate, potentially lowering the amount you pay for your monthly mortgage." You can bring your credit score up by "lowering your DTI, or debt-to-income ration," Valdes added. "An ideal DTI should be below 36%."
This may mean paying off a credit card or making larger payments on an existing debt.
Full vs. Partial Payments: Which Is Best for Your Credit Score?
Seek a Lender Who Works With First-Time Buyers
If this is your first homebuying experience, you want to work with a lender who has experience with your situation specifically, because it is different and requires patience to guide you through the process.
"Ask a loan officer directly and read reviews to confirm that first-time buyers have had a good experience with a particular lender," Valdes said.
Consider an FHA, USDA or VA Loan
There are a number of kinds of loans that are geared more toward people who don't meet all the qualifications of conventional loans. You might qualify for an FHA loan, a home loan backed by the Federal Housing Administration, Forte said. "It is designed for borrowers that don't meet the standards of conventional lenders."
The downside is that an FHA loan can have monthly payments — because FHA loans require mortgage insurance regardless of the down payment amount, according to Nik Shah, CEO of Home.LLC.
Additionally, low-income families looking for housing in rural areas may be eligible for a USDA loan, administered by the U.S. Department of Agriculture. And veterans, service members and spouses of deceased service members should look into applying for a VA loan. "These are great if you have military service background and need help getting back on your feet and don't have a lot saved up for a down payment," Shah said.
See: The Cost To Own a 3-Bedroom Home in Every State
Seek Loans That Don't Require a 20% Down Payment
While many loans require you to put 20% down in order to get the home loan, other loans such as "conforming loans" (ones that fall under Fannie Mae and Freddie Mac guidelines) may allow as low as 5% down, according to Shah.
You may pay as little as 3.5% down with an FHA loan, and even less with a conventional loan — just 3%. That is, if you have a credit score of 620 or higher. However, nothing beats a VA loan, with which you can buy a house with no money down.
While a 20% down payment does often eliminate fees and reduce your monthly mortgage payments, it's not the only way to buy a house. There are also good reasons to hold onto your liquid capital, for such things as home improvement and having an emergency fund, Shah said.
Check Out: 10 Things To Do Now If You Have a 500 Credit Score
Seek a Co-Signer
If the problem with getting a mortgage comes down to a low credit score, or not enough income, but you know you're good for the payments into the future, consider getting a co-signer on the loan with you. The lender will consider the co-signer's income and credit history along with yours. You just want to make sure your co-signer has a strong employment history, a reliable income and an excellent credit history. And most importantly: that they're someone you trust.
More From GOBankingRates
Last updated: July 30, 2021