Are Pandemic-Era Zoom Towns Still Thriving?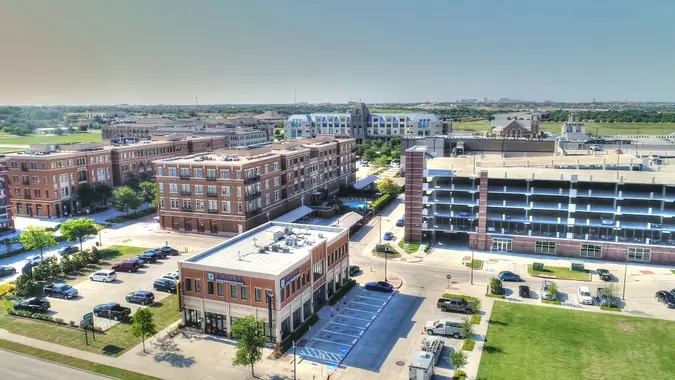 Andrew Fuller / Shutterstock.com
Zoom towns — named after the pandemic darling and symbol of that era — are cities that saw tremendous growth due to people moving there to work remotely during the pandemic. 
Also See: 8 Places in California Where Home Prices Have Plummeted
Check Out: 3 Things You Must Do When Your Savings Reach $50,000
While the remote work trend has continued, with inflation, a potential recession and a pricey housing market, are these Zoom towns still booming?
Zoom Towns Are Still Popular
"Zoom towns, despite the transition away from pandemic life, are continuing to be relevant because companies are still adopting remote work policies," said Pete Evering, business development manager at Utopia Management. "Workers are no longer tied to living near their workplaces and instead choose to move to areas that offer better living standards yet cheaper housing costs."  
Take Our Poll: Are You Planning To Buy or Sell a House This Year?
That sentiment is echoed by several experts who say the remote work trend is here to stay — and so are Zoom towns such as Centennial, Colorado, and Frisco, Texas. 
However, given the home price appreciation in those cities, one could imagine a softening to some degree in the near-term price level, said Jason Kopcak, CEO of Altisource Asset Management.
But, he added that "the horse is out of the gate with respect to remote work and technology enabling it to continue to improve."
"Therefore, we would not expect a hard reversal in those markets," he said. "They are still desirable for all the same reasons that made them popular two years ago, and many people from now on will continue to find a remote or hybrid workstyle attractive." 
What Could Impact Them?
A factor that might impact these towns is that domestic migration has slowed down since the beginning of the pandemic, which could lead to a normalization of home prices and rents in these areas. 
Moody's Analytics examined rent growth data from 2021 and 2022.
"Approximately 70% of metro growth rates were lower in 2022; and, interestingly, the largest negative differences were often found in many of those Zoom towns," said Thomas LaSalvia, Moody's Analytics' director of economic research.
He added that nearly all of the Florida metros and a good number of lower-cost Sun Belt and Mountain West metros — such as Albuquerque, New Mexico; Boise, Idaho; Savannah, Georgia; Carson City, Nevada; and Charleston, South Carolina — realized the largest declines.
LaSalvia noted, however, that this was a decline in growth, not rent declines, which tend to be sticky, and it would take a significant shift in migration patterns or a labor market crash to cause widespread declines. 
"Winners and losers of the pandemic-era shakeup will be determined by a combination of whether or not the metro reached a critical mass," he said, "and if there is an ability and willingness of the local market to provide quality and cost-effective housing."
LaSalvia said cities that might fit the description include Asheville, North Carolina; Boulder, Colorado; and Boise. Others combine a critical mass and long-run affordability to prompt further growth; metros in Texas, Tennessee, Oklahoma and even some of the older Rust Belt metros fit that bill.
"Again, this doesn't necessarily mean the other metros not listed are destined for very hard times," LaSalvia said, "but the positive shock is over and the long-run outcome will be based again on more traditional economic fundamentals of wages, job opportunity, amenities and affordability." 
How Are Other Zoom Towns Faring? 
According to experts, Raleigh, North Carolina, is an example of a metro area that continues to be an attractive Zoom town for several factors, including its weather and lower state income taxes. 
The area continues to see an increase in migration from gateway cities such as New York, Chicago and Boston because of its booming life science market and economic development projects, said Jordan Kavana, CEO of ARK Homes for Rent. 
Kavana added that Charlotte and adjacent North Carolina communities continue to perform well because of the tremendous economic opportunities in the region.  
"Today, Charlotte has been ranked the best city to run an online business and start a business in," Kavana said. "These two factors have significantly helped it have an influx of renters, making it another Zoom town." 
In nearby South Carolina, the Myrtle Beach corridor also has seen a tremendous amount of growth of renters, making it a very popular Zoom town and spurring major development projects inland, according to Kavana. Greenville is another area of South Carolina that has seen significant rental demand, he said, partly due to Mercedes-Benz establishing a presence there. 
Where Are the New Zoom Towns? 
While it has been a bit of a roller-coaster since the pandemic highs for established Zoom towns such as Denver, Phoenix and Austin, Texas, it's unlikely that a recession will tear them down, according to some experts. 
"The reality is we're missing 5 million homes in the U.S., so at the end of the day in all these cities there is still going to be demand," said Kurt Carlton, president and co-founder of New Western, a real estate investment marketplace.
While these towns might not see the same rapid growth they experienced during the early days of the pandemic, they are still growing. 
"Phoenix is still attractive to our investors," Carlton said. "What we're seeing is that the pace of investor buying is up 54% in Phoenix from Q4 2022 to Q1 2023. We expect investors to continue buying in Phoenix through the first quarter of this year."
A metro that might not be on everyone's radar is Denton, Texas, he added. 
"We're projecting investor buys to increase by 15% from Q4 2022 to Q1 2023," Carlton said, "and that makes Denton a Zoom town up-and-comer." 
More From GOBankingRates