The Highest-Paying Remote Jobs With No Experience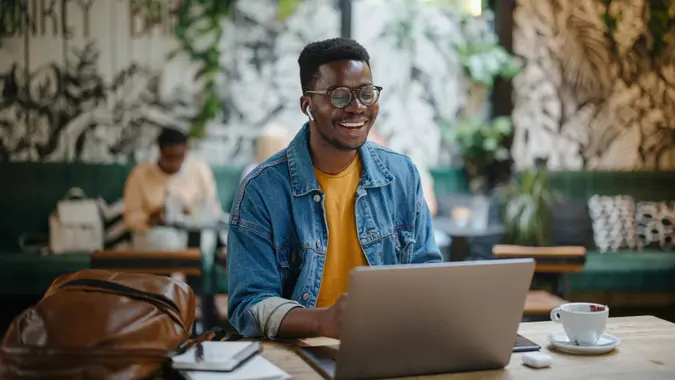 Anchiy / Getty Images
The pandemic completely shifted the way that we view remote employment. Last year, nearly 60% of workers who could do the majority of their job from home said they were working from home all or almost all of the time. 
See: 3 Ways to Recession Proof Your Retirement
As the world moves towards a more digitalized way of working, the number of remote jobs is rising — even jobs that don't require any previous remote experience. Note that these jobs do require job experience — you'll still need the skills to do the job. The question is: What is the highest-paying remote job with no experience?
Top 7 Highest-Paying Jobs for People With No Remote Experience
Here are seven of the highest-paying jobs that don't require prior remote working experience. 
1. Data Scientist
Data scientists analyze large sets of data to identify trends and solve problems. Remote workers are in high demand and can earn an average salary of $132,000 per year. An experienced data scientist may make up to $212,000.
Make Your Money Work Better for You
2. Software Engineer
Software engineers design, develop and maintain software applications. This a key role in any technology company. They can earn an average base salary of $114,000 per year and over $182,000 at higher levels.
3. Web Developer
Web developers design and build websites for businesses and individuals. There's no shortage of these roles, which pay an average salary of $79,000 annually. For more experienced developers, salaries can go up to $128,000 or more.
4. Project Manager
Project managers plan, organize and manage projects. This includes directing the use of money and other resources, as well as leading other employees on the project. Remote project managers can earn an average salary of $84,000 per year and up to $131,000 or more.
5. Cyber Security Analyst
Cyber security analysts are more important than ever as most of the economy relies on web-based services. Average salaries for this role are around $107,000 annually. On the higher end, cyber security analysts can make over $209,000.
6. Content Strategist
Content strategists create and manage websites, blogs and social media content. They tend to earn an average salary of $70,000 per year. However, with more experience, this number can exceed $113,000.
7. UX Designer
User Experience design and content is a hot field right now, with plenty of jobs available at software companies. UX designers tend to have starting salaries of around $68,000 and can earn over $153,000 with a few years of experience.
Make Your Money Work Better for You
Can You Really Land a Job With No Remote Experience?
It's absolutely possible to get a remote job even if you've never worked from home before. It's important to remember that employers are looking for the skills and qualifications you can bring to the table, not necessarily your office experience. So don't let this stop you from applying for a job.
While higher-paying remote positions will likely require working experience of some kind, you can adjust to the remote aspect by working closely with your team and getting accustomed to virtual office tools.
The Benefits of Working Remotely
One of the benefits of remote employment is that it can save you money on day-to-day expenses. This can have a significant impact on your overall financial situation. Here's a short list of some of the things you can save money on:
Transportation costs
Dining out
Office clothes
Caregiver expenses
Where To Find High-Paying Jobs That Don't Require Remote Experience
There are many online job boards that are geared toward remote employment. To find high-paying gigs, you'll have to sort through the ads and find the ones that match your expectations and skills. 
Make Your Money Work Better for You
Here's a list of the most popular platforms:
Final Take
When landing a high-paying job with no remote experience, the key is to focus on the skills and qualifications employers are looking for. Just like a traditional office-based position, remote jobs require a high level of professionalism and dedication. But at the same time, they offer greater flexibility and the opportunity to save on costs like transportation and food.
So, if you don't have any remote working experience, don't worry. Browse one of the many job boards geared towards remote work, or share your resume with virtual recruiters. There's never been a better time to make the shift to remote work.
Our in-house research team and on-site financial experts work together to create content that's accurate, impartial, and up to date. We fact-check every single statistic, quote and fact using trusted primary resources to make sure the information we provide is correct. You can learn more about GOBankingRates' processes and standards in our editorial policy.
Make Your Money Work Better for You