Remote Work: Watch These Companies for Jobs in 2023 Says Flexjobs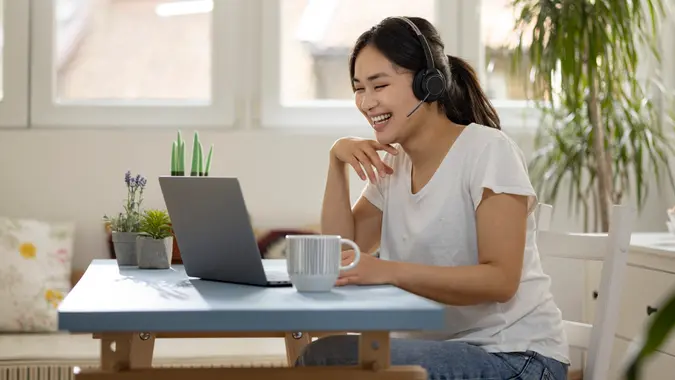 Ivan Pantic / Getty Images
Working remotely — a trend that started during the pandemic — is growing and here to stay. So much so that FlexJobs saw an eye-popping 20% increase in the number of remote job listings in 2022 over 2021.
Social Security: No Matter Your Age, Do Not Claim Benefits Until You Reach This Milestone
Find: With a Recession Looming, Make These 3 Retirement Moves To Stay On Track
Discover: 5 (Really Good) Reasons You Should Quit Your Job Now Despite Economic Uncertainty
Now, FlexJobs published a Top 100 list of remote jobs in 2023, which span several industries, including biotech, business services, education, finance, healthcare, insurance, retail, software development, staffing and recruiting and travel.
These companies are the ones that posted the most remote jobs — which Flexjobs describes as a professional-level job that allows employees to work from home either entirely or part of the time, in a hybrid environment — from Jan. 1, 2022, to Dec. 31, 2022.
"With the growing interest in remote work among today's professionals, we couldn't be more excited to share the Top 100 Companies to Watch for Remote Jobs in 2023," said Toni Frana, Career Services Manager at FlexJobs.
Make Your Money Work Better for You
Take Our Poll: If Elon Musk Offered You a Job Paying You More Than You Make Today, Would You Work for Him?
"Especially given current economic uncertainty, we're honored to highlight this year's list of 100 companies creating a more flexible future of work, and help workers identify and connect to the many remote career opportunities available."
Here are the top 20:
Liveops
Working Solutions
TTEC
CVS Health
Kelly
Williams-Sonoma
Sutherland
Robert Half International
TranscribeMe
Transcom
BCD Travel
UnitedHealth Group
BELAY
Cactus Communications
Kforce
LHH – Lee Hecht Harrison
Activus Connect
AnywhereWorks
Randstad
Thermo Fisher Scientific
More From GOBankingRates
Make Your Money Work Better for You