If You Want To Work Remotely, Don't Apply for Jobs at These 7 Companies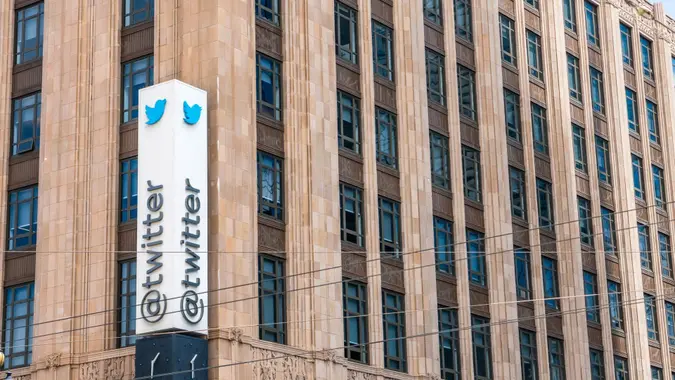 Sundry Photography / Getty Images
The pandemic has changed so much about the way Americans live today, and that includes the way we work.
Between April and December 2020, about 50% of paid work hours came for duties performed from home, compared with 5% pre-pandemic, according to the U.S. Bureau of Labor Statistics. And the ability to telework saved jobs in the early days of the health crisis. In fact, employment fell just 8% among employees who could do their jobs from home, but 21% for those who couldn't, the BLS said.
Now, nearly three years after the World Health Organization declared the coronavirus a pandemic, working from home has become permanent for some people. The number of people who telework tripled from 5.7% (about 9 million people) to 17.9% (27.6 million), according to the 2021 American Community Survey, released last September.
"Work and commuting are central to American life, so the widespread adoption of working from home is a defining feature of the COVID-19 pandemic," said Michael Burrows, statistician in the Census Bureau's Journey-to-Work and Migration Statistics Branch. "With the number of people who primarily work from home tripling over just a two-year period, the pandemic has very strongly impacted the commuting landscape in the United States."
But what if working from home has really worked for you — both professionally and personally — but your company now wants you back at the office? Or, what if you're beginning a job search and don't want the hassles and costs of commuting?
Well, then there are some companies you will definitely want to cross off your job search list. Here are several to avoid if working remotely is at the top of the list of benefits you seek, along with a few that might be better suited for you.
Make Your Money Work Better for You
DON'T APPLY: Goldman Sachs, JPMorgan Chase
As early as May 2021, financial giant Goldman Sachs began the transition to bring employees back to the office when corporate leaders sent a memo to employees in the U.S. and Great Britain, letting them know they had less than two months until they were required to report back to the workplace, The New York Times reported.
"We are focused on progressing on our journey to gradually bring our people back together again, where it is safe to do so," said the memo, which the Times said was signed by David M. Solomon, the firm's chief executive, and two top executives.
That same month, the CEO of another financial firm, JPMorgan told The Wall Street Journal that the time had come for his staff to return to the office.
"We want people back at work, and my view is that sometime in September, October it will look just like it did before," CEO Jamie Dimon said. "And yes, the commute, you know, yes, people don't like commuting, but so what?"
DON'T APPLY: Twitter
In May 2020, former Twitter CEO Jack Dorsey told employees they could work at home "forever" if their duties with the company could be done offsite. However, new CEO and owner Elon Musk changed all of that with one companywide email in November 2022. CNBC obtained the email, a portion of which read:
"The road ahead is arduous and will require intense work to succeed. We are also changing Twitter policy such that remote work is no longer allowed unless you have a specific exception. Managers will send the exception lists to me for review and approval," Musk wrote.
Make Your Money Work Better for You
"Starting tomorrow, everyone is required to be in the office for a minimum of 40 hours per week. Obviously, if you are physically unable to travel to an office or have a critical personal obligation, then your absence is understandable."
DON'T APPLY: SpaceX, Tesla
Twitter employees should have anticipated Musk's tough stance. It's the same one he took at his other big-name holdings, SpaceX and Tesla, in emails sent May 30, 2022, The New York Times reported.
The newspaper obtained the email sent to SpaceX staff and reported Musk told employees that if they didn't spend "a minimum of 40 hours" a week in the office, they'd be fired.
"The more senior you are, the more visible must be your presence," Musk said. "That is why I spent so much time in the factory — so that those on the line could see me working alongside them. If I had not done that, SpaceX would long ago have gone bankrupt."
DON'T APPLY: The Walt Disney Co.
Bob Iger returned to the role as Disney CEO in November 2022 and almost immediately quashed the flexibility hybrid employees at corporate offices had enjoyed. In a January email, obtained by CNBC, Iger told those workers that they were required to return to the office four days each week.
"As I've been meeting with teams throughout the company over the past few months, I've been reminded of the tremendous value in being together with the people you work with," Iger wrote. "As you've heard me say many times, creativity is the heart and soul of who we are and what we do at Disney. And in a creative business like ours, nothing can replace the ability to connect, observe, and create with peers that comes from being physically together, nor the opportunity to grow professionally by learning from leaders and mentors."
Make Your Money Work Better for You
DON'T APPLY: Starbucks
In January, CEO Howard Schultz ordered corporate employees to return to work three days a week, though he would have preferred five, Insider reported. Last June, he expressed the hesitancy employees had to work back in the office.
"I have been unsuccessful, despite everything I've tried to do, to get our people back to work," Schultz said, per Insider. "I've pleaded with them. I said I'll get on my knees. I'll do push-ups. Whatever you want. Come back."
DO APPLY: Robert Half International
Robert Half helps connect prospective employees and employers. For its own staff, the company offers three work options: remote, hybrid and in-office.
"People first," Lynne Smith, senior vice president of global human resources, told the company. "Everything we do here comes down to considering our people, their resources, their needs, opportunities, fair treatment, satisfaction and more. When it came to putting concrete guidelines around our work approach in a post-pandemic world, we knew our people and their success had to be at the center of our philosophy."
DO APPLY: Airbnb
In April 2022, Airbnb announced employees could live anywhere and had the choice of working from home or at an Airbnb office.
"I think that the office as we know it, is over," CEO Brian Chesky told Time in an interview last May. "It's kind of like an anachronistic form. It's from a pre-digital age. If the office didn't exist, I like to ask, would we invent it? And if we invented it, what would it be invented for? Obviously, people are going to still go to hospitals and work, people are going to still go to coffee shops and work — those spaces make complete sense. But I think that for somebody whose job is on a laptop, the question is, well, what is an office meant to do?"
Make Your Money Work Better for You
DO APPLY: 3M
3M, which manufactures items from Scotch tape to personal protective equipment, introduced Work Your Way in late 2021. The program "lets employees create a schedule that helps them work when and where they can most effectively," according to the company website.
"We are aiming to deliver both a superlative employee experience and business performance," said Aman Gupta, vice president of enterprise workplace strategy. "It is about getting your work done and delivering results. Not about where you sit and what time you logged on."
DO APPLY: UnitedHealth Group
UnitedHealth Group is the parent company of Optum and UnitedHealthcare, and both businesses offer a variety of remote jobs, from health coordinator and infrastructure engineering to financial analyst available in regions across the country. A recent search of remote job openings on the company website showed more than 1,400 positions.
DO APPLY: Liveops
FlexJobs gave Liveops the No. 1 spot in its 10th annual Top 100 Companies to Watch for Remote Jobs this year. Liveops is a virtual call center that offers "on-demand virtual agents for enterprise sales and customer service needs." It offers fully remote, hybrid and freelance jobs, and the company provides "unparalleled flexibility and work-life balance," FlexJobs said.
More From GOBankingRates