The Best Suburbs for Your Wallet — and Peace of Mind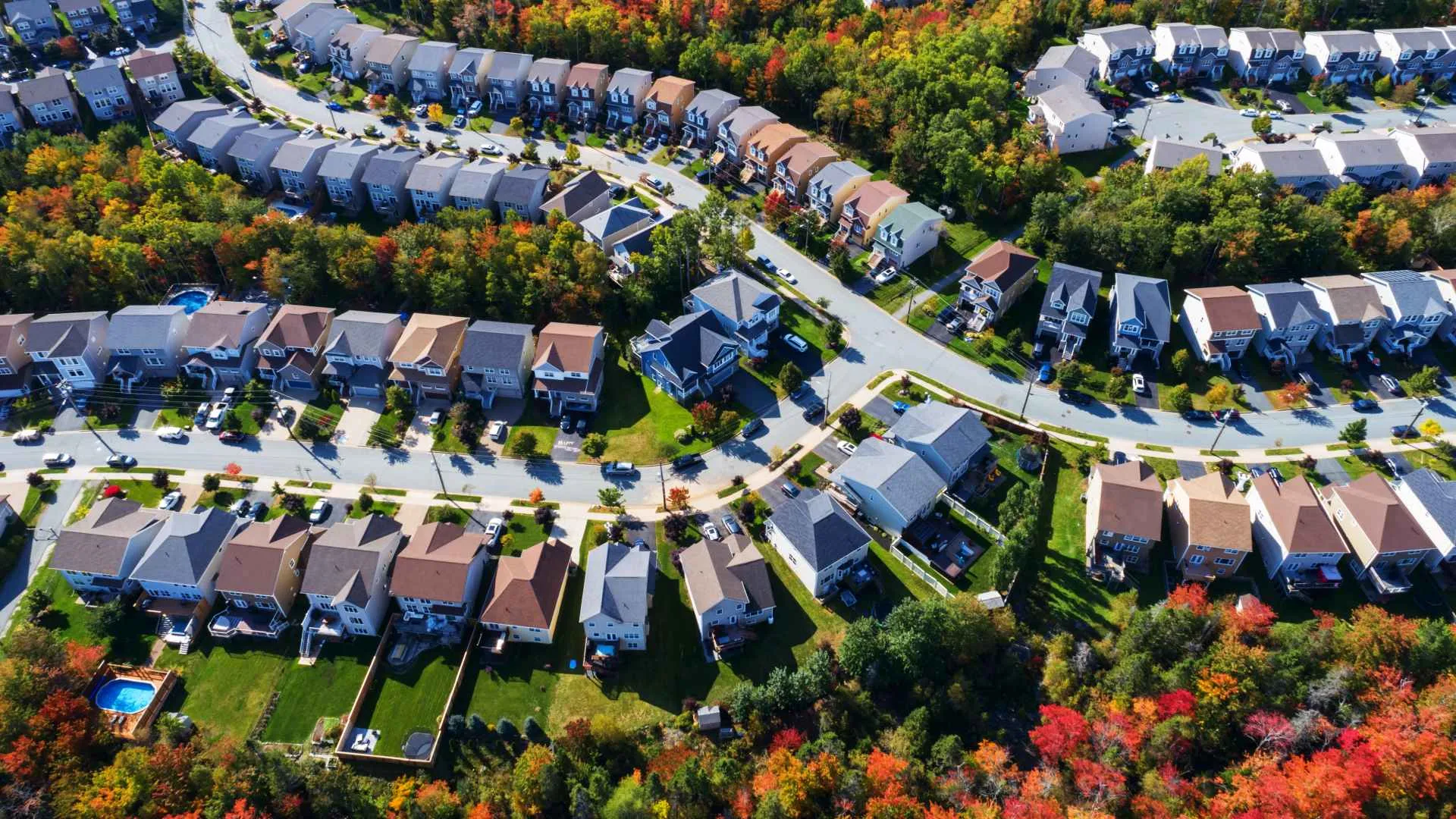 The best places to raise a family are often found on the edges of large metropolitan areas, where residents enjoy a better standard of living for less as well as greater access to recreational spaces. It's easy to see why the suburban lifestyle can be appealing: Overall, suburban communities tend to be wealthier, better-educated and healthier in comparison to their inner-city and rural counterparts.
Living in a suburb offers several advantages. Suburbs often provide a quieter and more peaceful environment compared to bustling urban areas, allowing residents to enjoy a sense of tranquility. Suburbs also tend to have lower crime rates, better schools, and family-friendly amenities, making them an attractive option for families looking for a safe and nurturing community to raise children. Additionally, the benefits of living near open spaces with lots of outdoor recreation opportunities make suburbs even more attractive. If this sounds appealing, settling down in the suburbs might be the right choice for your family — and it won't break the bank.
To find the best suburbs in every state, GOBankingRates conducted a comprehensive study analyzing the cost of living, quality of schools and safety in suburban areas surrounding the biggest cities across the country. Keep reading to find out which are the top suburbs in America.
Alabama
Alabaster, a suburb of Birmingham, offers a median home value of $287,165. Alabaster, Alabama is generally considered a safe place to raise kids. The city has a lower crime rate compared to the national average, offering a relatively secure environment for families. Additionally, the city has good schools, family-friendly neighborhoods, and various recreational activities, contributing to an overall positive environment for children to grow up in.
Illinois
St. Louis: Swansea
St. Louis: Godfrey
Chicago: Wauconda
Chicago: Antioch
Chicago: Cary
Chicago: Round Lake Beach
Chicago: South Elgin
Illinois is filled with great suburbs to raise a family, and Chicago has the most. The Windy City's top suburb, Wauconda, where a median home rate is $310,336, has modest violent and property crime rates. Wauconda residents experience 0.36 violent crimes and 1.78 property crimes per 1,000 residents, making it an extremely safe place to live. Antioch (median home rate: $298,183), Cary (median home rate: $325,033), Round Lake Beach (median home rate: $213,882), and South Elgin (median home rate: $338,418) are also exceptional places to live.
Chicago offers a multitude of great suburbs for raising kids due to their diverse characteristics and family-friendly environments. These suburbs provide excellent schools, safe neighborhoods, and ample recreational opportunities. The proximity to the city allows access to cultural events and educational resources, enriching children's experiences. Strong community bonds, active parent networks, and various amenities contribute to a high quality of life for families in these suburbs.
St. Louis is also a fairly affordable and safe place to live — its top suburb of Swansea sees a median home rate of $225,573 and its residents experience 0.56 violent crimes and 9.15 property crimes per 1,000 people. Or you can move to Godfrey, where the median home list price is a bit cheaper at $191,787. By comparison, the suburb experiences 1.3 violent crimes and 11.73 property crimes per 1,000 residents.
Indiana
Chicago: Highland 
Chicago: Chesterton
Highland and Chesterton are both considered suburbs of Chicago, even though they're located in Indiana. The median home value in Highland is $256,864, while in Chesterton it's $308,462. Both are very safe, with Highland experiencing 0.76 violent crimes per 1,000 residents, and Chesterton experiencing 1.11 violent crimes per 1,000 residents. Both suburbs have generally reputable schools, with Highland receiving positive ratings from parents and students. Similarly, Chesterton is part of the well-regarded Duneland School Corporation, which has been recognized for its academic achievements and extracurricular programs. 
Michigan
Detroit: Berkley
Detroit: Allen Park
Berkley is a good choice for families who want to live in Detroit with a good median home rate of $297,713. The Berkley School District earned an exceptional A grade from Niche for overall quality, and the suburb experiences relatively low crime rates, with 0.4 violent crimes and 5.04 property crimes per 1,000 residents. Allen Park is a little less safe with 1.81 violent crimes and 12.08 property crimes per 1,000 residents and has a median home rate of $192,630.
Mississippi
Jackson: Brandon
Jackson: Madison 
Brandon, Mississippi is a highly regarded suburb known for its appealing qualities. Compared to the other top suburbs in the U.S., Brandon has both personal safety and housing affordability going for it. The median home list price is $269,056, and Brandon experiences just 0.51 violent crimes per 1000 residents. The town offers a strong sense of community, excellent schools, and a low crime rate, making it an ideal place to raise a family. With its charming neighborhoods, convenient amenities, and proximity to Jackson, Brandon provides a combination of suburban tranquility and easy access to urban opportunities.
For Madison, the median home list price is $376,767, and the suburb experiences just 0.22 violent crimes per 1000 residents. The town is renowned for its top-rated schools, low crime rates, and well-maintained neighborhoods, making it an attractive choice for families.
Ohio
Dayton: Clayton
Dayton: Huber Heights
Akron: New Franklin
Cleveland: Wickliffe
Cleveland: Lyndhurst
Cleveland: Willowick
Cleveland: South Euclid
Cleveland: Cleveland Heights
Cleveland: Bay Village
Toledo: Perrysburg
Ohio is teeming with great suburbs to raise families on a budget, and Cleveland, is especially renowned for its abundance of excellent small towns, each with its own unique appeal. Topping the list for least expensive is the Cleveland suburb of South Euclid, where you'll find a median home list price of $163,515. Other safe Cleveland suburbs include Wickliffe (median home price: $174,896), Lyndhurst (median home price: $211,980), Willowick (median home price: $175,682), and Cleveland Heights (median home price: $186,560). These suburbs offer a combination of factors that contribute to their desirability, including strong school systems, low crime rates, well-maintained neighborhoods, and access to various amenities such as parks, shopping centers, and cultural attractions.
Clayton, a Dayton suburb, is also exceptionally safe with only .08 violent crimes per 1,000 residents. Additionally, the median home list price in Clayton is $219,328, making it an affordable place to live. Another Dayton suburb, Huber Heights, has a median home price of $179,518 and experiences only 1.64 violent crimes per 1,000 residents.
 If you're more interested in Akron, New Franklin is a fine suburb to hang your hat in, and one where the median home value is $229,158. If you head over to Toledo, the median home list price in Perrysburg is $319,438. With such great values and safety, it's easy to see why Ohio is dominating this list. 
Pennsylvania
Pittsburgh: Lower Burrell
The top suburb of Pittsburgh offers a median home list price of $176,482, and experiences 1.63 violent crimes and 9.36 property crimes per 1,000 residents.  Burrell School District in Lower Burrell, PA is an above-average public school district with 1,765 students in grades K-12. The district maintains a student-teacher ratio of 16 to 1, and state test scores indicate that 38% of students are proficient in math, while 53% are proficient in reading.
More From GOBankingRates