The West Coast Is Not the Best Coast for First-Time Homebuyers, Study Finds
A new study identifies the best cities for first-time buyers.
You might think you're ready to buy your first home — and there's a good chance that you are. But whether you can buy one in the city where you currently live is an entirely different matter. As it turns out, some cities are especially tough on first-time homebuyers.
GOBankingRates rated cities across the United States based on suitability for first-time homebuyers. The "Best and Worst Cities for First-Time Homebuyers" study rankings are based on market-influencing data like median home list prices and their corresponding down payment requirements and monthly mortgage payments, as well as average mortgage interest rates and foreclosure rates.
The study also looked at data likely to be more specific to first-time buyers, such as the percentage of buyers with non-prime credit and the percentage of Federal Housing Administration-backed loans — which are popular among first-time buyers — compared to the overall number of mortgage loans.
As a first-time homebuyer, your best chances for a great purchase lie in the Midwest and southern U.S. Meanwhile, West Coast and western cities tended to be poor markets for first-time homebuyers.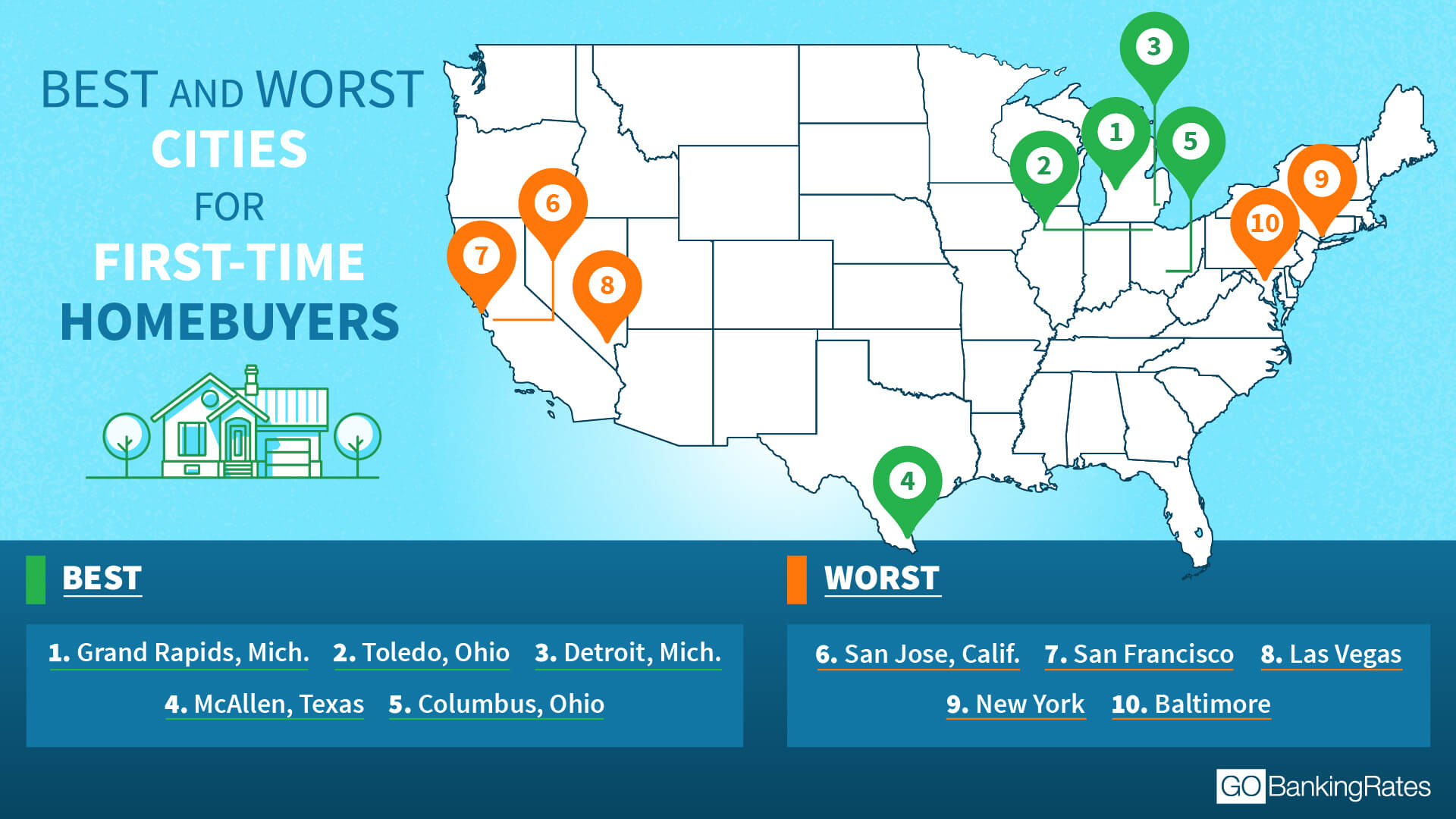 Best Cities for First-Time Homebuyers
As you might expect, the best cities to buy a house tend to have the lowest median list prices, and the worst cities tend to have the highest. But even here, there's no clean sweep.
Grand Rapids, Mich., tops the "best" list, not because it has the study's lowest home price — that honor goes to Toledo — but because of a combination of factors. Namely, it boasts the highest percentage of homebuyers with FHA-insured mortgages and non-prime credit, two factors that are pivotal in making a city a good place for first-time homebuyers.
The other top-ranking cities followed a similar pattern to Grand Rapids, combining affordable home prices with high rates of homebuyers using FHA mortgages and possessing non-prime credit.
Here's the full list of the best cities:
1. Grand Rapids, Mich.
2. Toledo, Ohio
3. Detroit
4. McAllen, Texas
5. Columbus, Ohio
6. Cleveland
7. Baton Rouge, La.
8. Minneapolis
9. Indianapolis
10. Wichita, Kan.
11. Cincinnati
12. Louisville, Ky.
13. Memphis, Tenn.
14. Pittsburgh
15. New Orleans
16. Milwaukee
17. Omaha, Neb.
18. Winston-Salem, N.C.
19. Knoxville, Tenn.
20. Birmingham, Ala.
21. Richmond, Va.
22. St. Louis, Miss.
23. Spokane, Wash.
24. Atlanta
25. Stockton, Calif.
Don't Miss: The Best and Worst States for First-Time Homebuyers
Worst Cities for First-Time Homebuyers
The worst cities for first-time buyers tend to have expensive median list prices, low shares of FHA-insured mortgages, low shares of non-prime homebuyers and foreclosure rates that run the gamut. San Jose, Calif., topped the list of the worst places due mainly to its $1.1 million median price, as well as very mediocre rates of non-prime and FHA-insured homebuyers.
The takeaway for first-time buyers is to look at the whole range of factors that influence a home purchase, including the ones that appear inconsequential at first glance. Mortgage interest rates, for example, are very consistent across all 50 cities, but even 0.10 percent adds up over time. Also look at long-term factors, like foreclosure rates. It's better to put off your purchase or relocate to a more affordable city than risk losing the home you worked so hard to purchase.
Here's the full list of the worst cities:
1. San Jose, Calif.
2. San Francisco
3. Las Vegas
4. New York
5. Baltimore, Md.
6. Durham, N.C.
7. Los Angeles
8. Colorado Springs, Colo.
9. Riverside, Calif.
10. Miami
11. Oklahoma City
12. Boston
13. San Diego
14. Tulsa, Okla
15. Denver
16. Charlotte, N.C.
17. Raleigh, N.C.
18. Austin, Texas
19. El Paso, Texas
20. Jacksonville, Fla.
21. Sacramento, Calif.
22. San Antonio
23. Philadelphia
24. Phoenix
25. Orlando
Trending Now: 13 Ways California Real Estate Differs From Every Other State
Methodology: GOBankingRates determined the best and worst cities for first-time homebuyers based on the following factors: 1) share of buyers using an FHA mortgage, sourced from LendingTree; 2) percentage of buyers who have less than prime credit, or below 680 — first-time buyers often have lower credit scores than repeat buyers, so they are more competitive in areas without as many prime borrowers — sourced from LendingTree; 3) foreclosure rates, sourced from RealtyTrac; and 4) median listing price of a single-family home, 5) mortgage down payment, based on 20 percent down, 6) and monthly mortgage payment, calculated using Zillow's Mortgage Calculator, all sourced from Zillow's index for single-family residences in each metro area of the cities featured in the study.