How to Buy Your First Home as a Newlywed Couple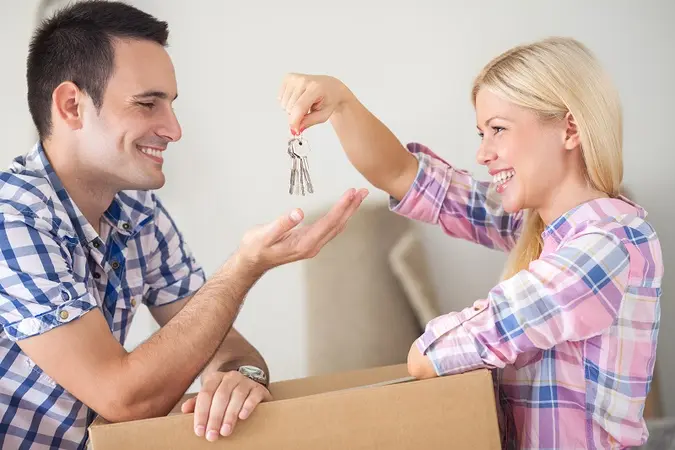 Buying a first home is always more stressful and complicated than expected. If you're recently married and looking to make your first huge purchase together as a newlywed couple, you'll want to get as much information as you can up front before you start shopping.
To help you out, here's an easy-to-follow how-to guide on how to buy your first home for newlywed couples. Read on to learn how you and your beloved can work together as a team to avoid the common mistakes that first-time home buyers often make and instead purchase your dream home.
13 Steps for Newlyweds Buying Their First Home
1. Assess your overall financial situation.
Before you even start looking at houses, it makes sense to take a close look at your overall money situation. Co-mingling or co-managing money is a new skill for many couples, and many new spouses might not have a clear understanding of how much money or debt a spouse has.
Together, what is your student loan balance? Your combined credit card debt? Any outstanding money owed from your honeymoon or wedding ceremony? The answers to these questions will have a huge impact on how much house you can afford — or if you should hold off on real estate shopping for a few years.
2. Consider your other financial goals.
If you and your spouse plan to save for retirement, start a family or pay off existing debt, you'll want to budget for those goals as part of your monthly outflows. The bigger, more expensive house you buy, the more difficult it will become to meet those financial goals.
"Consider this before you buy, and make sure to only buy a house that is well within your means," said Andrew McFadden, certified financial planner (CFP) and principal at Panoramic Financial Advice. "Your lender will always approve you for more than you need."
He also suggested new home buyers consider a mortgage that is 25 percent or less of their monthly gross income.
3. Check your credit report.
First-time home buyer mortgage rates are dramatically affected by borrowers' credit scores. The higher the score, the lower the rate you'll qualify for — and the compounding effect of even a small difference can add up substantially over the typical 30-year mortgage term.
"Over half of Americans don't know their credit score," said consumer and money-saving expert Andrea Woroch, adding that consumers are entitled to one free credit report each year. "Before you begin the home-buying process, get your credit report to review your score and accounts."
4. Improve your credit.
"There is a chance errors or fraudulent activity has been reported [to the credit bureau], which could keep you from getting a better loan/interest rate or qualifying at all," said Woroch. "If you notice mistakes, you can leave comments so that loan lenders can see those remarks when reviewing your report."
Woroch also suggests potential home buyers pay down credit cards and make all monthly payments on time. "Set up automatic payments if you are the forgetful type, and get a side hustle to boost income during this period to pay off other balances faster," she added.
5. Get pre-approved for a mortgage.
Before a real estate agent shows you a home, he'll want to know that you're a serious buyer. A mortgage pre-approval indicates to the real estate agent and seller your credit worthiness while also letting them know you can get the necessary financing.
Also, a pre-approval can help you out while shopping for a home. You'll know how much you can afford, so you won't waste time and energy looking at homes that are outside of your budget.
Remember, though, that it's your responsibility to set your own budget. Just because you can borrow a certain amount, that doesn't necessarily mean you should.
Read: 6 Huge Mistakes to Avoid When Applying for a Mortgage Loan
6. Create a new home wish list.
New couples often find they each want something different from a new home. For some, granite countertops, ample storage space or a third bedroom might be a high priority. Others want a neighborhood that suits their style or an easy commute to work. It's important for couples to work together to create a priority list and keep those high ranking items in mind when house hunting.
Work together to create a list of must-have features for your new home, as well as those that you'd like to have but are not deal breakers. Remember to remain flexible. Once you get out there, you might realize that what you wanted is not available within your budget.
"Also, couples need to decide whether they want a fixer upper," said Woroch. "While this can help get a bigger house or one in a better part of town for less, you also don't want to be house poor," she said, adding that excessive renovation costs can strain a relationship. "If you're going with a fixer upper, make sure it's in the bottom of your budget."
7. Find a real estate agent.
A real estate agent does more than just help you find your dream home. A good agent will also open a conversation about appropriate mortgages for first-time home buyers — although your lender will be your ultimate source — help you consider the cost of any required renovations, help you negotiate the home price and figure out which inspections are required.
The best real estate agents come recommended by experienced, home-owning friends, colleagues or family members. Or, they come from other service providers you frequent, like your tax advisor or financial planner.
8. Shop for the best mortgage.
A pre-approval letter only gets you in the door to house hunt. When you're ready to get serious, you'll want to start shopping around for the best mortgage loan term and rate.
According to the Consumer Financial Protection Bureau (CFPB), almost half of mortgage borrowers don't shop around when buying a home, even though rates can differ by as much as a half a percentage point. The CFPB suggests that a home buyer could save thousands of dollars just by comparing three different lenders before making a final decision.
"You don't have to go to a bank," said Woroch. "Credit unions also offer better interest rates."
It also helps to know what type of mortgage will best suit your needs. If you're purchasing a starter home and plan to move within five years, a hybrid adjustable-rate mortgage (ARM) that remains fixed for a particular number of years before adjusting with market conditions could be a cost saver. But if you expect to stay put for a couple of decades, a conventional 30-year mortgage might be your best bet.
9. Save for a down payment.
Take the necessary time needed to save up enough money for at least a 20 percent down payment.
"A house is typically the biggest purchase you will make in your lifetime, so there is no need to be hasty," said McFadden. "In the time it takes to save 20 percent, you will build an appreciation for the true cost of the home."
McFadden added that a larger down payment will decrease the monthly payment for the mortgage and also help you avoid the private mortgage insurance (PMI) premium most lenders require if your down payment is less than 20 percent. The Federal Home Loan Mortgage Corporation estimates the cost of PMI to be between $30 and $70 per month for every $100,000 borrowed. That's an amount that can really add up over time.
10. Look for first-time home buyer programs.
For many home buyers, 20 percent is a magic number. There are, however, several home loan programs out there for home buyers with less money available to put down.The Federal Housing Administration (FHA) insures loans for new home purchases with as little as a 3.5 percent down payment, although the upper loan limit can be low in some areas of the country.
Related: 10 Best States for First-Time Home Buyers
11. Budget for closing costs.
"Many new home buyers forget to factor in closing costs in their purchase, and these can get expensive," said Woroch. Closing costs — such as appraisal fees, underwriting fees and an escrow deposit, according to Zillow — can dramatically increase the amount a couple needs to come up with.
"Speak with your real estate agent about options for splitting costs or having the home owner cover those for you," she said. "This strategy is most successful when the home owner is trying to sell quickly, the house has been on the market for a long time or it's a fixer upper."
12. Don't forget about other homeownership costs.
Homeownership comes with many, often unexpected costs, including real estate taxes, homeowner's insurance, annual upkeep, maintenance costs, homeowner's association fees and more. McFadden said new homeowners should budget 10 percent to 20 percent of the purchase price annually to cover the mortgage, upkeep, taxes and insurance.
13. Remember your relationship.
When making any big financial decisions as a couple, you'll want to understand how they might impact your relationship. "Nothing can derail a marriage faster than financial strife," said McFadden.
"Work together, and keep your purchase reasonable," he said. "You can always upgrade later if you find you have the means to do so. Jumping in head first to a huge mortgage payment typically translates into disaster."
Keep reading: 10 Open House Red Flags Before Buying a Home
How Couples Can Stay on Budget After Buying a Home
Once you buy your dream house and get settled in, don't forget to keep planning for your future together.
"Make a plan together, and discuss your long-term plus short-term goals to make sure you're on the same page and working together … " said Woroch. "Establish a budget that includes all your expenses."
She suggests that 50 percent of your budget should be earmarked for living expenses — like the mortgage and other bills — 30 percent for entertainment, food and travel, and the remaining 20 percent should be tucked away safely in savings.