Does Making Your Whole Home Energy-Efficient Increase Its Value?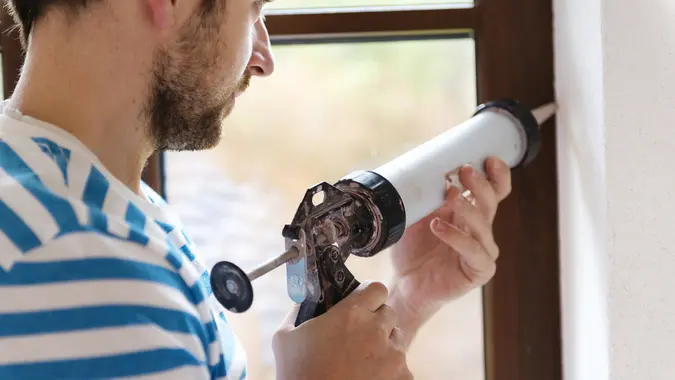 Halfpoint / Shutterstock.com
If you're considering making some upgrades to your home to make it overall more energy-efficient, you might be wondering if the benefits will go beyond saving you money on your utility bills and actually add value to your home.
Kate Colarulli, chief corporate development officer at CleanChoice Energy, said that upgrading your home with energy-efficient features can often enhance your home's value. "Beyond just saving you money on your current electric bills, these upgrades can improve the overall value of a home," she said. "A recent study, conducted in 2022 by the lender Freddie Mac, found that homes with energy-efficient upgrades resold faster and for about 2.7% more than homes that did not have those upgrades."
How To Start Making Energy-Efficient Changes in Your Home 
Colarulli recommends starting with an in-home energy assessment. "Experts can come into your home to identify efficiency improvements, like certain windows that need to be replaced or resealed or appliances that need to be upgraded," she said. 
Colarulli also pointed out that there are often government rebates and incentives for home efficiency projects. "The Department of Energy is now offering more rebates as part of the newly passed Inflation Reduction Act," she said. 
Here are some of the general suggestions Colarulli provided to make your home more energy-efficient:
Seal windows and doors.
Invest in a smart thermostat and assess if your home, particularly your attic, is properly insulated.
Upgrade your water heater to a tankless system or energy-efficient model. 
Replace lightbulbs in your house with LED options.
Upgrade appliances with energy-efficient models when it's time for a replacement
Consider installing a high-voltage outlet in your garage for an electric car charger.
Consider native plants and grass alternatives for your lawn. This cuts down on maintenance and water use.
Consider connecting your home to clean energy. 
Other Recommendations for Making Your Home Energy-Efficient
If you're looking for several big projects to complete in the interest of making your home energy-efficient, here are three suggestions. 
Upgrade Your Home's HVAC System
Vernon Trollinger, with Energy Ratings, LLC said that you should upgrade your HVAC system if it's over 10 years old. 
"Replace it with one that is as energy-efficient as possible," he said. "This can really add value to a home. What you put in, however, depends on what you can afford. Geothermal is great, but it's expensive because there's excavation involved. Basically, you want a new HVAC system with a high SEER2 rating that's 16 or better that's installed by a professional. But remember that it will be considered 'old' in about ten to fifteen years."
The Operations Team at EcoSmart Solution said there are many concerns about A/C units straining grid resources and causing blackouts and recommended installing a heat pump. 
"Heat pumps provide environmentally friendly and cost-effective solutions for homeowners," said EcoSmart. "Compared to A/Cs, ground source heat pumps consume between 40-70% less energy depending on energy behavior, have longer estimated lifespans due to their protected location within the home and are eligible for tax credits."
Air-Seal and Insulate the Attic
As Colarulli suggested, it's important to make sure your home, particularly your attic, is well insulated. Trollinger cautioned that this project can be labor intensive and dusty, but apart from the energy savings to heating and cooling, you will notice the change in comfort right away. 
"Plug ALL the little holes that allow outside air (and pests) to enter. That includes everything from the foundation to windows and doors," Trollinger said.
Consider Installing Solar Panels
"Seriously consider installing solar panels, especially if you're in an expensive energy market," said Trollinger. "Even a basic grid-tied system that reduces your energy costs will also add value to your home. Several studies say it can add $12,000 – $15,000 to your home's value. And given tax credits and lower panel prices, that's roughly the final cost to the homeowner to install one."
More From GOBankingRates