6 Extra Homebuying Expenses and How To Predict What They'll Cost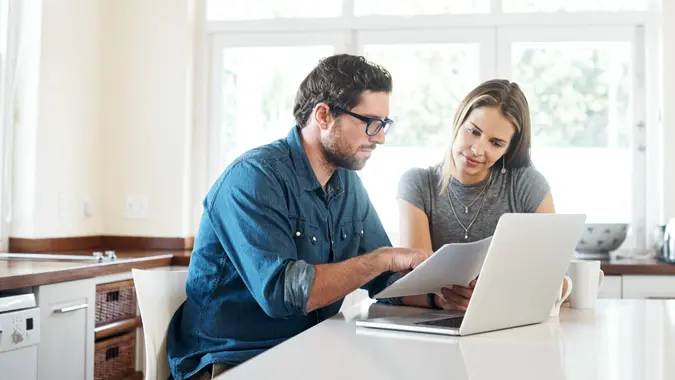 shapecharge / Getty Images
Many first-time homebuyers are shocked to find out just how much it costs to purchase and maintain a property. While most factor in what they can afford for a mortgage payment, few factor in all of the extra housing expenses they will face. From closing costs to taxes, homebuyers frequently fail to prepare for these added expenditures.
We asked homeowners what costs were more expensive than they originally anticipated when purchasing their homes. According to our survey, nearly half (46.43%) reported that their taxes were more costly than expected, 36.40% said closing costs were more pricey, and 35.44% of homeowners responded that insurance cost more than they thought it would.
Some homebuyers were hit with higher-than-anticipated costs right off the bat. According to our survey, 28.98% reported that the down payment exceeded their expectations, and 22.53% found that moving costs were more expensive than they had hoped. Others found that the costs added up over time, with 38.60% reporting that the maintenance and repair costs were more pricey than they had planned. 
Here is how you can predict and prepare for six extra homebuying expenses.
Taxes
More than any other category, the homeowners surveyed felt that taxes were more expensive than they had expected. Unfortunately, calculating property taxes isn't always the easiest thing to do. Property taxes differ depending on where you live and can change over time.
RocketMortgage provides some insight on how to calculate what you may owe in taxes each year, but it is also a good idea to confer with your particular lender. You'll pay the lowest real estate tax rate in Hawaii (.28%) and the highest in New Jersey (2.49%). You may also qualify for exemptions, so it is important to get as much information as you can before you buy your home.
Closing Costs
Closing costs are another area of concern for homebuyers. Over 36% of those surveyed said that these expenses exceeded expectations. If you finance your home, you will need to factor in closing costs. You'll even have to pay them if you refinance your mortgage at some point down the road. In some cases, a seller may pay closing costs, but most of the time, it is the borrower.
Your lender will provide you a list of what the closing costs include, which is typically a lot of different fees, such as an application fee, recording fee, origination fee and more. Generally, they will cost you between 2% to 6% of the sale price.
Insurance
In addition to your mortgage payment and property tax, you will need to factor in home insurance costs. As reported by Progressive, Americans pay, on average, $83 to $138 per month. The cost depends on the size of your house and where you live.
Down Payment
Before you even purchase a home, you will need to determine how much you can afford to put down. Most financial professionals recommend putting 20% down, but today many homeowners put down far less. 
U.S. News & World Report notes that there are loan programs that allow homeowners to put down somewhere between 3% to 5%, and some don't require any payment upfront. It is important to note that if you do not put 20% down on your home and you have a conventional loan, you may be required to pay private mortgage insurance.
Moving Costs
Forbes estimates that people pay an average of $1,400 in moving costs. If you are moving a long-distance or out of state, you will likely pay substantially more. Long-distance moving costs range between $2,200 and $5,700. 
Maintenance/Repair Costs
Nearly 40% of homeowners surveyed said maintenance and repair costs caught them off guard. It isn't too surprising, considering that the average homeowner will spend over $3,000 per year on home maintenance. According to USA Today, homeowners should plan to spend around 1% to 4% of their home's value on maintenance and repair every year — and that is a big chunk of change.
More From GOBankingRates