Flipping Houses for a Living: Is It Worth the Risk?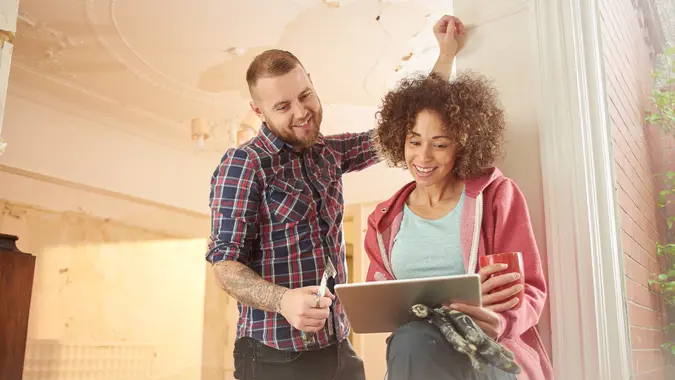 sturti / Getty Images
The lure of the house-flipping lifestyle isn't hard to understand. No job, no boss, no cap to what you can earn beyond the limits of your own skill and ambition. As an added bonus, you're doing well by doing good — taking ugly houses, making them beautiful, and turning the keys over to proud new homeowners is a noble way to earn a living.
But is it a living that average people with average backgrounds and average finances can truly attain? In most cases, probably not, according to many of the experts who spoke with GOBankingRates.
First, There's the Whole Money Thing
If you're an aspiring house-flipper who wants to get in on the action but doesn't have the cash to make a move, the internet is bursting with inspirational tales of newbies who broke into the business without using a single dollar of their own money.
To be clear, there are documented cases of real people who started out with little or no money on their first flip who went on to become respected real estate professionals.
There are also examples of athletes landing starting quarterback gigs on NFL teams as undrafted walk-ons and local glee club singers signing huge record deals after winning "American Idol," but those are hardly the norm, right?
In reality, you need money to flip houses — a lot of it. If you don't have it, you'll need to convince lenders and investors to gamble on you as a newbie with no experience, no portfolio, no track record and no skin of your own in the game.
Good luck with that.
"Depending on the house's location and condition, your credit score and several other factors, flipping a house could realistically require you to pay well above $100,000," said Tim Schroeder, licensed realtor and owner of Agent Marketing Essentials.
Having the Cash Is a Good Start — But Only a Start
Money is a big part of the equation, but success depends on much more than your bankroll. If you don't have the skills, experience and relationships to scout and identify properties, estimate rehab costs, understand the tax implications, contract out the work that you can't do yourself, and acquire, carry, market, sell and transfer the property, you'll notice that your once-hefty budget is getting slimmer by the day — and in the world of flipping, every day that passes is money lost.
"It's a high-cost and high-risk investment," Schroeder said. "Even experienced house flippers often witness success rates below 50%. If you run into prominent issues like cracked foundations, mold, termites and broken water pipes, you could witness significant financial losses."
People With Specialized Backgrounds Have a Huge Leg Up
It's easy for aspiring flippers to focus on the fun stuff that almost anyone can do, like picking out window treatments and comparing paint swatches — but that's only a tiny part of the puzzle.
"The kinds of problems that can arise if you are not careful and prudent are plentiful," said Baron Christopher Hanson of Echo Fine Properties. "When is the rainy season in your area? Are their restrictions on construction noise past dark or over weekends? The problem is when a three-month plan turns into a nine-month nightmare because you didn't plan for irregular general conditions."
So, who could possibly succeed at something that presents so many obstacles? In most cases, the winners have specialized backgrounds that match the challenges of the work.
"The most successful home-flipping investors are excellent project managers who possess one or more unique skills or functional advantages," Hanson said. "If you happen to be married to an architect, own a profitable bath or kitchen or swimming pool contracting business, or are able to mill and finish your own hardwood, lumber, or stone expertly, such functional advantages will come in very handy in your profitable home-flipping career. In addition, if you are able to successfully juggle two or three home improvement and flipping projects at one time — because you have the capital, skills, labor, and materials capacity to do so almost flawlessly — you will be able to make more money in less time year after year."
Side Hustlers Are Minnows Who Get Swallowed by Full-Time Sharks
Most experts who spoke with GOBankingRates agreed on one thing — house-flipping is not a viable side hustle. Success requires you to live, eat, breathe and sleep the project.
"I'm not saying this to curb competition, but don't take on house-flipping as a side gig, because it will not go well," said Rick Berres, a professional house-flipper, remodeler and founder of Honey-Doers. "There's a lot of time, effort and attention that needs to be put into this — not to mention experience. What you need to understand about flipping is that it takes a ton of money upfront, the investment is huge, and it's a gamble. You've invested all this money in a house and then you're putting even more money into the renovation. If it doesn't work out, you're out in the cold. You don't have four other projects going at the same time helping you cover and recoup costs."
Also, you're in direct competition with seasoned veterans who have backgrounds in the trades.
"In order to flip a home successfully, you need knowledge and you need employees who know what they're doing," Berres said. "I work with the best in the business. I have connections in the industry. I can get the best building materials, the best products, at the best prices. And many times, I'm already cutting it close, profit-wise. If you're a newbie in this industry and you don't know anyone, you're going to be hemorrhaging money. What makes some materials better than others? How do you know whether the men you employed to help are skilled or not? How good are you at staging? Think about this before you go into flipping."
Lessons From a Real-Life House-Flipping Side Hustler
Joshua Nelson is a licensed bail bondsman in Amarillo, Texas, and the owner of Allstate Bail Bonds. Late last year, he and a friend — both of whom have construction backgrounds — decided to flip their first house, doing most of the work themselves.
"Because we were completing a complete indoor renovation ourselves while I was running my bail bond company, at one point I felt like I bit off more than I could chew," Nelson said. "There were a lot of out-of-pocket costs from the get-go. We had to put 10% down because it's an investment property. Because we were completing the work ourselves, it took several months to complete, meaning we had to make several mortgage payments on the property. When we put the house on the market, it was taking a while to drum up interest, so we ended up investing an additional $2,200 to have the exterior painted."
Here are a few lessons he learned along the way:
Contractors cost money but save time. Which is worth more to you?
Realtors take a big chunk, so if you are going to regularly flip houses, it may be worthwhile to get your real estate license so that you can serve as your own listing agent.
Consider getting an interest-only loan, which lets you pay only the interest on the mortgage for a period of time while you're flipping the home.
Nelson said that the home is still on the market, and although he optimistically estimates a profit of $10,000, at this point, he'd be happy to break even.
"After this home sells, I can tell you that I am not in a hurry to do it again," he said.
More From GOBankingRates