HOA Fees: What To Know Before Buying a Home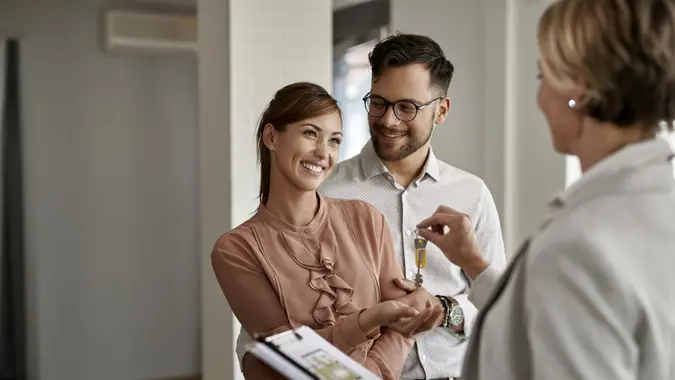 Drazen Zigic / Getty Images/iStockphoto
An HOA, or homeowners association, is a type of community association made up of all of the homeowners in a particular planned community. HOAs, like condo associations, are responsible for preserving the nature of the community and protecting owners' property values, according to the Community Associations Institute.
See: 3 Things You Must Do When Your Savings Reach $50,000
You automatically become a member of an HOA when you purchase property in the community it oversees. While membership has benefits, such as the ability to vote for the association's board of directors, it also requires that you pay a fee. The HOA fee can be billed monthly, quarterly or annually, and it's entirely separate from your mortgage payment.
How Does an HOA Work?
When a developer acquires land for a planned community, one of the first things they do is begin creating an HOA tasked with protecting common elements — those that will be shared by the community at large — and property values. Governing documents like the declaration of covenants, conditions, restrictions and easements, or CC&Rs, and bylaws establish rules for the community and for how the association is to operate.
The developer typically incorporates the association as a nonprofit and assigns it ownership of the community's common elements. At this point, the developer controls the association and sits on its first board. The association's initial budget, prepared by the developer and adopted by the board, establishes the HOA fee as a per-lot assessment, according to Associa, a community-management company that manages associations throughout the U.S.
The developer eventually transitions control of the association to the property owners, who elect a board of directors. The board takes over management of the community or hires a community manager to oversee it. They might increase or decrease the HOA fee in subsequent budgets, depending on the financial needs of the association.
Good To Know

Association boards have a fiduciary responsibility to act in the association's — and thus the owners' — best interests.
How Much Are HOA Fees?
HOA fees are set according to the financial needs of the community, so they vary widely from one to the next. According to the most recent American Housing Survey available from the U.S. Census Bureau, the mean, or average, monthly HOA fee is $191. The median — meaning half are less and half are more — is $73 per month.
HOA fees can change from one year to the next, and they don't necessarily tell you much about how well managed a community is. For that, you'll need to review the budgets from the last few years to see how money is being spent.
How Does the Association Use HOA Fees?
The services and amenities that make HOAs so popular — 70 million Americans belong to one, according to the Community Associations Institute — cost money, and HOA fees cover those costs. Here are some of the things HOA fees typically pay for:
Maintenance of common areas
Road maintenance, if the community's roads are private
Trash collection
Snow removal
Recreational facilities like pools, playgrounds, golf courses, marinas and community centers
Emergency services, including police, fire and ambulance
Food and beverage facilities
Administrative expenses
HOA fees also fund a reserve account the association can tap into for large, unexpected expenses or occasional but major maintenance and repairs. Healthy reserves prevent HOAs from having to impose special assessments on members. Special assessments are one-time fees that are separate from regular HOA fees. Depending on what they're for, they can cost each owner thousands of dollars.
Will the HOA Fee Affect My Mortgage?
HOA fees are mandatory in communities governed by an HOA, so your lender must take them into account when calculating the maximum loan amount they can approve you for. Mortgage loan approval is based in part on your debt-to-income ratio, which is the percentage of your income that goes to paying debt, including your house payment. Lenders consider all mandatory housing expenses, including your mortgage principal and interest, homeowners insurance, property tax and HOA fee, in the calculation.
The HOA fee might have little impact if it's a small amount and you're house hunting below the top of your budget. But if you're looking at homes priced near your maximum loan amount, an HOA fee can push you over the limit.
What Are the Pros and Cons of a Homeowners Association?
HOAs are growing in popularity, but even people who appreciate their association might find fault in some of its policies. Weigh the pros and cons carefully if you're considering a home in a community governed by an HOA.
Pros of HOAs
HOAs perform many functions that bring value to their members.
Set standards for how homeowners maintain their properties, creating an aesthetically pleasing appearance and protecting property values
Provide amenities like recreation and entertainment facilities homeowners would otherwise have to travel to use
Provide trash pickup, snow removal and lawn mowing
Plan social events to help property owners get to know each other
Provide an opportunity to influence decisions regarding the community
Cons of HOAs
Living in an HOA-managed community requires certain sacrifices in exchange for the benefits the HOA provides.
Costly HOA fees
Restrictions on exterior architectural choices and on what homeowners can plant or display in their yards
May limit your ability to operate a home-based business or short-term rental
May charge members a fee to use some amenities
In some jurisdictions, HOA can foreclose on home if owner doesn't pay fee
Is an HOA the Right Choice for You?
An HOA can encourage strong property values and make your community a more enjoyable place to live. On the other hand, it increases the cost of owning a home, and the restrictions can feel intrusive. It's a good idea to ask for a copy of the community's CC&Rs and bylaws before you make an offer, and read them carefully to make sure you want to proceed. If you do, you'll receive another set later, in a resale package that also includes financial information and other documents.
In most cases, buyers sign off on the package and complete the sale with no regrets. But on occasion, a homeowner learns of a policy or management issue after the fact that would've been a deal breaker had they reviewed the documents more carefully before they purchased their home.
Our in-house research team and on-site financial experts work together to create content that's accurate, impartial, and up to date. We fact-check every single statistic, quote and fact using trusted primary resources to make sure the information we provide is correct. You can learn more about GOBankingRates' processes and standards in our editorial policy.