Experts Reveal How Much To Put Away for the Most Surprising Home Expenses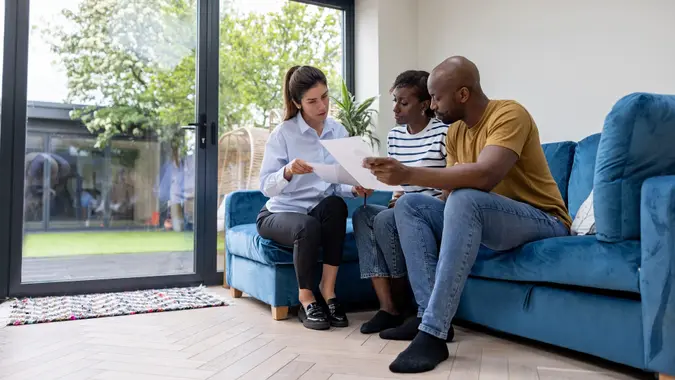 andresr / iStock.com
Home prices are starting to rise slightly, after months of seeing a gradual drop. Experts say there is still a lack of housing inventory, which will keep home prices stagnant, or even increasing. There are 39% fewer homes for sale compared to before the pandemic, according to Redfin.
See: 5 Expensive Renovations Homeowners Always Regret
Learn: 3 Things You Must Do When Your Savings Reach $50,000
Even though home price growth is slowing down, that shouldn't be the only thing you look at when budgeting for a new home purchase, said Steve Reich, division president at GO Mortgage.
"As always, I'd advise all homebuyers to keep their top-line budget in mind," Reich said, "and understand all of the costs associated with purchasing a home, including some of the less obvious expenses like closing costs, moving costs, maintenance expenses and the potential for increased utility bills."
He also recommends that buyers who don't plan to stay in their homes for more than a few years get an adjustable-rate mortgage that might offer a lower, fixed interest rate during the initial years of ownership, helping lower monthly mortgage payments.
"This option may be ideal if you plan to sell your home before the loan switches to an adjustable rate," Reich said.
In a recent GOBankingRates survey, 43% of respondents said they were planning to buy a home in the next five years. If you're in the same boat, you might think once you have the amount to buy the home you want, you're all set. But, there are plenty of other expenses you might not know about. Here are some you'll encounter and how much to save up.
Down Payment
Although the standard used to be 20% of the purchase price (except for first-time buyers), that's no longer the case.
"There are options available with lower down payment requirements, such as FHA loans (3.5% down payment) or conventional loans (5% down payment)," said Denis Smykalov, real estate broker at Wolsen Real Estate.
According to the GOBankingRates survey, 31% of respondents put down between 5% and 15%. Of course, the more you put down, the less you'll pay in interest over the life of the loan. And if you put down less than 20%, your lender might require you to get private mortgage insurance.
Take Our Poll: Are You Planning To Buy or Sell a House This Year?
Appraisal Fee
This is usually a requirement when you get a mortgage, and the cost typically ranges from $300 to $425 for a single-family home or condo. This is usually included in the closing costs for a home.
"[Closing costs] can amount to up to 3% or more of the final purchase price," said Shelby McDaniels, director of business development for home lending at Chase Home Lending. "While there is no way for a buyer to completely avoid paying these fees, there are ways that homeowners can save on them. Some banks offer help with their closing costs for buyers if they use the bank to finance their purchase.
"As an example, Chase offers a first-time homebuyer's course, and those who enroll save $500 on their closing costs. Chase also offers homebuyer grants to eligible customers, up to $5,000. So, it's worthwhile to do your homework and see what might be available to you."
Inspection Fee and Other Costs
"Schedule a professional home inspection before finalizing the purchase," Smykalov said. "This can reveal any underlying issues or needed repairs, giving you a clearer picture of the property's condition."
This can cost anywhere from $300 to $450 and is also typically included in closing costs.
Beyond those costs, you'll need to budget for homeowner's insurance and the cost of setting up utility services. In some cases, you might also have to pay homeowner association dues. 
You should also budget for any furniture, appliance and home goods purchases you need to make, as well as any maintenance/remodel work that needs to be done before you move in.
"One of the things first time homebuyers are not ready for is mechanical upgrades," said Sebastian Jania, director at Ontario Property Buyers. "Many homes, especially if they have had one owner for a long time, have furnaces/AC/water heaters reaching the end of their lives. These are things that one day may work and may give out the next day. Having funds allocated to cover this if things break is very important as they can be in the thousands of dollars to replace or repair."
Longer term, you'll need to budget for property taxes, which are typically based on the value of your home and due once a year. This cost varies by location and home type, and varies from $600 to $5,400 depending on your state.  
More From GOBankingRates