Housing Market 2023: 7 Things You Must Do Before Backing Out of a Sale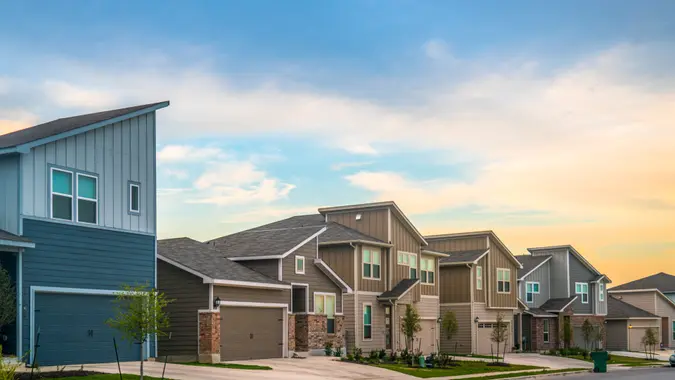 RoschetzkyIstockPhoto / Getty Images/iStockphoto
According to a recent Redfin report, 16.3% of pending home sales were canceled in September. This is the highest level of failed transactions since October of last year.
There are many possible reasons that either the buyer or seller might back out of a sale. On the buyer's end, it could be due to things like failure to secure financing or poor results from an inspection. On the seller's end, it could be a sudden change in plans or a breach of contract on the buyer's part.
Whatever the reasoning might be, it's important to be prepared before backing out of a sale. If you're thinking about ending negotiations and canceling a sale, here are some of the most important things you should do first.
Review the Contract
Both the buyer and seller should carefully review the housing contract to see whether it's possible to back out of the sale. Start by reviewing the clauses and conditions in the contract with a real estate attorney. Then, check for any penalties that might apply for canceling the transaction.
Adie Kriegstein, licensed real estate salesperson at Compass Real Estate, recommended that both parties "review the contract of sale, ideally with an attorney."
Check whether there are any penalties for backing out of the sale, too.
"It is very important to consider any and all potential consequences before backing out of a sale to ensure there is not a breach of contract," Kriegstein said.
Inform the Other Party
If either party wants to back out of the sale, they should let the other party know as soon as possible. According to Sebastian Jania, owner of Ontario Property Buyers, opening the lines of communication with one another can help both parties understand what's going on and why. It might also make it easier to cancel the transaction without major complications or repercussions.
Get a Home Inspection
Getting poor results from a home inspection is a common reason that many home sales fail. While an inspection might not be mandatory, it can help ensure the buyer doesn't end up with a property that's going to cost more than it's worth. Depending on the results, the inspection can also give the buyer a valid excuse to leave the transaction behind.
"Hire a professional home inspector to evaluate the property for any potential issues or defects," said Chris Hock, general contractor and owner of Earth Saving Solutions. "Consider bringing a general contractor with you during the inspection to write up an estimate based on the inspector's observations. … If significant problems are discovered and the seller refuses to make repairs or adjust the price, you'll at least have done your homework and can make the best decision."
If you're the owner who's on the fence about selling, you could use the inspection to your advantage as well. If your buyer comes back with inspection items to be resolved, you can simply say no.
"If the buyer wants the house," Hock said, "they will have to accept it as is."
Keep in mind that, as the seller, getting out of a signed contract might not be possible if the buyer agrees and everything else works out as initially intended.
"If the seller says no to fixing any inspection items and the buyer agrees to take the house in its current 'as-is' condition," Hock said, "then the transaction moves forward and the seller is still obligated to sell."
Consult Your Attorney and Realtor
Having open conversations between the seller and buyer can help the transaction — or cancelation thereof — go smoothly. But it's also smart to keep any real estate agents or other professionals abreast of your decision to back out of the sale.
"For either party, the first and most important step is to consult your Realtor and attorney," said Ken Sterling, Realtor and real estate attorney at Sterling Media Law. "Next, speak with your advisors and partner(s) about your potential decision. Explore why you are having second thoughts. … Is it personal or business.? Courts make decisions based on facts, numbers and the law. Understanding this before you pull the plug will make a huge difference."
Evaluate and Reconsider Your Reasons for Backing Out
When consulting your advisors or real estate agent, you might find that your concerns aren't as problematic as you once thought. You might even be able to come up with a solution that works for everybody and continue forward with the transaction.
"Carefully consider the reason you want to back out," said Rinal Patel, founder of We Buy Philly Home. "The truth is sometimes what may at first seem like a big deal may later prove to be of less consequence."
Of course, there are some very valid reasons for canceling a transaction that cannot be overlooked or so easily resolved.
"Take time to reflect and assess the reasons you wish to back out of the sale," Kriegstein said. "What are the underlying factors driving your decision? If there are legitimate concerns such as major structural issues, undisclosed problems, or financial difficulties, it would be advisable to seek professional help to have a discussion around the issues with an attorney or a real estate agent."
As the seller, you also might have some solid reasons for backing out.
"If you haven't listed yet and you're getting cold feet, reflect on your reasons for considering backing out of the sale," Hock suggested. "Evaluate whether these reasons are valid and whether there are alternative solutions that could address your concerns without terminating the agreement."
Consider the Financial Ramifications
Even if you're able to cancel a real estate transaction, you still might end up with some financial ramifications. For example, if you put down earnest money to show the seller that you were serious about purchasing the property, you could lose it when you back out. If you're the seller and you want to get out of the sale, make sure any earnest money returns to the buyer to make the process go more smoothly.
Additionally, Michael Vestuto, a real estate professional in Las Vegas, suggested asking yourself a few vital questions before making any decisions. As the buyer, determine whether you'll lose any money you've paid up front, such as inspection or appraisal fees, or other nonrefundable costs. As the seller, Vestuto also suggested calculating the potential cost of keeping your property on the market versus going through with the sale now.
Have a Backup Plan
If you're selling your home but want to get out of a current contract, it's important to have a backup plan to minimize damages or consequences.
"Consider your options," Patel said. "For instance, what are the prospects of finding a more suitable buyer? Before backing out on a sale, [it's] a good idea to have a failproof backup plan that doesn't hurt the market value of your house or the total profit you could make from the sale."
More From GOBankingRates