How Will Fed Interest Rate Increases Impact the Housing Market in 2023?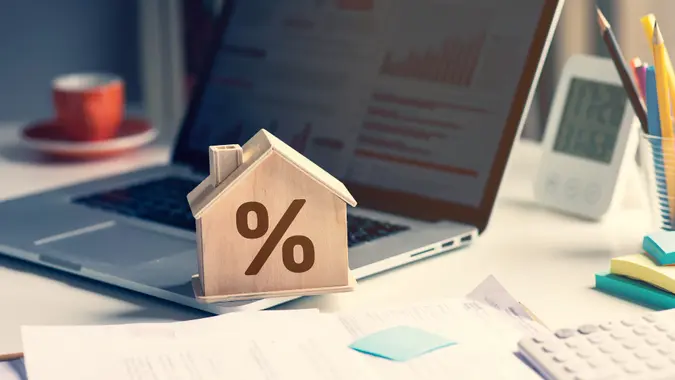 HAKINMHAN / iStock.com
Higher mortgage rates and severe affordability challenges made a major impact on the housing market in 2022. With interest rate hikes in the hands of the Federal Reserve and a presumed recession looming, 2023 may be another rough start for both buyers and sellers, especially in some regions of the country.
See: Even Earning Passive Income from Rentals Has Become Risky
Learn: 3 Things You Must Do When Your Savings Reach $50,000
Find: Ultrarich Plan To Conserve Wealth in 2023 — What's the Strategy?
However, as Bloomberg reported, many financial forecasters are reckoning a housing rebound could be on its way as unemployment rises and houses prices fall.
For example, Susan Wachter, professor of real estate and finance at the University of Pennsylvania's Wharton School, is predicting a decrease of 5% to 10% in national home prices in 2023 as both markets and inflation steady themselves. "Housing is going to ease up," she said. "I think 2023 will be a turnaround year."
High mortgage rates and home shortages and prices have impacted the whole country significantly, but there have been shifts in "regional disparities" over the past few years, according to Bloomberg. While states like Georgia and Florida have surged roughly 50% since 2019, recognized West Coast boom cities are likely to see drops through November 2023. Zillow anticipates 6.1% and 7.2% plunges in homes values in San Francisco and San Jose, respectively. According to the California Association of Realtors, the median home price in San Francisco fell 21.1% in November from a year earlier, to $1.5 million from $1.9 million.
Speaking about the hottest housing markets in 2023, Zillow's economic data analyst Anushna Prakash predicted cooler markets throughout the U.S., but confirms positive housing health predictions in the east and southeast of the country and struggles for the normally strong markets on the West Coast.
"The housing market is expected to continue to cool in 2023 as the high monthly cost of a mortgage continues to dampen sales volume," Prakash said. "Of course, this national slowdown will affect the nation's 50 largest markets in different ways, and some markets appear more likely to navigate these choppy waters than others."
East Coast cities rule Zillow's top ten hottest real estate markets of 2023, with Charlotte, NC topping the list. Meanwhile, Dallas, TX, and Kansas City, MO, are the two most westerly-located cities in the top ten rankings.
As Bloomberg noted, few are expecting the housing market to crash like it did in 2008, when collapsing home prices from mortgage defaults and risky investments on mortgage-backed securities burst the housing bubble. It suggests that regions that sat on the sidelines during the pandemic investment rush might have positioned themselves in a good spot for 2023.
Real Estate 2023: The Trends That Are Coming and Going
Explore: Is It Good To Own Real Estate in a Recession?
Real estate brokerage firm Redfin expects markets in the affordable Midwest and East Coast to hold up well this year and expensive West Coast cities to stumble. "The coasts fluctuate greatly, but the Midwest is just a different dynamic," says Jeff Lowe, a broker at Compass in Chicago. "We don't see 10% to 15% increases or decreases annually. It's a very steady market."
More From GOBankingRates