I Live on a Single Income: What I Did To Buy a House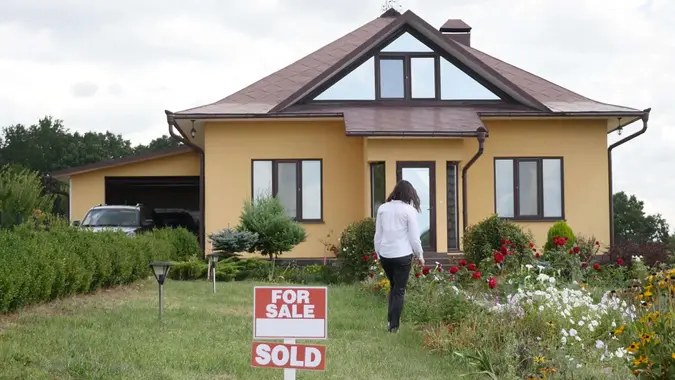 ©Shutterstock.com
Housing costs are on the rise in the U.S. with the current average home value at $348,853, according to Zillow. This, combined with high interest rates, has made the goal of purchasing a home feel more and more distant for many people.
Even with a steady income, many people worry about the costs of homeownership. A recent GOBankingRates survey found that just over 6% of people don't think they'll ever be able to buy a house. Another 8% of respondents think it'll take them more than 10 years before they can get a home. Along with this, nearly 41% of survey respondents said they expect to spend at least $300,000 on a home when they do reach the point where they're ready to buy.
While purchasing a home can seem out of reach, it's still doable, even if you're a single-income household. GOBankingRates spoke with Sebastian Jania, the owner of Ontario Property Buyers, a real estate solutions and investment company, about the steps needed to purchase a home on a single income. Here's what he said.
1. Be Aware of Current Mortgage Rates
When thinking about purchasing a home, one of the first things you should do is keep an eye on the current and long-term mortgage rates. This is because, unless you're paying in cash, you're likely to need to take out a loan from a lender.
Right now, the 52-week average interest rate on a 30-year fixed-rate conventional mortgage is 6.37%. It's 6.06% on a 15-year fixed-rate conventional mortgage.
Mortgage rates are often influenced by outside factors like current economic conditions, inflation rates and government policies. However, rates can also vary across home loan types and lenders. You may also get a higher or lower rate based on factors like your credit score, income and down payment amount.
"One of the biggest things that I focused on was to ensure that I had an accurate idea of mortgage rates and what I was able to afford," Jania said.
Compare different mortgage lenders to see what their typical rates are. At the same time, you may want to improve your credit score or increase your income to help you secure a better rate — and make it easier to buy a house.
2. Make a Strict Purchase Budget and Start Saving
The next step is to figure out how much you can realistically afford. The GOBankingRates survey found that just over 36% of people stuck to their original budget or ended up paying less than anticipated when purchasing a home. Approximately the same amount of people ended up spending more than they budgeted — in some cases, tens of thousands of dollars more.
If you're not sure what you can afford, take a look at your income and compare it with your current expenses. Then, use a mortgage calculator online to get an estimate of what your monthly payment and total mortgage amount will be. To get a more precise estimate, you'll need to input certain information, such as your income, down payment amount, home purchase price, closing costs, interest rate, property taxes and homeowners insurance fees.
"I made sure to stay well below what the budget was in order to be in a position where I could be comfortable, regardless of whether rates went up or down," Jania said. When in doubt, go with a less expensive home so you have some wiggle room in case of unexpected expenses or a higher mortgage rate.
Also, start saving up for a down payment. When asked, more than half of GOBankingRates' survey respondents said they saved up less than 20% for their down payment. While you may be able to get a mortgage loan with a small down payment, a larger down payment could save you money in interest charges, lower your monthly payment and even get you a better rate.
3. Check Your Credit Score
Just over 18% of people worry that they won't be able to get a house due to their credit score. While some lenders require you to have good credit or better to qualify for financing, you may be able to get a loan with a lower credit score. FHA loans, for example, have a baseline credit score requirement of 500 with a 10% down payment or 580 with a 3.5% down payment.
Before applying for a loan, review your credit reports and see if there are any areas where you could improve your credit score. As you save up for a house, avoid doing anything that could hurt your credit score like taking on new forms of debt or missing payments on existing accounts.
4. Look Into Fixer-Uppers
If you're worried that your income is keeping you from getting a home, another option is to go with a fixer-upper as these properties tend to be less expensive. Depending on the home, you may need to spend some money and time renovating it, so create an estimate of how much you might be spending to make sure you can afford it.
"Another thing I focused on was buying a property that needed a little bit more work so that I [could] buy it for a lower price rather than buying a turnkey property where I couldn't get any sweat equity into the property," Jania said. "This sweat equity is what allows the property to be purchased for much less than a turnkey home."
If you purchase a turnkey property — that is, a home that needs little to no work — it can be harder to improve its value. Plus, these homes tend to be more expensive. Shop around for older homes that have a solid foundation and need surface-level repairs as opposed to more substantial ones.
5. Go With an Unlisted Home
Many people turn to sites like Zillow or Redfin when searching for residential properties to buy. If you live on a single income and want to purchase a slightly less expensive home, it might be worth checking into unlisted properties.
"I focused on getting a property off the market so that the price would be less than the market value and it would be even more affordable than buying a property on the market," Jania said.
Finding unlisted properties can be tricky if you don't know where to look. But it can also be incredibly worthwhile.
"One of the biggest piece of advice I would give to people looking to buy a home on a single income would be to find properties where you can put some sweat equity into them and find sources of properties that allow you to purchase the property under the market value," Jania said. This includes local realtors and real estate wholesales — people who are connected to motivated sellers who might sell their homes for less than the market value.
More From GOBankingRates