How Much House Will $10 Million Buy Around the World?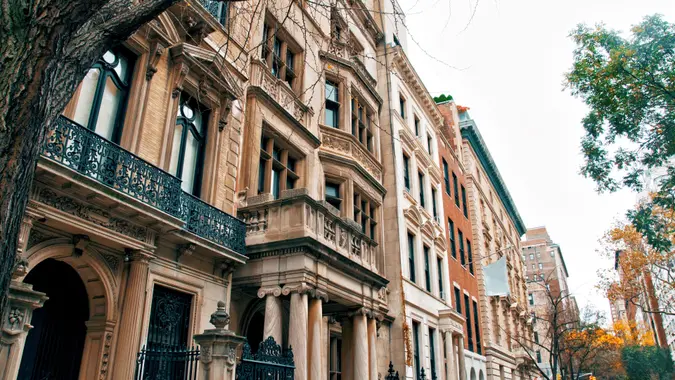 According to Zillow, the average home in the United States is now valued at more than $356,000. In America's most expensive cities, it's more than $1 million.
But what if your budget wasn't $1 million or even $5 million? What if you could walk into one of the top markets in the world with $10 million to spend?
Sadly, the most exclusive properties in the poshest neighborhoods would be well out of your price range, but that doesn't mean you couldn't buy your way into a pretty nice pad just about anywhere.
Here's a look at what $10 million will buy you in some of the hottest real estate markets on Earth.
New York
According to Realtor.com, there are currently just shy of 10,000 houses for sale in Manhattan. The median list price is $1.4 million, or about $1,500 per square foot.
In the most exclusive of the 34 neighborhoods that make up New York City's flagship borough, $1.4 million wouldn't even get you in the door. The most expensive of Manhattan's 9,572 current listings has a $250 million price tag — but even in the Big Apple, $10 million is a pretty penny.
In July, Robb Report profiled a $9.95 million townhouse located on the ultra-exclusive East End Avenue stretch of Manhattan's Upper East Side. Located in a full-service triplex, residents have access to a gourmet catering kitchen, parlor lounge, game room and library, but the home has a private entrance to give it the feel of a standalone residence.
Its 5,000 square feet sprawl across three floors — and that doesn't even include the 608 square feet of outdoor courtyard space. It features four bedrooms, three baths, two powder rooms and a private elevator.
Los Angeles
According to Zillow, the typical home in Los Angeles sells for just shy of $1 million — $972,828, to be exact.
Multiply that by 10 and you might be able to afford a property in one of the city's most tony neighborhoods, where the rich and famous live like royalty. According to Forbes, these are the most exclusive enclaves on the Westside, along with their average sale prices:
Brentwood: $2.185 million
Beverly Crest: $3.371 million
Pacific Palisades: $3.97 million
Bel-Air: $4.331 million
That's just the Westside. The median home price in Malibu and Beverly Hills is in the eight figures.
Mansion Global is listing a $10 million "single-family home" — it's actually a gigantic mansion — that is "one of only four True Estates in Bel Air Crest." Boasting mountain, ocean and city views, it's located just a few minutes from Beverly Hills and the Pacific Ocean. Multiple bars, a sauna, a pool, meticulously manicured grounds and a koi pond are all part of the package.
Its six bedrooms and six bathrooms are spread across 9,350 square feet of living space.
London
In 2021, Adele bought a $9.5 million mansion in Beverly Hills because, according to Vogue, she couldn't afford a comparable pad in her native London.
In July, Page Six reported that Tom Cruise was shopping in the $10 million range in the city's posh Kensington neighborhood. He's bargain hunting — the typical home there costs $35 million.
According to the consultancy firm Knight Frank, London is the most popular city in the world for ultra-luxury residential properties that cost more than $10 million.
Mansion Global is listing a $9.74 million flat on Sloane Street that's actually two flats joined by a common lobby. The 3,637-square-foot lateral space spans three buildings in one of the city's most exclusive properties and comes with concierge service and an elevator.
Hong Kong
Knight Frank consistently ranks Hong Kong near the top of the list of the most popular cities for ultra-luxury residential properties.
According to Forbes, the Clearwater Bay neighborhood of Sheung Sze Wan is popular with the Hong Kong elite thanks to the lush green hillsides and stunning white sand beaches that surround it. It's adjacent not only to the water, but to the exclusive, members-only Clear Water Bay Golf Course.
In 2020, a 2,100-square-foot mansion went on the market for $9.675 million — about $4,607 per square foot. The secluded property with a private swimming pool sits on a huge waterfront lot and boasts soaring views of both the mountains and the ocean. Its curated interior includes stone floors, window walls, rainforest showers and pocket doors that lead to a private terrace surrounded by tropical landscaping.
Tokyo
According to investment consultancy Henley & Partners, Tokyo is the second-richest city in the world, behind New York. Bloomberg reports that growing demand from two-earner households and ever-rising construction costs have put the already high price of Tokyo real estate even farther out of reach for the average buyer.
But, even in the Japanese capital, $10 million is not average — unless you're house shopping in coveted ultra-luxe neighborhoods such as Takanawadai, Shoto, Hiroo and Azabu.
In the luxurious district of Minato-Ku, Sotheby's is listing a 2,615-square-foot condominium in one of the neighborhood's most high-end buildings, complete with bilingual concierge and doorman service. The unit has three bedrooms, two bathrooms and two partial baths and is surrounded by some of the hottest restaurants and swankiest hotels in the city. A stunning shidare sakura (weeping cherry blossom tree) anchors the property's majestic garden.
It can be yours for $8.98 million.
More From GOBankingRates