How To Buy a House With No Money Down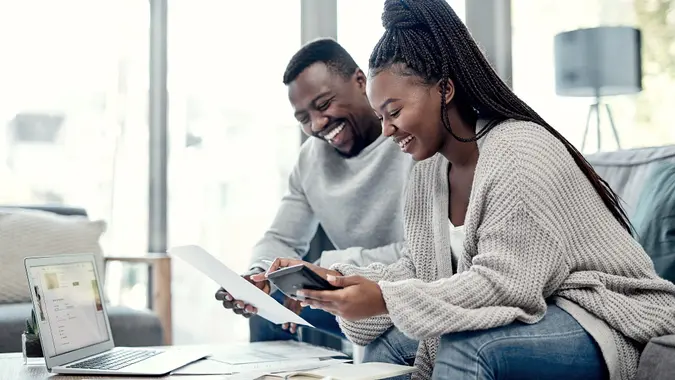 PeopleImages / iStock.com
Saving for a mortgage is a common practice whether you're a first-time homebuyer or a current homeowner looking to purchase your next home. But how much money do you need at closing?
It's possible to buy a house with no money down. Continue reading to see some zero-down-payment home buying options and some low-down-payment options for when you're ready to buy a home.
No Down Payment Means 100% Financing
When you buy a house and pay no money down, you purchase with a 100% financed mortgage loan. There are some U.S. government-sponsored programs with zero down payment options that you should know about.
You may qualify for these options if you're a new or repeat home buyer. You may be surprised that despite the economy, you could be eligible to pay nothing at all at closing.
No Down Payment Mortgage Options
There are basically two home loan options if you want to pay no money down — the U.S. Department of Agriculture home loan and the U.S. Veterans Administration home loan.
USDA Home Loan
A USDA home loan typically requires a credit score of 640. Previously, the USDA loan was called the Section 502 mortgage and is often referred to as the Rural Housing Loan.
Sponsored by the U.S. government, this rural development loan encourages those living in rural areas to become homeowners so they can help develop their communities. And you don't need much to qualify. All you need is the means to pay your monthly mortgage, but you can't be too wealthy either. Your income must be within the range that the USDA sets.
In addition to buying a house with no down payment, if you decide to apply for a no money down USDA loan, you can also enjoy these benefits:
No maximum home purchase price.
Add upfront fee into your loan balance at closing.
Pay mortgage insurance monthly.
A loan could include eligible home improvements and repairs.
VA Home Loan
If you are in the U.S. military with at least 90 days left to serve on active duty or are a veteran who served for at least two years, then you're eligible for the no-money-down VA home loan. This is the easiest zero-down-payment home mortgage loan to get and is worth investigating if you qualify.
Low Down Payment Home Buying Options
Fortunately, paying 20Fortunately, having to pay 20% down on a home loan seems to be extinct. Home prices have increased over time, and it's now easier to purchase a house without having to save up for a hefty down payment. If for some reason, you can't buy a house with no money down, there are also low-cost options available.
FHA Loans
The Federal Housing Administration insures FHA home loans sponsored by the U.S. government. With a minimum down payment of 3.5%, this type of home loan is attractive to first-time homebuyers.
Like the no-money-down USDA and VA home loans, you don't need a super high credit score to secure a low-cost FHA home loan. Other benefits of FHA home loans include:
Paying mortgage protection insurance, or MPI, monthly.
10% down payment if you have a minimum credit score of 500.
3.5% down payment if you have a minimum credit score of 580.
Down payment can be gifted.
If you have experienced bankruptcy, short sale or foreclosure, an FHA home loan can help you become successful in your next opportunity as a home buyer.
Conventional Home Loans
The U.S. Congress chartered Fannie Mae in 1938 and Freddie Mac in 1970 to provide accessible funds and reasonable repayment terms for borrowers as well as liquidity to banks to make the home financing process easier.
You could put as little as 3% down at closing when you purchase a home with a conventional home loan. However, when you put down less than 20%, you will be required to pay private mortgage insurance or PMI, which helps protect the lender if you default on the loan.
Pros and Cons of Buying a House With No or Low Money Down
Buying a house with no money down can sometimes be complicated. Here are some pros and cons of the USDA, VA and FHA home loan options. These two entities set guidelines for conventional loans, which are not guaranteed or insured by the federal government.
Loan Type
Pros
Cons
USDA Home Loan
-Moderate credit requirements
-Seller can pay closing costs
-Can be cheaper than renting
-Can also buy a home in the suburbs
-Must buy within USDA geographical boundaries
-Requires a 2% fee upfront
-$29 charge per month on every $100,000 borrowed
VA Home Loan
-No monthly mortgage insurance premium (MIP) to pay
-Seller can pay closing costs
-No minimum credit score required; however lenders will evaluate the applicant's loan profile
-Must pay a VA funding fee upfront
FHA Home Loan
-Low minimum credit score
-Can roll upfront premium into the loan account
-Requires annual MIP payment
-Must pay upfront fees
Is Buying a House With No Money Down Right for You?
Several benefits exist if you can put money down when you get a mortgage loan, but sometimes, you might not have the ability to do so. 
Taking advantage of these no-money-down home loans or making a low down payment for a house is right for you if you are:
A first-time home buyer
A veteran
A current military service member
Living in a rural area
Have no or very limited funds for a down payment
Good To Know

Many veterans and active duty service members are not aware of their eligibility for a no-money-down VA home loan. If you're currently serving or are a veteran and aren't sure if you qualify for a VA loan or other veterans benefits, check with your local VA office to find out.
GOBankingRates' Homebuying Guides
Our in-house research team and on-site financial experts work together to create content that's accurate, impartial, and up to date. We fact-check every single statistic, quote and fact using trusted primary resources to make sure the information we provide is correct. You can learn more about GOBankingRates' processes and standards in our editorial policy.