I'm a Real Estate Agent: These Are the 3 Mistakes All First-Time Homebuyers Make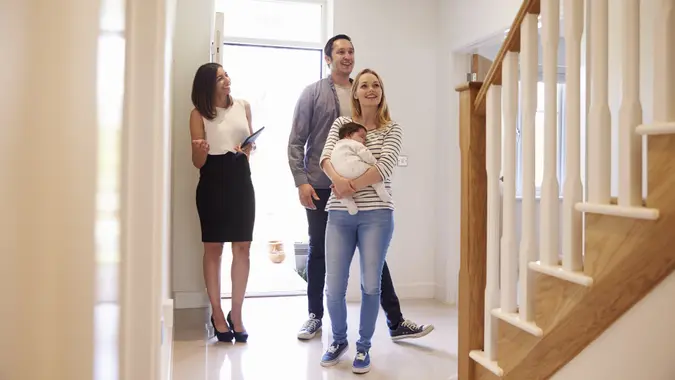 Monkey Business Images / Shutterstock.com
When the excitement of getting the keys to your first home wears off, you could suddenly realize that you made a few mistakes that could end up costing you a small fortune in the long run. Becoming a homeowner for the first time can easily go from an exciting adventure to a terrifying process if you make the most common mistakes as other first-timers did before you.
The good news is that if you're a first-time homebuyer, you can learn from the mistakes of others. The homebuying process is an extensive procedure that can get stressful at times. Before you throw that memorable housewarming gathering, you'll want to ensure that you arrive at your new place without making these financial mistakes. 
What are some of the most common mistakes that all new homeowners make?
Mistake #1: Not Securing Proper Financing
Not getting a mortgage pre-approval in advance to ensure that you qualify is one of the biggest mistakes that you can make because you could be wasting your time by even shopping for a home, or you could get yourself into financial issues if you don't have enough financing for that first home purchase when all of the closing documents arrive.
"Not talking to a bank first to obtain the proper financing is a common issue that we see among first-time homebuyers," said Chris Craddock, an experienced real estate agent. "Thinking that you will get your dream home in your first purchase is a major issue since these home buyers are often surprised that they either don't qualify for the home mortgage or they don't have enough money saved up for every step of the home purchase." 
Before you fall in love with your dream home, you must ensure that you can afford it and that you'll be approved for the mortgage. You should try obtaining a pre-approval to see what kind of mortgage you would apply for so that your search is realistic. This will help you immensely with the house-hunting process because you don't want to waste time by looking at properties and set yourself up for disappointment by looking at places that are out of your price range. 
In the past, we looked at the importance of running your ratios and putting in the extra effort upfront in the homebuying process to get pre-approved because it's critical that you don't put yourself in a dire financial position.
Mistake #2: Not Planning for All the New Homeownership Expenses
If there's one thing that's challenging to plan for in life, it's the new expenses that come with homeownership and moving out for the first time. Most of us know we need the money for the downpayment, but the other expenses will creep up. When running the calculations associated with purchasing your first home, many buyers will look at the mortgage interest rate and the downpayment needed for the property, but they'll ignore the other expenses (closing costs, moving fees, and so on).
Traditionally, a general rule of thumb when budgeting for homeownership is that your monthly housing payments shouldn't be more than 28% of your gross income before taxes.
Ramit Sethi, the host of the Netflix program "How to Get Rich," encourages homebuyers to calculate their new housing budget in advance and recommends adding about 35% to 50% on top of your mortgage regarding phantom real estate costs. These expenses could include home closing costs, maintenance fees, taxes, repairs and other legal fees you must handle before you get the keys.
Sethi also suggests that you should be prepared to start an emergency fund for home repairs as soon as you become a homeowner since you never know when you'll need the funding to replace an appliance or a high-ticket item. 
It's important to remember to put money aside for additional expenses that you'll incur once you become a homeowner, from purchasing new furniture to possible renovations that you're going to want to perform. 
Mistake #3: Not Paying for a Proper Home Inspection
Due to the shift in supply and demand, we saw unprecedented real estate bidding wars that led to changes in the homebuying process. It wasn't uncommon to see a home sell for much higher than the asking price. It was also becoming more common to waive the home inspection as unconditional offers started coming in to ensure that first-time home-buyers could even enter the real estate market. 
"When you're a first-time homebuyer, you want to limit the expenses when it comes to the property you purchase," said Elphi Bolombo, a real estate agent. "Therefore, ensuring you inspect every inch of the property before you make an offer and close on the mortgage is crucial."
A home inspection will help you identify what repairs are necessary and if any urgent structural damages need to be addressed. You're going to want to inspect the HVAC unit, the electrical wiring, the roof, and the overall home structure. 
Some of the repairs could be as simple as fixing a door handle, while others could be daunting if you find out that the property has serious structural issues. Broken floor tiles, cracked windows, and other small repairs could add up to thousands of dollars in expenses you have to factor in on top of the other fees.
On that note, you also have to ensure that you don't rely on verbal agreements if the seller comments about making repairs. You want to confirm that a licensed professional does any repairs.
A recent GOBankingRates survey indicated that 88% of people renovated their homes in the last year and that some noticed that prices were inflated by 40% compared to original estimates. This means that you should factor in the expense of inflated prices on renovations if you find out that our new home will require some maintenance before you can move in. 
If you have your heart set on purchasing a home but don't want to let the home inspection hold you back, you have the option of waiving the inspection contingency. This means that you would still obtain the information, but you wouldn't hold the seller responsible for handling the repairs.
These are the most common mistakes first-time homebuyers make that could lead to serious financial consequences. Luckily, with some planning and preparation, you can be ready to purchase your first home. 
More From GOBankingRates