11 Important Questions To Ask a Real Estate Agent Before Working With Them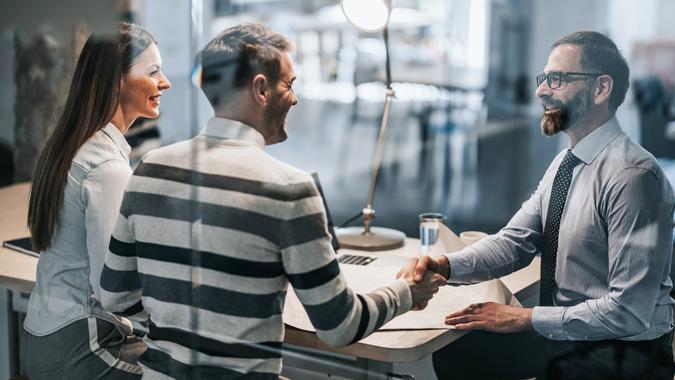 skynesher / Getty Images
Buying or selling a home is a huge, and often costly, process. The rules, laws, guidelines and stages can be confusing to the layperson, so it's necessary to engage a real estate agent to help educate you and negotiate the deal. If you don't already have one you know and trust, getting to know a new one can bring anxiety as you face down the monumental task of buying or selling a home. To help you choose this partner with confidence, we asked real estate experts the most important questions to ask a real estate agent before working with them.
Sell Now or Wait a Year: What Experts Are Saying About Today's Housing Market
Check Out: Why Buying Property in These Vacation Destinations Could Be a Great Investment
According to Robert Heck, Vice President of Mortgage for Morty, an online mortgage marketplace for homebuyers, "Great agents understand their markets, are advocates for their clients and take you through the entire process (buying or selling) step by step."
Quesitons for Buyers and Sellers To Ask
Regardless of whether you're buying or selling, there are some general questions you can ask an agent, said Kenneth Reed, a real estate investor with Better Home Buyers.
Do you have any referrals from previous clients?

Referrals are helpful, Reed said, because "contacting one or more of these suggestions will assist you in better understanding the agent's strengths as well as potential limitations." While you may also want to read over an agent's web reviews, an in-person conversation will likely net you the most accurate picture.
What do you charge and how do you get paid?

According to Reed, the house seller pays the fees for both the buyer agent and the listing agent. "When you sell your house through a standard real estate company, you will normally be charged 6% of the sales price–3% for each agent." This means, for a $500,000 home, you're immediately kissing away $30,000 in agency costs. "Because this price is so high–and frequently unjustified–it's worth attempting to haggle it down," he recommended. "Even a half-percentage point increase can result in thousands of dollars in extra home equity."
Be Prepared: 10 Hidden Costs of Buying a House
What is your preferred communication method?
Communication is always key in any negotiation. According to Gina Baker, real estate analyst at Fit Small Business, "You should be communicating with your agent continuously throughout the process, so know how they like to communicate and tell them how you ideally would like to communicate."
What will the closing process look like?
The homebuying process can be difficult to understand, Heck said, "because there are multiple moving parts on the path from locking a loan to closing on a home." Your agent should know everything about the closing process, the legal requirements and documentation involved and remind you of any responsibilities or due dates to adhere to so that you can close on time. "Your mortgage provider can also be of great help here."
What lender or broker should I use?
Look to your real estate agent for tips on a good lender or mortgage broker, as well, Heck said. "Just be aware that it's illegal for your agent to earn any incentives from brokers or lenders, or force you to use a specific mortgage provider, so whoever they recommend will often be someone they have a history of working with in their area."
See: 20 Most Affordable Places To Live That Have Great Weather, Too
Questions for Buyers To Ask
Buyers, specifically, should ask these questions before picking an agent.
How does the buying process work? 
If you're a first-time homebuyer, the answer to this question will let you know if your real estate agent can educate you properly on the process, Baker explained. "If you're an experienced buyer, it will let you know if the agent has similar knowledge as you, can add to your already established knowledge, and how they like to work the buying process." 
What is your process in finding clients a home? 
Baker said this question helps you see what the agent's plan will be to help you buy a home, such as how many properties they intend to show you, when they are available to show properties, and what paperwork they need from you to start the process.
"You want to make sure your agent is going to invest enough time and effort into your search that makes you feel valued as a client," Baker said. 
How familiar are you with the area I'm intending to buy? 
It's necessary for your agent to be knowledgeable about the location(s) where you're looking for your new home, Baker said, because every market has its own unique quirks and demands.
Questions for Sellers To Ask
These are important questions for a seller to ask.
How does the selling process work?
"Every agent does things a bit differently so it's important to know what your agent is intending to do throughout the process as well as how and when you'll need to be involved," Baker said. 
How many sellers have you worked with and what was your experience with them?
Knowing your agent's track record helps you to see if they've had success selling properties in the past, Baker explained. "Selling your home can be an arduous task so knowing that your agent has experience can be comforting. If they have not had extensive experience, that's okay, as long as they're working with experienced agents, a coach, or a team that can assist them during the process." 
What are your marketing strategies? 
Your agent has to do some marketing to attract clients to your home in order to sell it, Baker said. Find out what listing websites they advertise on, what digital and print marketing strategies they utilize and any other marketing channels. "When your agent attracts a more targeted audience to your home, the easier it will be to sell it." 
More From GOBankingRates