Is Gen Z Too Optimistic About Being Able To Afford a Home?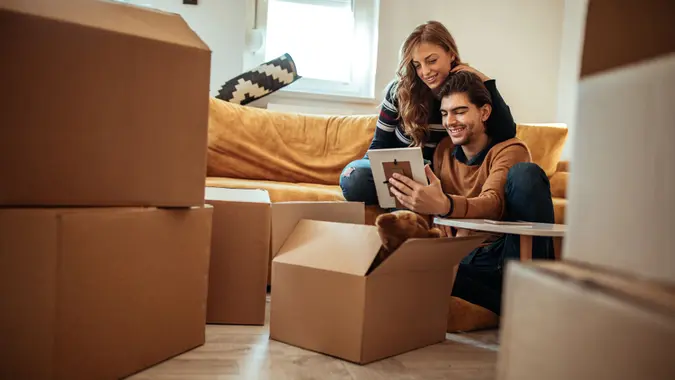 bernardbodo / Getty Images/iStockphoto
A recent Rocket Homes survey found that 86% of adult Gen Zers want to buy a home and that nearly 45% of those hope to own a home within the next five years. When asked why they wanted to become a homeowner, 27% of respondents said it was a "means of starting a family." Others (13.2%) were more interested in the fact that it could be a way to build wealth.
The Future of Finances: Gen Z & How They Relate to Money
See: 3 Things You Must Do When Your Savings Reach $50,000
The survey included over 1,400 Gen Zers between the ages of 18 and 24. While the vast majority saw themselves owning homes in the future, 40% of those who reported not wanting to buy a house stated it was because of affordability.
Mixed Signals
While "zoomers" often aim high, they also seem to realize the obstacles that they may face along the way. Almost 74% of people responded that financial obstacles were the main challenge in purchasing a property. Over 10% said that too much student loan debt was a significant roadblock to homeownership while 21.9% said it was not "having enough savings for a down payment."
The youngest generation to reach adulthood is also somewhat naive when it comes to the price of homes. The survey shows that the generation's expectation of what a home should cost ($223,468) is substantially lower than the reality of $363,300.
Are Gen Zers Too Optimistic?
We reached out to experts nationwide to determine whether Gen Zers had an unrealistic expectation of homeownership. 
"According to the data reported in the survey it definitely appears that Gen Z buyers are overly optimistic about being able to realistically purchase a home. I think that Gen Z's home price expectation (223,468) vs. the actual U.S. median home price (363,600) in the article is the biggest indication of how unrealistic Gen Zer's expectations are of buying a home soon," said real estate investor and owner of Blue Ladder Development, Bill Samuel.
Take Our Poll: Do You Have a Second Job or Backup Plan in Case You Are Laid Off?
He continued, "The difference in principal and interest alone is an additional $871 on their mortgage from buying a home at the median price vs. their expected purchase price. Also, many of the homes purchased below the median price are going to require a decent amount of work so they'll also have to factor in saving for the cost of completing repairs in addition to their down payment and closing costs."
Can Optimism Be a Good Thing?
Hugo Parra, Owner of Colorado Cash Buyers, doesn't necessarily think Gen Zers' optimism is a bad thing. He explained, "Gen Zers are entering one of the most expensive housing markets in history, and many wonder if they can afford a house. With rising living costs and stagnating salaries, it's no wonder Gen Zers worry about whether or not they can eventually become homeowners."
"Although Gen Zers may remain optimistic despite these daunting concerns, realistic expectations must prevail to acquire a house before prices skyrocket," he added. "By learning about mortgages and financial literacy, young adults can ensure their dreams of owning a home do not remain unattainable illusions."
Understanding the Obstacles
"I do not believe Gen Zers are too optimistic about being able to afford a house," said Carlos Sturrock, a sales team lead with Gapital Mortgage. "Now Gen Zers are most certainly in an unprecedented situation." He cited the higher cost of housing, economic uncertainty, high inflation, job instability and increase in mortgage rates as part of the problem. 
Despite all of this he encourages Gen Zers to remain vigilant. He noted, "Several options exist to help with down payments, lowering interest rates, and first-time home buyer programs that make qualifying affordable. Interest rates and home prices will come down at some point in the near future."
Sturrock added, "The housing inventory will increase allowing less competition for those who don't have the extra funds to overpay. Legislation has also been creating ways to make buying a home more affordable. Gen Zers should continue being optimistic. They just have to be realistic about what they need and how to get that first home, rather than chase the dream home as their first house."
More From GOBankingRates