Is It Better To Buy or Rent in 2021? Experts Weigh In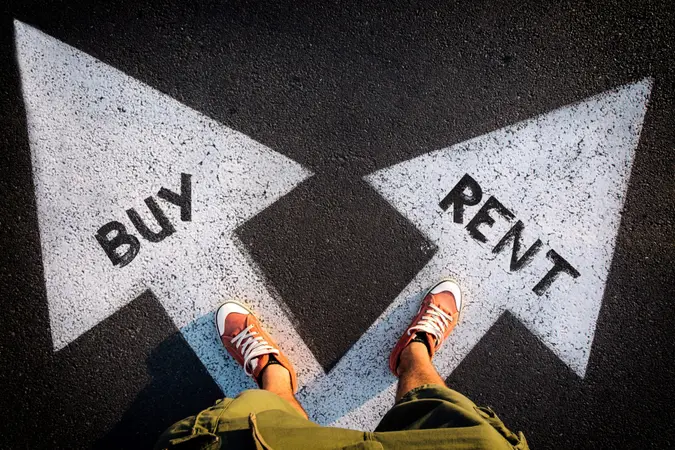 badmanproduction / Getty Images/iStockphoto
You're interested in buying a home, but due to the crazy competitiveness of the current real estate market, you're not sure if now is the right time. Since this is likely one of the biggest purchases you'll ever make, you're taking the time to make an informed decision.
Housing Market: Are We in a Housing Bubble?
Helpful: These Are the 50 Best Cities for Renters
As of June 30, the median sale price of a home in the U.S. is $386,888 — a 24.8% year-over-year price surge — according to Redfin. Despite the rising prices, 717,474 homes were sold during the month, marking a 20.6% year-over-year increase.
Clearly, a massive spike in demand in many real estate markets has allowed for sky-high sale prices. This can make it hard to decide whether to keep renting or buy a home of your own because you don't want to overpay.
"There are pros and cons to buying vs. renting for any year, but more so in 2021 because housing prices are on the rise," said Jenna Lofton, a New York City-based stock trader and investor.
Be Aware: 17 Dumb Home-Buying Mistakes That Hurt Your Wallet
She said homeowners enjoy lower monthly mortgage payments, while renters get the savings that come from not paying property taxes. However, she noted that owning a home offers greater financial stability, due to the ownership stake in the property.
"I generally recommend people buy or rent depending on what they value most — security or flexibility," said Lofton, who is also the founder of stock trading blog Stock Hitter.
In terms of not wanting to overpay for a house, she said the decision to buy or rent depends on where prices are going. She said buying might be a good idea if you're financially secure and want a stable housing situation, but warned not to forget about maintenance expenses and other costs associated with homeownership.
"Renting makes sense for people who worry about their financial security," Lofton said. "If the market changes, then they won't be stuck with something they can't afford, which is [a] valuable peace of mind."
Buying: The 50 Best Places To Buy a Home for Under $250,000
Tips: Buying a House Is Crazy Right Now — Consider Renting in These 10 Cities To Save Money
A fear of overpaying for a house in the current real estate market is a very valid concern, so Cynthia Kellogg, a San Francisco Bay Area-based real estate agent with Avenue 8, said to think about how long you can see yourself living in it. In most markets, she said real estate is a long-term investment.
"If your answer is less than five years, depending on your market, then renting might be a safer option," she said. "But if you're planning on staying in a home for more than that, your home will likely appreciate and you will make money when you go to sell."
Since properties in many markets are selling at much higher prices than they would've in recent years, it makes sense to be concerned whether they'll hold their value.
"Right now, there are a lot of stories about people paying anywhere from 10 to even 100% over list price in order to win a home, but that won't matter much in 20 to 30 years if your home has tripled or quadrupled in value," Kellogg said. "Sure, you could have potentially made more if you had offered less, but then you may not have won that house."
Inspection: 10 Things To Always Ask the Home Inspector
Best Cities: 50 Cities With the Most Underpriced Homes
However, if you're looking to invest in the real estate market and you have the financial ability to do so, she recommended buying and holding onto the property for as long as you can."There's no such thing as timing the market," she said. "The only real thing that matters is your time in the market."
To avoid overpaying, she advised looking for properties that have been on the market for longer than average and working with a real estate agent who can help you find a great investment.
"This might mean you make some trade-offs," Kellogg said. "Perhaps buying a bit outside your desired neighborhood or being willing to commit to some work and potential home improvement projects."
Home Costs: The Cost To Own a 3-Bedroom Home in Every State
Clearly, the decision to start shopping for houses right now or continue renting for a while depends on your unique circumstances. The best choice for you might not be the same as a friend or family member in the same predicament.
However, it's worth noting that interest rates are still at historical lows — 2.8% for a 30-year fixed-rate mortgage, as of July 29 — so things are unlikely to change in the near future.
If you're ready to put down long-term roots in a home and you feel like you can afford a sale price that might be more than what you originally expected, now might be a great time to buy. On the other hand, if you're not sure you'll live in the house very long or feel uneasy about spending more than planned on a home, it might be better to keep renting for at least a while.
More From GOBankingRates
Last updated: Aug. 5, 2021