I Lost $150,000 From Investing In Real Estate — Here Are 3 Things I Learned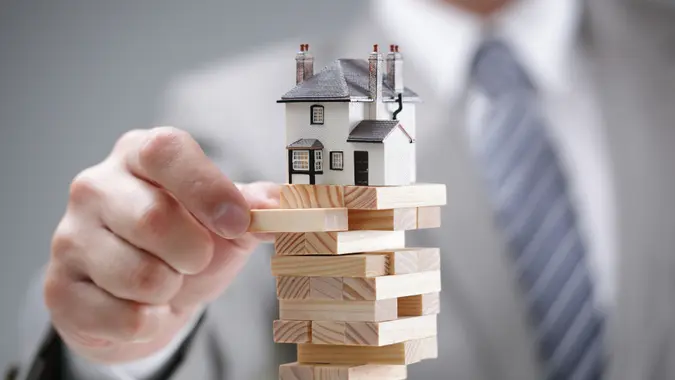 BrianAJackson / Getty Images/iStockphoto
Real estate investing can be a gamble. When all goes well, there's a lot of money to be made, but things don't always go as planned.
Sebastian Jania, owner of Ontario Property Buyers in Ontario, Canada, said he lost $150,000 on a real estate project.
"This was a century home flip and this was an incredibly painful experience and provided a lot of lessons that we've carried forward into our present day business," he said.
Clearly, this is a huge amount of money to lose. However, he shared his three biggest takeaways from the experience, so you can learn from his mistakes.
1. Be More Confident With After Repair Value (ARV) Comparable Properties
"What this means [is] that we should have had more strict criteria with the target prices we are aiming for and also making sure that those properties were very similar to the property we were renovating," he said. "In our case, we didn't spend enough time on this and so we thought we were going to be making more money on the property then we should have thought."
If he knew this in advance, he said they would have tried to purchase the property for a lower price or just walked away from the deal.
2. Rent Out Properties That Won't Sell For a Profit
Initially, he said his team decided they would rent the property out if they couldn't sell it for a profit. However, with home prices plummeting, interest rates rising and feeling uncomfortable in a tenant environment that doesn't protect landlords, they opted to change course.
"We panicked a little bit and decided to sell for a loss, instead of holding on to it, which we said we would initially do if it didn't work out in our favor," he said.
3. Focus on Managing Contractors Efficiently Instead of Taking on Other Flip Projects
Early in his team's house-flipping career, Jania said they caught the real estate bug, which made them want to keep taking on projects, instead of patiently managing those currently on their plate. Consequently, they opted to take on a lot more debt from their capital partners to afford these projects, instead of using any of their own money.
"If there had been a larger focus on managing the project efficiently, the project would have been done faster [and] the financing costs on flipping the property would have been smaller, because it would have been financed for a shorter period of time," he said. "We would have sold the property for more, because it would have been sold earlier on in the market downturn."
One More Thing To Be Careful Of: Choosing the Wrong Tenants
Owning rental properties can be a great way to earn money — but only if your tenants actually pay their rent. He didn't specify exactly how much he lost, but Mike Hardy, a Los Angeles-based real estate investor and managing partner at Churchill Mortgage, inadvertently chose nightmare renters.  
"I had a triplex many years ago and was not careful enough with the tenants that were renting," he said. "Getting the wrong tenant led to a long eviction process that was quite costly, with no rent coming in and a mortgage still to pay."
While the situation was certainly unfortunate, he used it as a learning experience.
"It made me extra careful in the future to thoroughly vet all tenants and choose people with the highest level of care and responsibility."
As someone who has been involved with more than 100 real estate projects over the past 15 years, that wasn't Hardy's only mistake.
"I had another project that was a fairly intense rehab and ended up hiring the wrong contractor," he said. "It took about a year to finish the project, instead of three to four months."
Thankfully, he was still able to sell the property and make a nice profit on it, but that came at a price.
"The level of stress and frustration took a toll on me," he said. "I'm very deliberate now to ensure I have contractors with an excellent track record and references — especially if I don't have a personal history and connection with them already."
Now, before choosing to do business with someone, he said he always asks himself these three questions.
"Are they someone of character?"
"Are they somebody that brings a level of competency?"
"Are they somebody that cares enough to find a way to do the right thing if the situation gets complicated?"
Many people think investing in real estate is an easy way to earn a quick buck, but as you can see, that isn't always the case. You can earn a lot of money in this business, but you can also lose a lot.
Therefore, it's important to be cautious with your investments. Mistakes are inevitable, so learn from them and use them to become even savvier with each new project you take on.
More From GOBankingRates