Two-Thirds of Wealthy Americans Now Own a Second Home: Here's Why Everyone Should Consider This Investment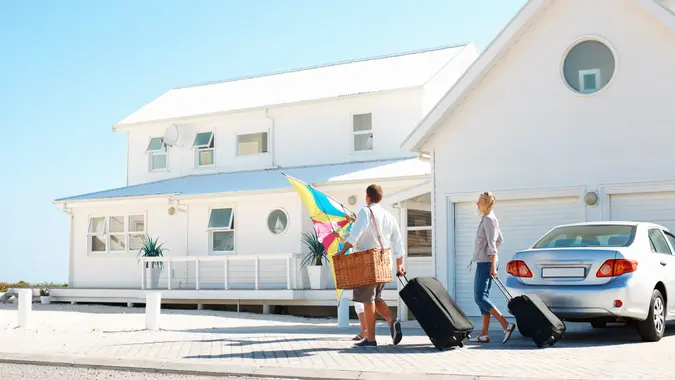 kupicoo / Getty Images/iStockphoto
Having more than one home is now the norm for wealthy Americans. A new Ameriprise Financial survey of financial advisors who work with high-net-worth clients estimated that about 2 out of 3 own a second home — and one-third of those who don't already say they're interested in acquiring one in the future.
Here's a look at why second homes are a popular investment for the wealthy and why the average American might consider investing in a second home, as well.
Why Wealthy Americans Own Second Homes
Most high-net-worth individuals that own second homes purchased their home as a vacation residence rather than as a source of rental income, the Ameriprise Financial survey found.
"The data uncovered that the vast majority (81%) of affluent clients primarily use second homes as a vacation destination or a place to get away from the stresses of everyday life," said Marcy Keckler, senior vice president of financial advice strategy at Ameriprise Financial. "Other common reasons were better weather (49%), rental income (41%) and having a venue for gatherings (25%) with family and friends."
Financial Benefits of Owning a Second Home
Although many wealthy Americans didn't purchase their second homes for financial reasons, there are financial incentives for making this investment.
"Historically, real estate has been a strong investment as the value of property is often higher at the time of a potential sale compared to the time of purchase," Keckler said. "While there are exceptions to this, such as in the Great Recession, there can be strong value if you're able to lock in your interest rate now and pay off the mortgage over time."
One of the common financial reasons for purchasing a second home among high-net-worth individuals is that they plan to eventually move into the home full-time during retirement — the survey found that 33% of high-net-worth clients that currently own a second home plan to make it their primary residence in the future.
"There can be an advantage to purchasing a second home before you're done working so that you can pay off the mortgage before you officially retire," Keckler said. "This strategy can make it easier to weather future economic downturns by eliminating or reducing a significant monthly expense."
Why the Average American Might Consider Purchasing a Second Home
You don't have to be a member of the 1% to benefit from owning a second property. However, it depends on your individual circumstances to determine whether or not investing in a second home is a wise investment for you.
"A financial advisor can help investors at all asset levels evaluate whether owning a second property is a good choice for them," Keckler said. "Together, you can prioritize a second home in the context of your lifestyle and financial goals today and in retirement."
If you do want to purchase a second home, there are various ways to achieve it. The survey found that financial advisors most often recommend leveraging the second home as an investment property (46%) and utilizing securities-based lending solutions to finance a purchase without selling investments at an inopportune time (40%).
"Seasoned financial advisors can also help investors account for the variances in cash flow needed to visit and maintain the property over time," Keckler added.
Reasons Buying a Second Home Might Not Be the Best Option for You
Buying a second home won't always make financial sense.
"There are two common reasons a second home may not be a good investment for people right now," Keckler said. "(1) The economic environment is not ideal for a home purchase and (2) expenses to maintain a second property [may be more than you can afford]."
Taking the Current Economic Environment Into Account
Among the wealthy individuals who want to purchase a second home in the future, 42% said they are delaying this purchase.
"The primary reason is the current economic environment," Keckler said. "Half (51%) of advisors who say their clients want a second home are waiting for mortgage rates to decline, and 47% report clients are spending more time looking for a good deal on a property."
Expenses You Need To Be Prepared For
Owning a second home requires upkeep, and it's important to not underestimate these expenses.
"Most second homes are located in a separate city from investors' primary homes, making the need to hire out more maintenance and repair services necessary," Keckler said.
If you're interested in purchasing a second home, she recommends adding the following expenses to your budget:
Home watch services: "If your property will be vacant for a portion of the year, hiring a home watch service may be necessary," Keckler said. "Home watch services can routinely check on the property and evaluate potential damage following a severe weather event, such as a hurricane, tornado or wildfire. Adding liability insurance may also be needed to cover the potential risk of giving someone else access to your home."
Hazard insurance: "If you live in a seasonal area, evaluate whether you need additional insurance or maintenance to handle extreme weather conditions," Keckler said. "For example, you may need flood insurance or be required to put up hurricane shutters annually if you live in a tropical place like Florida."
Furniture, utilities and essential expenses: "Plan for ongoing expenses like utilities, home insurance, essentials such as laundry detergent, brooms, dishes, etc., and one-time expenses like furniture."
Lifestyle expenses: "Many investors envision a specific way of living as part of their dream for owning a vacation home," Keckler said. "Before you jump in on a property purchase, factor lifestyle expenses into your budget. For example, if your second home is on the water, you may desire to own kayaks, paddleboards, a boat or a dock."
Travel expenses: "Account for airfare, gas, hotel stays and other travel expenses you may incur to visit the property."
Rental expenses: "If you plan to rent out your home, earmark money to pay for cleaning expenses between visits and additional maintenance to replace broken or worn items frequently used by guests," Keckler said. "Add liability insurance to cover potential damage that may be caused by a guest. And before you start renting, check with your homeowner association (HOA) if you have one to see if additional items apply before you host your first guest."
More From GOBankingRates