Money Expert Barbara Ginty: 'When You Own a House, There Is No $100 Expense'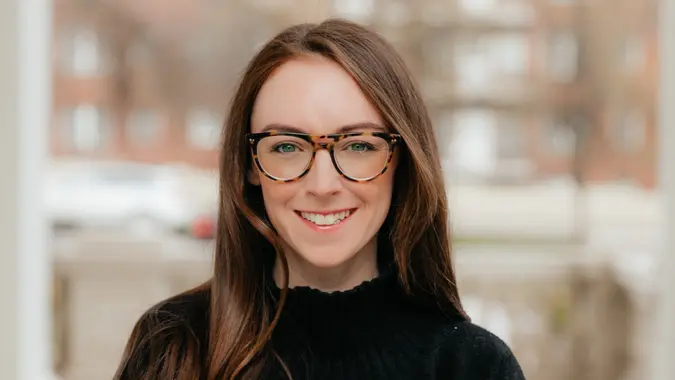 Sarah Jane Zenger / Sarah Jane Zenger
The expenses of owning a home go far beyond your mortgage payment. On a recent episode of the "Future Rich" podcast, money expert Barbara Ginty noted that there is really no such thing as a minor expense when it comes to home maintenance and repairs.
"When you're renting and the stove breaks or the washing machine breaks, you call somebody and they come and fix it and that's it — you don't have to pay for it," she said. "When you own it, you have to pay for it. And when you own a house, there is no $100 expense."
Here's a look at all of the other things you can expect to pay for when you own a home.
Be Prepared for Things To Go Wrong
Ginty said she's had some back luck herself when it comes to needing expensive repairs for her home — but she said everyone should be prepared for major expenses at some point during their homeownership experience.
"I hope you have good luck and nothing goes wrong for 30 years, but that's just not realistic, so it's better to plan for it," she said on the podcast. "Plan for emergencies for your home."
This can include anything from your hot water heater breaking to needing windows replaced. You should be particularly prepared for extra expenses if you buy a single-family home.
"Houses are expensive," Ginty said. "When you buy property, especially a stand-alone versus a townhome or a condo when there are some shared expenses, it literally always needs something; and, when you own it, you are responsible for it."
Learn: How To Avoid Paying Taxes When You Sell Your House
Other Expenses You Need To Budget For
In addition to having wiggle room in your budget for emergencies, you also need to budget for property taxes, insurance, utilities and regular maintenance costs.
"These are the things they don't tell you when you get approved for a house," Ginty said. "They tell you what you're going to spend on your principal and interest payment, which is the mortgage, and they give you an estimate for taxes, [but] generally, your taxes are going to go up every year, so plan on those going up.
"And then you have your insurance. If you don't put 20% down, you're going to have [private] mortgage insurance, and then you're also going to have homeowners insurance."
If you move to a bigger home, you'll likely be paying more for utilities. And even if it's not a bigger home, there are likely more utilities you will be responsible for that you didn't have to worry about as a renter.
"There are just a slew of expenses you could possibly have: lawn maintenance, water, trash, sewage and then your regular electricity and gas," Ginty said. "I would give yourself extra cushion because what you don't want to do is get into a home at the very top of your budget and then not expect that you're going to pay all of these utilities."
How To Figure Out If It's Better To Rent or Buy
Because there are so many added expenses that come with homeownership, it's essential to take a holistic view before deciding to buy versus continuing to rent.
"I think when you listen to personal finance experts, they often say 'you absolutely should buy a house' or 'you absolutely should not.' I really think that it depends on your specific situation," Ginty said on the podcast. "I think a lot of people put a timeline on it, like, 'Oh, I shouldn't be renting at 30.' There is no age on it. It should be when you're financially prepared for it.
"And it's a lot of work. I think a lot of people don't realize that. Like maintaining the lawn and all of those things that come with a property. It's always something."
Ginty said it's also important to consider how your lifestyle might change in the next few years.
"It also depends on your work situation," she said. "Are you the type of person where you think your income is going to continue to grow and so you're comfortable being at the upper limit of your budget?
"The other side of it is: If you plan on having children, that's another cost down the road. I see when single people are getting approved for mortgages, they're not taking into consideration that while their income might go up, they're also potentially going to have a lot more future expenses if they plan to have a family. Daycare can be as much as a mortgage."
Another thing to consider is where you live. If you live in a very expensive city, it might be a better financial choice to rent.
"Renting might make more sense where you are," Ginty said. "People say, 'Oh, it's throwing away money.' Well, it's better to 'throw away' money on rent, allowing you to be in a city where your earning potential is higher; because, if you get a good rent price, you can save more, versus going underwater where you're so strapped that you're living in a city but can't take advantage of any of the benefits of being there."
More From GOBankingRates