Mortgage Rates Back on the Rise: 8 Experts Predict 2023 Average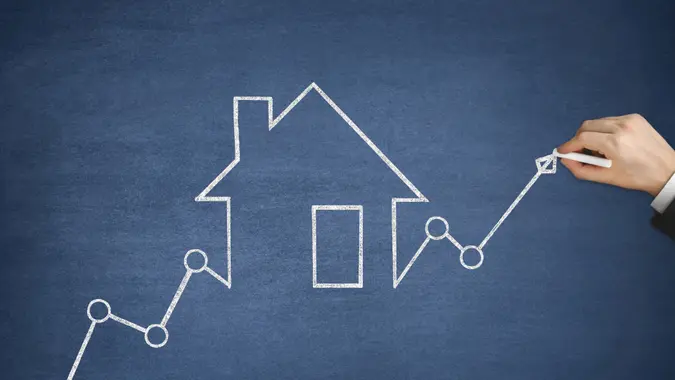 anilakkus / Getty Images/iStockphoto
After weeks of declines, mortgage rates are back on the rise. Fortune reported that mortgage rates fell from 7.37% in early November to 5.99% in February, but new data showed that mortgage rates have increased for the second consecutive week.
See: 8 Places in California Where Home Prices Have Plummeted
Find: 3 Things You Must Do When Your Savings Reach $50,000
As of Feb. 17, the average 30-year fixed mortgage rate went back up to 6.8%, Fortune reported, using data from Mortgage News Daily. This is the highest reading measured since November. 
The effect this small increase has on housing affordability is substantial. For example, Fortune indicated someone who took out a $500,000 mortgage in early February at a 5.99% fixed rate would have a monthly payment of $2,995. At the current rate, a borrower would now have a $3,260 monthly payment on the same size loan.
"Mortgage rates increased across the board last week, pushed higher by market expectations that inflation will persist, thus requiring the Federal Reserve to keep monetary policy restrictive for a longer time," said Joel Kan, vice president and deputy chief economist of the Mortgage Bankers Associations, CNBC reported.
The Federal Reserve raised the prime rate by 0.25% on Feb. 1, pushing up the cost of borrowing. However, Jacob Channel, senior economist for LendingTree, told CBS News in an email that another Fed rate hike doesn't necessarily mean mortgage rates will see a significant spike, as previously reported by GOBankingRates.
Take Our Poll: What Are Your Financial Priorities in 2023?
More: Should You Save for Retirement or Pay Off Your Mortgage Early?
Fortune spoke with eight leading research firms for expert opinions on where mortgage rates are heading this year. Here's what they had to say:
The Mortgage Bankers Association: The group expects the 30-year fixed mortgage rate will average 5.2% in 2023. In 2024 and 2025, mortgage rates could average 4.4%.
Bank of America: The investment bank expects mortgage rates to drop to 5.25% by the end of 2023.
Morgan Stanley: Agency MBS strategists believe that mortgage rates will fall to 6% by the end of 2023.
Fannie Mae: Economists at Fannie Mae expect the 30-year fixed mortgage rate will average 6.3% in 2023 and 5.7% in 2024.
Freddie Mac: Economists at Freddie Mac predict that the 30-year fixed mortgage rate will average 6.4% in 2023.
Moody's Analytics: The financial intelligence arm estimates that the 30-year fixed mortgage rate will average 6.5% through most of 2023.
Goldman Sachs: The investment bank forecasts that the 30-year fixed mortgage rate will hit 6.5% by the end of this year.
Realtor.com: Economists believe the 30-year fixed mortgage rate will average 7.4% in 2023.
More From GOBankingRates