Mortgage Rates Jump Again While Housing Market Cools — Does That Mean the Economy Is Recovering or Getting Worse?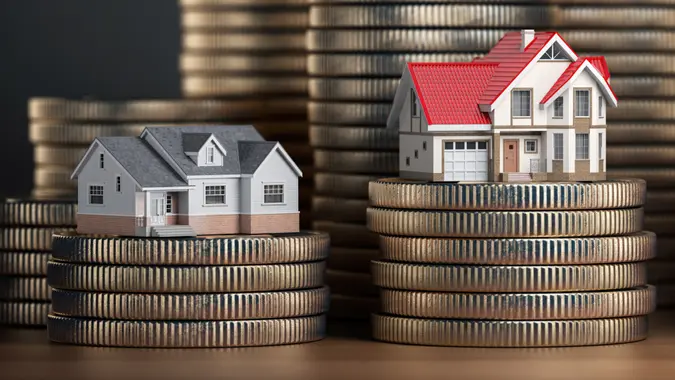 Bet_Noire / Getty Images/iStockphoto
Homebuyers continue to take the hit from a housing market that has refused to stabilize over the past couple of years. While there have been positive signs and housing prices have cooled slightly in 2023, low inventory persists and mortgage rates have risen, forcing homebuyers to the sidelines and keeping Americans wondering if the economy is getting better or worse.
The Freddie Mac 30-year fixed mortgage rate has increased 0.40% over the past two weeks, rising to 6.79% for the week ending Jun. 1 and up 22%, from 6.57%, last week.
The national median mortgage payment increased by 0.9%, from $2,093 in March to $2,112 in April, according to the Mortgage Bankers Association's Purchase Applications Payment Index (PAPI), which measures how new monthly mortgage payments vary across time relative to income.
And, like inflation — which has weakened in 10 consecutive months — house prices are still high, even if they're leveling off. As Realtor.com reports, the national median list price grew to $441,000 in May, up from $430,000 in April. The 2023 first quarter average is $436,800, a 32% increase from 2020, when the median was $329,000, per the Federal Reserve Bank of St. Louis.
The increase in mortgage rates and the (relative) cooling of the housing market can be interpreted in different ways, but no scenario really provides a definitive indication of whether the economy is recovering or getting worse on its own.
Rising mortgage rates can suggest that the economy is improving as higher rates may reflect increasing demand for credit as businesses and consumers become more confident about the economic future. In this case, a strong economy can push interest rates higher due to factors like inflation expectations.
However, a cooling housing market could be an early sign of a weaker economy. A slowdown in home sales and construction activity might indicate a decrease in consumer spending and business investment, which can have broader implications for economic growth.
What we are seeing now is an odd combination of a resilient economy mixed with an extended period of high inflation, an anticipated Federal Reserve rate hike this month, and anxiety from the ongoing debt ceiling negotiations and outcome agreement, which can contribute to a more comprehensive assessment of mortgage rate activity and indicate whether the economy is recovering or deteriorating.
As CNN points out, while Fed hikes to fight inflation don't raise mortgage rates on their own, higher interest rates influence bond yields (causing them to be less valuable in the market), which can cause mortgage rates to increase.
Likewise, while the disaster of defaulting on the federal debt has been averted, providing some relief to the mortgage market, that doesn't mean mortgage rates won't rise and disrupt the economy.
"The fear of debt default affects mortgage rates through government-backed bonds," said Realtor.com economist Jiayi Xu. "If the U.S. defaults on its debt, bond investments become riskier, resulting in increased yields and potentially higher mortgage rates."
Take Our Poll: Are You Planning To Buy or Sell a House This Year?

But, as the country waits for President Joe Biden to sign the debt ceiling bill into law, we might see more rate increases in the near future. "In order to keep attracting depositors, banks might be compelled to raise interest rates, thereby squeezing profit margins," added Xu. "This could lead to further rate increases across various loan products offered by banks, including both business loans and personal loans."
Despite ongoing recession fears, most experts don't expect a housing crash in 2023 but do expect the market and wider economy to remain unpredictable, making for an equally unsteady mortgage market.
More From GOBankingRates