Here's How Mortgage and Rent Payments Break Down by Region and Income, According to the Fed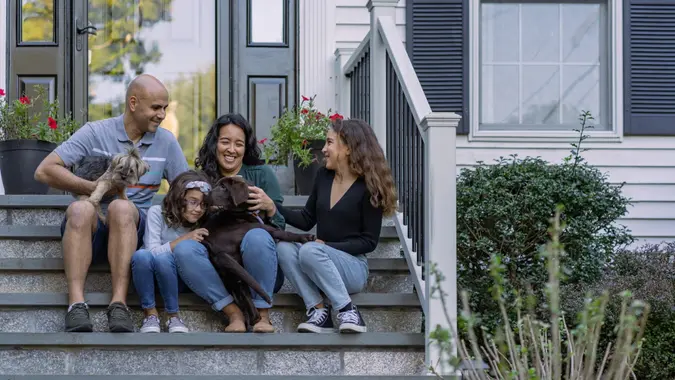 Michele Pevide / Getty Images
It's no secret that the housing market has been a very difficult one for Americans in the past few months. The increasing price of rents, inflation and soaring mortgage rates have been putting a toll on both homeowners and renters. Indeed, in May, the index for shelter was the largest driver of inflation, according to the Consumer Price Index (CPI). 
But there are also notable discrepancies between region and income levels, according to the Federal Reserve's 2022 Economic Well-Being of U.S. Households report, released in May.
"Overall, the report shows that higher prices have negatively affected most households and overall financial well-being declined over the prior year," according to a Fed press release.
The Breakdown of Renters
Nearly two-thirds of renters said that their inability to afford a down payment to buy a home was a reason they rent and a staggering 17% of them said they were behind on their rent at some point in the prior year.
The report found that 27% of adults rented their home in 2022, with lower-income and Black and Hispanic adults being disproportionately likely to rent as opposed to own. The report noted that 40% of renters had an income of less than $25,000; 39% had an income of between $25,000 and $49,999; 24% between $50,000 and $99,999; and only 11% had an income of $100,000 or more.
In terms of monthly payments, renters paid a median monthly rent payment of $1,000 — $400 less than the median mortgage payment.
Also notable, renters paid a larger percentage of their income on housing costs because they frequently had lower incomes than homeowners. A typical family spent a median of 32% of their income on rent, nearly twice that of homeowners.
And in terms of regions, monthly rent payments were higher in the Northeast and West. Those regions came in at $1,200, compared with the Midwest at a median of $790. The South was in the middle at $900.
Take Our Poll: Are You Planning To Buy or Sell a House This Year?
Florida's Retirees Are Fleeing: Here's Where They're Going Instead
The Breakdown of Owners
The report found that 63% of adults owned their homes, but the percentages varied substantially across demographic groups.
A whopping 88% of adults with a family income of $100,000 or more owned their home, compared with just 36% of people whose income was less than $25,000.
Seventy percent of white adults were owners, which was in stark contrast to Black adults of which only 47% were homeowners.
In terms of mortgages, the median monthly payment was $1,400. They were higher in the West and the Northeast, at $1,700 and $1,500, respectively.  In the Midwest, the median mortgage was $1,195 while down in the South it was $1,300. 
More From GOBankingRates