Should You Buy a New Construction Home? Here Are the Pros and Cons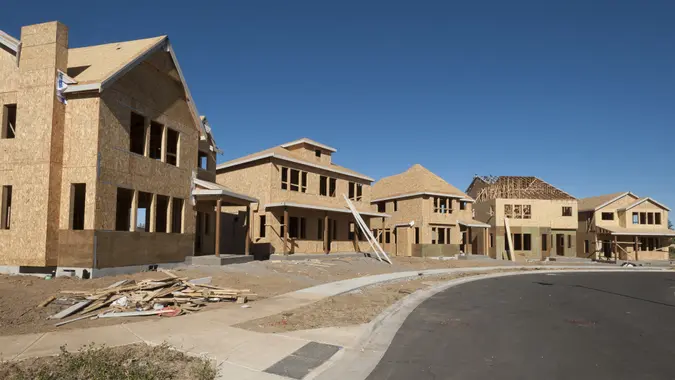 ©Shutterstock.com
High demand and high prices have made it tough for homebuyers to find a home they want at a price they can afford. One alternative is to build or buy a new construction instead of an existing home. While still comprising the minority of home sales, new constructions will continue to be a significant part of buyers' searches, according to the National Association of Home Builders.
See: 3 Things You Must Do When Your Savings Reach $50,000
A brand-new home offers several perks existing homes don't. But new constructions can also present some challenges you should consider before you buy.
What Is a New Construction?
You have two types of new construction to choose from. The first is a custom home built for you by a home builder using your design or theirs. The builder can construct the home on a lot you already own. Alternatively, they can help you find a lot or include one they already own in a package deal.
The second alternative is to buy a newly built home, condo or townhome. Some newly built homes are complete and ready for their new owner. Others are still under construction and weeks or months away from completion.
Some homebuilders also serve as developers of new communities, purchasing land, dividing it into lots and then building homes on the lots. Buyers can come into this type of new construction at any stage, from before construction has begun to after it has been completed.
Pros of Buying a New Construction
More homebuyers are choosing new construction for good reason. Here are some of the pros.
No Maintenance Worries
As charming as an older home can be, you always run the risk of facing expensive repairs in the not-so-distant future. A new roof, for example, averages $10,000, according to The Zebra. A new hot water heater costs about $1,300, and a new HVAC system? About $9,300, on average.
You don't have to worry about that during the early years in a new construction. In the event something does go wrong, you'll likely have a warranty to cover it. HVAC, plumbing and heating systems are usually warrantied for two years, according to the Federal Trade Commission. Many builders cover major structural defects, such as a dangerous roof, for up to 10 years.
Get Exactly the Home You Want
A tight market for existing homes drives some buyers to make compromises they wouldn't ordinarily make in terms of size, style, finishes and other home features, for the simple reason that they can't find what they want. Building a new home gives you complete flexibility. You can build precisely the home you want within the confines of your budget and zoning considerations. Even if you're buying a home already under construction, you might be able to select paint colors, flooring, tile, cabinetry and other features to give the home a custom touch.
Modern Design
Builders design new constructions with modern floor plans, closets and other storage, security and home theater wiring — and electrical outlet placement. Older homes are often laid out in a way that makes rooms feel disjointed. What's more, older wiring wasn't designed for the number and types of appliances and electronics many households operate.
Energy Efficiency
Building codes are stricter than they used to be, which means new constructions may have more insulation and more energy-efficient windows and appliances than an older home constructed according to less rigorous standards. The windows alone can save you a lot of money — heat gain and loss are responsible for 25% to 30% of your heating and cooling energy use, according to Energy.gov.
Community Spirit
As the NAHB notes, new constructions are often located in new communities. An influx of new residents moving in at the same time can foster a sense of community. In addition, these new communities might have amenities such as a pool and sports courts that make it easier for residents to get to know each other.
Cons of Buying a New Construction
A new construction isn't always the best choice. Here are some things to watch out for.
New Constructions Are Often More Expensive
New-construction prices are vulnerable to more than just demand — building materials also factor in. Whereas the national median price for an existing home was $408,600 in May, according to the National Association of Realtors, the median for new constructions was higher at $420,800.
You might recoup some of that in maintenance and energy savings. However, that's little comfort for buyers struggling with affordability.
Price Could Increase During Construction
Some builders have responded to inflationary pressure by adding clauses to their contracts allowing them to increase their price in the event of a significant increase in the price of building materials. This "price escalation clause" might include the percentage increase that triggers the clause, according to the Porter Law Group, a California law practice specializing in construction law. Read your contract carefully — or better yet, have an attorney review it.
Financing Might Be More Complicated
You have two options for financing a new construction, and both cost more than a standard mortgage:
Construction-only: Covers only the cost of building a home. Compared to a mortgage loan, which is secured by the home, a construction loan is riskier, so you'll pay higher interest, according to Rocket Mortgage. In addition, you'll have two closings — one for the construction loan and one for the mortgage. That means two sets of closing costs.
Construction-to-permanent: Finances the construction and then converts automatically to a mortgage loan. You might pay higher interest than with a standard mortgage loan. Also, you'll have to make interest payments while the home is under construction, which can prove burdensome if the down payment and closing costs will stretch your budget.
Builder-Grade Materials
Unless you're building or buying a luxury home, you might be stuck with builder-grade materials, finishes and fixtures. For example, the builder might use standard shingles that are less attractive and less resilient to weather conditions than architectural shingles, and your moldings and trim might be plastic instead of wood. The carpet might be less-than-stellar quality. Cabinets could be plywood with veneer instead of hardwood, and you may get laminate counters instead of solid surface or stone.
You can upgrade these items if you're building the home or you buy a new construction before they've been installed, but you'll pay extra.
Lengthy Wait Time
Whereas you can close on an existing-home sale in about six weeks, it could take six months or longer to build a new home. With an average two-bedroom apartment leasing for $1,320 as of February, according to Statista, those extra 18 weeks could cost you nearly $6,000 in rent.
Should You Buy a New Construction Home?
A new construction costs more, both for the home itself and for the financing. You'll also have to wait longer to move in — which runs the risk of being hit with a price escalation in the event material prices increase during construction. But for some buyers, the many benefits of a new construction, including a brand-new home you can customize to your taste, and modern layouts and amenities, far outweigh the drawbacks.
Our in-house research team and on-site financial experts work together to create content that's accurate, impartial, and up to date. We fact-check every single statistic, quote and fact using trusted primary resources to make sure the information we provide is correct. You can learn more about GOBankingRates' processes and standards in our editorial policy.