I'm a Real Estate Agent: Here Are 10 Tips for Buying Vacation Property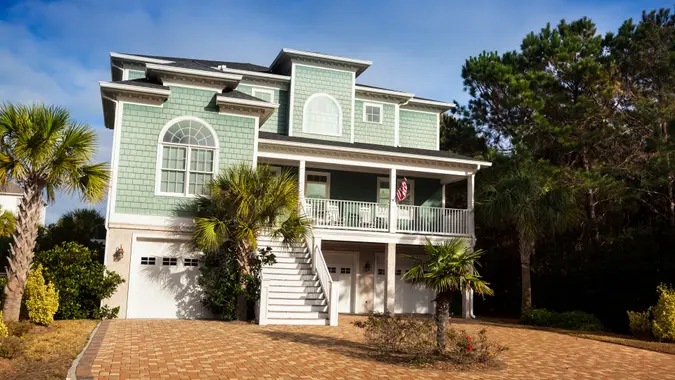 Pgiam / Getty Images/iStockphoto
You're ready to own a home in paradise. This might mean a property on the water, in the desert or tucked into the mountains, but regardless, it's a dream come true.
If you own your primary residence, you're familiar with the home-buying process. However, there are many different aspects to consider when purchasing a vacation home.
GOBankingRates spoke with several real estate experts to find out what you need to know before purchasing a vacation property. Here are 10 tips they shared to help you through the buying process.
Visit Multiple Times
You wouldn't be the first person to fall in love with a new vacation destination and immediately want to buy a home there, but this might not be the best move.
"If possible, visit the location at different times of the year, preferably during peak and off-peak seasons," said Denis Smykalov, real estate broker at Wolsen Real Estate, based in Miami. "This will give you a better understanding of the area's seasonal variations, crowd levels and overall appeal throughout the year."
Understand Rental Potential
If you're planning to rent the property out when you're not using it, Smykalov recommended researching the rental market in the local area.
"Look into rental rates, occupancy rates and any legal restrictions or regulations regarding vacation rentals," he said. "This information will help you assess the property's income potential."
Consider Property Management
Managing a vacation rental can be a lot of work — especially if your primary home isn't nearby — so Smykalov said working with a property management company can be a good idea.
"Research local property management companies that can handle tasks like maintenance, repairs and bookings," he said. "Factor in the associated costs when evaluating the financial viability of the investment."
Conduct Due Diligence
Just as you would for a primary home purchase, Smykalov said you need to conduct thorough due diligence on a vacation property before making an offer.
"Inspect the property, review any past maintenance or repair records and consider hiring a professional inspector," he said. "Verify the property's title, zoning regulations and any potential encumbrances or restrictions."
Assess the Long-Term Viability
Right now, a potential vacation property might seem like a solid choice, but Smykalov said you need to analyze its long-term feasibility.
"Consider factors like potential changes in the area, any planned developments and the overall desirability of the location," he said. "Investing in a property with long-term appeal can ensure its value and rental potential over time."
Choose the Right Location
When it comes to a vacation home, location matters.
"Look for areas with desirable vacation amenities, such as beaches, mountains or tourist attractions," Smykalov said. "Also, evaluate the accessibility of the location, proximity to amenities like restaurants or shops and any potential rental demand."
If you do plan to rent the property out, work with your real estate agent to ensure it will be a sound investment, said Jonathan Rundlett, president and regional owner of EXIT Mid-Atlantic, a realty group based in Maryland, Pennsylvania, Delaware, West Virginia and the District of Columbia.
"Properties that are in the most desirable areas will be more expensive, but will also command the highest rental payments," he said.
If you're planning to spend at least some time at the property yourself, he also advised choosing a location no more than four hours away.
"Having a property within a reasonable commute will allow you to enjoy the property more often," he said.
Consider Your Retirement
It's possible this vacation property could turn into your full-time home when you retire. Before choosing a location, Rundlett said to think about where you would like to spend your golden years.
If you do want to be in that area, you might want to consider a property that would be optimal for a retiree.
Time the Market Well
"Purchasing a second [home] or vacation property gives you more of the ability to try and 'time' the market to purchase when prices and/or mortgage interest rates are low," Rundlett said.
If you're not in a hurry to buy, you might be able to get a deal by taking this approach.
Get Your Finances in Order
"A mortgage for a second home is different than a mortgage on a first home," said Shelby McDaniels, national director of business development for home lending at Chase Home Lending. "While the process of applying and the documents needed are fairly similar, there are some extra qualifications needed and costs associated."
She said financing a second home will place you under additional financial pressure, so lenders will want to ensure your ability to repay the loan.
"When applying for a mortgage for a second home, lenders may require borrowers to have higher credit scores, lower debt-to-income (DTI) ratios, a larger down payment and extra funds in reserve," she said.
You might not realize this, but she said lenders may require you to have a higher credit score than when applying for a mortgage on a primary home.
"Lenders typically require a credit score of 620 or greater for second home purchases," she said.
Additionally, she said you'll likely be required to have a larger down payment than needed for a first home.
"For a second home, borrowers are expected to put down at least 10%," she said. "To afford a higher down payment, borrowers can consider a cash-out refinance."
She said you'll also likely need a DTI ratio below 43% and at least two to six months of monthly payments in your mortgage reserve.
Decide How You'll Use It
Before applying for a mortgage, you'll need to figure out how you'll use your vacation property, McDaniels said.
"Properties must be considered investment properties if an owner intends to rent it out for any period of time," she said. "Investment properties present additional risks to lenders and may require a separate mortgage application process and terms — i.e., higher interest rates."
For a property to qualify as a second home or vacation property, she said it needs to be owner-occupied for part of the year, be a one-unit home that can be used year-round, belong to only the buyer, not rented or run by a management firm and be located in a typical area for a second home.
More From GOBankingRates