I'm a Real Estate Agent: Will You Regret the House You Bought Now in Five Years?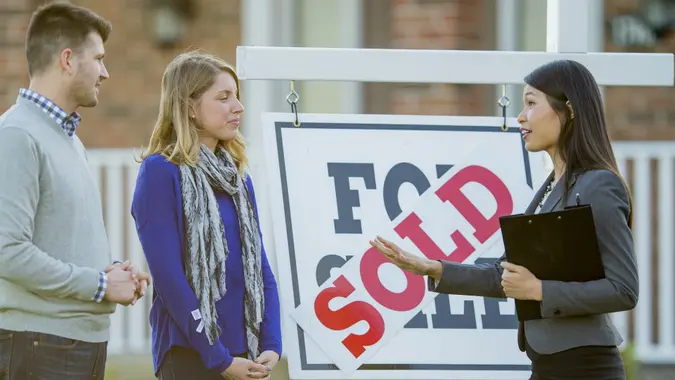 FatCamera / iStock.com
Despite the tumultuous conditions of the 2023 housing market, HousingWire reports that buyer demand is up in nearly every region of the country. But whether they realize it or not today, five years from now, some of those buyers will wish they had kept on renting.
The combination of high interest rates, scant inventory and inflated prices is a recipe for buyer's remorse.
But it doesn't have to be.
GOBankingRates spoke with real estate professionals who explained why some buyers will regret becoming homeowners in 2023, why others will not — and what you can do to land among those who look back on their decisions and smile in a half-decade's time.
Low Inventory and High Rates Will Account for Most Future Regret
Although prices are still high in most places, many of the hottest markets have cooled considerably for two reasons, both of which could compel today's buyers to wish they had waited five years from now.
Low Supply Means 2023 Buyers Could See Their Home Values Drop in the Coming Years
According to HousingWire, all 12 of America's Federal Reserve districts are experiencing inventory shortfalls. Not only have builders failed to produce enough new construction to meet demand, but owners who locked in historically low rates in the post-pandemic period have little incentive to sell.
"With limited housing inventory and high demand, many markets have experienced significant price appreciation," said Gary Parker, a licensed realtor in Utah and the founder of GaryBuysHouses. "Buyers might find themselves in competitive bidding situations, leading them to offer more than they initially planned. This scenario raises concerns about overpaying for a property, which could potentially lead to regret if prices experience a correction in the coming years."
You'll Spend Most of Those 5 Years Paying the Bank, Not Yourself
Another potential cause for regret is today's high interest rates, which are currently around 7% for a 30-year fixed mortgage. Compared to the lucky ones who pounced on sub-3% rates in the months after the pandemic, today's buyers have much less purchasing power, which could force many of them to settle for a house that isn't their dream home.
And then, there's the regret of paying so much money to the bank.
"Higher mortgage rates can result in substantial interest payments over the life of the loan," Parker said. "Buyers need to be aware of the long-term costs associated with their mortgage and carefully assess their financial ability to manage these payments."
Mortgages are front-loaded with interest, meaning that your early payments are mostly interest.
Even if today's buyers refinance when rates drop in a few years, their amortization schedules will show that they paid tens of thousands to the bank while barely putting a dent in their principal.
Like Stocks, Trying To Time the Housing Market Is a Fool's Errand
Many prospective buyers are waiting for next year, hoping that interest rates might ease and builders and sellers might add sorely needed inventory to the under-supplied market.
But the past proves that no one knows what the future holds.
Longtime real estate investor Andrzej Lipski of Next Door Properties in Connecticut owned properties more than two decades ago when interest rates were between 6% and 8%, the same as today.
"At that time, those rates seemed affordable," he said. "I owned a property in Springfield, Massachusetts, which I purchased in 2001 for $140,000. Due to life changes, I sold it 15 years later in 2016 for $150,000. During the financial crisis, the value of the house fell as low as $110,000. Today, just seven years later, it is currently assessed at $300,000. If I had held it long-term, I would have doubled my money. It goes to show that you can't predict where the market will go and holding long-term is more powerful than trying to time the market."
You Won't Regret Your Decision If Now Is Your Time To Buy
Settling for a high interest rate or paying a price that you know is inflated is a tough pill to swallow. But those are the realities of 2023 — and if you find the right house and now is when you're in a position to buy, then this is your year.
"Home buyers will only regret buying a home if they made too many concessions," Lipski said. "Waiving inspections or buying a house that a buyer can't afford are the two biggest mistakes a home buyer can make."
If you avoid those pitfalls, your prospects are good even if you're one of the many buyers in 2023 who paid a premium for the keys to one of the few houses on today's under-inventoried market.
"If the house is what you dreamed of, paying 10% to 20% over the asking price while still being able to afford it will not cause regret," Lipski said. "That house over 20 or more years may likely grow in value and the memories they will make in that home will be priceless."
More From GOBankingRates