Real Estate 2023: GenZ's Best Option is to Live at Home Longer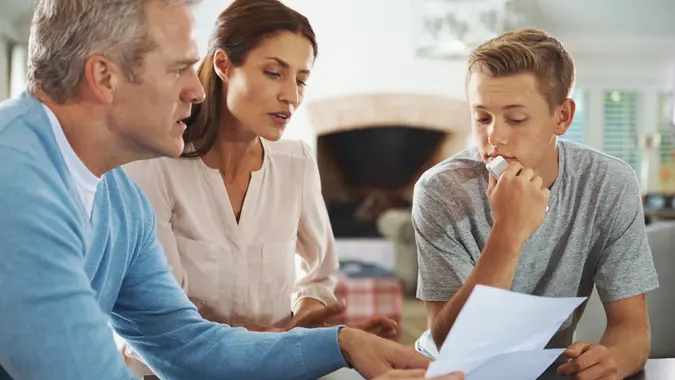 pixdeluxe / iStock.com
Every parent's greatest hope is that their children will have a better life, financially and in other ways than they did. We all want the next generation to thrive and improve the quality of life.
Housing Market 2023: Prices Are Now So High That Banks Are Losing Money on MortgagesFind Out: How To Build Your Savings From Scratch
Unfortunately, if home ownership is one of the benchmarks of a successful financial life, that dream may be hard for GenZ to attain right now. There's a lot stacked against members of GenZ who want to buy a home right now. Let's consider some of the factors working against them, along with tips to make homeownership possible — if not easy — this decade.
High Interest Rates and High Home Prices
Older members of GenZ are walking into a housing market plagued by high interest rates and high home prices, as well as low inventories. With mortgage interest rates at 6.79% per month on June 1, 2023, according to GOBankingRates, GenZ will find themselves paying more for a home now than they would have three years ago.
While home prices are dropping slowly, according to Forbes, low inventory of both new and existing homes continues to keep prices high. National Association of Realtors statistics show home prices declining by 17%, year-over-year, in April, after 131 months of increases.
Homeowners who took out mortgages at historically low rates years are hesitant to sell right now, however, leaving a shortage of affordable starter homes on the market for GenZ.
The Return of Student Loan Payments
While some members of GenZ are still in school, others have just graduated. And that often means student loan debt. Education Secretary Miguel Cardona said that student loan payments will resume on or before August 29, 2023, GOBankingRates reported.
For people who have not paid student loan payments since 2020, this could require adjusting budgets. Adding a mortgage payment on top of student loan payments could stretch expenses to the limit for GenZ.
Options for GenZ
According to a recent survey from Lending Tree, renting or living with family could be the best housing option for GenZ at this time. Living at home with their parents will allow GenZ to weather an impending recession, split expenses to save money during this time of high inflation, and work on building credit to be able to secure a mortgage in the future.
Take Our Poll: Are You Planning To Buy or Sell a House This Year?See: 10 US Cities With Plenty of Jobs and Cheap Housing
Lending Tree predicts that GenZ could make up the largest percentage of homeowners in the U.S. at some point in the future. Currently, the study reports, GenZ makes up nearly 15% of all potential homebuyers across the 50 largest U.S. cities.
More From GOBankingRates