5 Financial Skills That Gen Z Still Lacks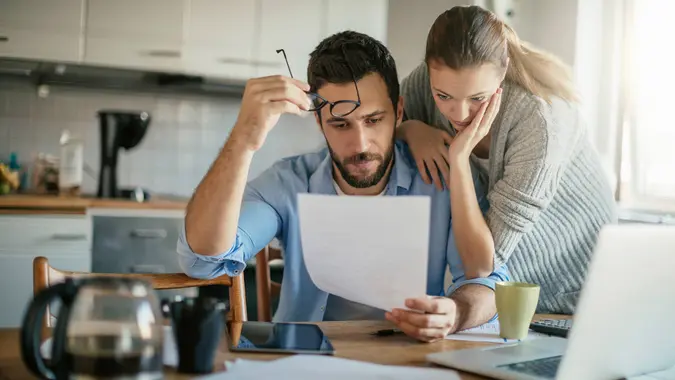 Geber86 / Getty Images
Gen Z is the generation known for being the first digitally native one — a phenomenon that translates into an avalanche of information, access to and ease of use of financial apps. Yet, there are several financial skills Gen Zers still lack, compared to older generations.
Financial literacy is key to building a solid financial future; but, for younger generations like Gen Z who are trailing behind older counterparts in literacy rates, instead of building a solid foundation, their financial outlook is on shaky ground, said Misi Simms, portfolio manager at TIAA.
According to TIAA's Financial Wellness Survey — in which financial wellness is defined as being comfortable with your financial situation — Gen Zers are more likely to give themselves a lower financial wellness rating and to also think their financial wellness is worse than their parents' when they were their age, Simms said.
Several experts offer some areas where Gen Z can improve. And here are some financial moves Gen Z should make now.
Budgeting
Get on a budget. It doesn't matter which budget or budget app, just get on a budget and follow it, said Jay Zigmont, Ph.D., CFP and founder of Childfree Wealth.
Several other experts agree, saying this should be one the first steps to financial wellness.
"A mistake I commonly see with Gen Z is that they are not reviewing their budget and fixed expenses on a consistent basis," said Jennifer Garcia, private wealth financial advisor for Wells Fargo.
By reviewing your expenses every six months, you can revisit your bills and see whether there are services that you are not utilizing to help reduce your expenses.
Take Our Poll: Would You Put All of Your Savings in an Apple Savings Account?
Saving for Emergencies
Being prepared for life's curveballs might come more naturally to older generations, yet experts remind that unexpected events often lead to unexpected expenses, and Gen Zers should learn how to save for a rainy day.
"Many experts recommend saving 10% of every payment received, but if possible to do more, even better," said Kyle Enright, president of Achieve Lending. "Whatever it is, decide on what you can do consistently. Make it seamless with automatic transfers from checking to savings accounts, or through an employer if they can direct part of a paycheck to a savings account. And take advantage of retirement savings options, whether an employer-sponsored 401(k) plan or a self-funded IRA."
Another key aspect of saving for emergencies is learning to build an emergency fund. Many experts recommend three to six months' worth of expenses.
"This can help you ‌get through tough times without having to rack up high interest rate debt," said Kendall Meade, financial planner at SoFi. "It is important to make sure your emergency fund is safe and accessible. Many people are tempted to invest their emergency fund, but this can be a big mistake."
Handling Debt
"While we often joke about how most Gen Zers don't know how to write a check or use a checkbook, what this really points to is a change in the technology that guides our everyday financial lives," said Shyam Pradheep, general manager at Zogo. "Instead of writing a check, Gen Z uses digital mediums like Apple Pay and Venmo. This same idea extends to budgeting — instead of manually balancing a budget, Gen Z tends to use apps or tech-based services to manage their budgets.
"In general, the convenience factor of everyday technology has changed the types of skills and strategies Gen Z-era develop in personal finance."
While checkbooks are now rarely used, they served another purpose in terms of financial literacy for older generations — learning how to balance them, which in turn taught how to manage debt.
Indeed, Gen Z is racking up debt faster than other generations. According to a Credit Karma survey, Gen Z's average debt increased to $16,283 in the last quarter of 2022, up 3% from Q2 2022. As interest rates soar, so do balances.
"Older generations had to master balancing their checkbooks and writing checks, whereas Gen Z manages their wealth online, which can often make it difficult to be intentional about money management," said Sundip Patel, CEO of AVANA Companies.
"They are used to digital cash as they grew up with cell phones and are immersed in the virtual and often distracting world of social media," said Patel, adding that another layer of complication for Gen Z is that they are greatly indebted with student loan debt as they enter the workforce, so they have limited ability to make investments or plan for retirement.
Investing and Saving
Another important financial skill to develop for Gen Zers is investing and saving, whether through a 401(k) match program or through the power of compounding.
For example, opting into your employer's 401(k) match program is free money, so it's important to establish good habits early and start with your first job.  
"By beginning as soon as possible, you are able to contribute more to your retirement savings but are also able to grow it more through the power of compounding," said SoFi's Meade.
Meade adds that it's important to remember you don't have to be an expert; you also can meet with a financial planner.
"Small delays in saving can have a huge impact on your outcome," Meade said.
Meade explained the difference in how much you could have at age 50 based on when you started saving. Assuming a starting salary of $75,000, a 2% salary increase per year, 15% contribution to savings and a 7% return, you would have a little over $1 million if you started at 22, $780,000 from age 25 and just $486,000 from age 30.
Understanding Credit Scores
According to a FICO survey called "Credit Scores Uncovered: Consumer Relationships With Their Scores," Gen Z are much behind older generations when it comes to understanding credit scores. One in five Gen Zers said they understand credit scores a little or not at all, while 96% of boomers said they completely understand credit.
Also, 29% of Gen Zers said they either do not have credit scores or do not know whether they have them.
"A good amount of Gen Z are actively using debit cards for their spend and avoiding credit cards," said Troy Osinoff, co-founder and co-CEO of Zurp. "It's great they are not going into credit card debt, but they are also not building up credit they will need in the future for a car or mortgage." 
More From GOBankingRates