If You're a Renter, You Might Feel the Sting of Inflation Harder Than Homeowners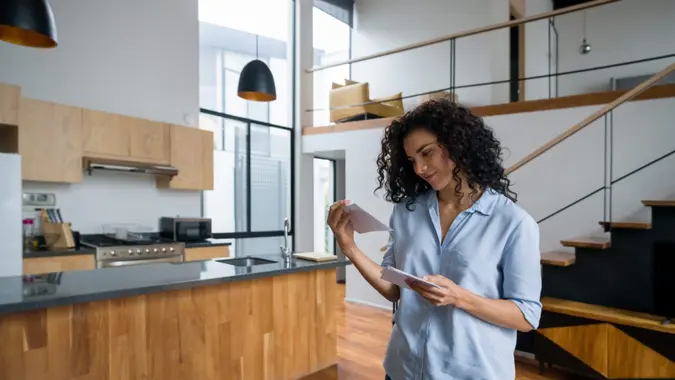 andresr / Getty Images
Inflation, ballooning mortgage rates, and lack of supply have been hindering many Americans' dream of homeownership. Yet, renters have not been spared either, and they also feel the sting of inflation.
Indeed, a recent Bank of America report found that renters' spending appears to have been weakened by rent inflation, and they have been "tightening their belts more than homeowners," as higher inflation and interest rates have impacted homeowners and renters differently. And the data speaks for itself: according to the Consumer Price Index (CPI), the index for rent rose 0.5% in June, bringing prices up 7.9% over the year.
"Everyone is impacted by inflation, but the way it impacts households will differ depending on how they spend their money each month," said Danielle Hale, chief economist at Realtor.com.
Hale explained that in fact, for homeowners who have a fixed rate mortgage, which is the vast majority, the principal and interest component of their monthly payment is fixed and does not change month to month or year to year–only tax and insurance price increases will push their monthly payments up.
By contrast, she said, renters typically face annual increases, which means that their housing payments are much faster to reflect overall market and inflation conditions. This is especially true for renters who move from one home to another.
Hale added that with housing costs still high as home prices and mortgage rates remain elevated and the number of homes for sale beginning to shrink again, she expects that many renters who might otherwise choose to buy a house will continue to rent.
"We also expect rents to ease as more apartment supply becomes available this year and next which will only further tip the scales in favor of renting for now," she said.
Yet, while renters are more impacted by inflation than homeowners," Dottie Herman, vice chair and former CEO for Douglas Elliman said that if your debt is higher than 36%, it is better to rent.
"To buy a home, you need to be able to afford the down payment, the closing costs, legal bills and other associated fees. If you can't cover all those add-ons, you are better off renting," she said, adding that if you are not planning to stay for a lengthy period of time, say five to seven years, renting is the better option.
What are Some Ways Renters Can Fight Inflation?
One way to fight inflation is for renters to try to get as long a lease as they can to minimize the cost of inflation, said Herman.
"Almost half of renters in the U.S. spend more than half their income on rent. Lifestyle can also work toward the renter's advantage. They are not tied down to a property and are free to leave once they conclude their lease agreement," she said.
And while buying a home is one way to lock in the bulk of your monthly costs, if you're not there yet there are still ways to reduce what you're paying on rent.
For instance, if you're flexible about where you live, moving out to the suburbs can generally help reduce your rent, and if you're really flexible, relocating to another market can take those savings to the next level, but not everyone has that kind of flexibility, said Hale.
"One other thing we've seen is that renters who have stayed put over the past few years have generally seen smaller increases in their rent than the overall market, which was growing by double-digit percent. Now that the tide has shifted and market rents are declining, renters should take a look at the options that are out there and see if it makes sense to move to save money," she added.
What Advantages Does Renting Still Have Over Owning?
An advantage renting still has over owning is that as mortgages and inflation are going up, the renters are not immediately impacted as usually, landlords are not able to increase the rent multiple times per year, said Sebastian Jania, owner of Ontario Property Buyers.
"What this means is that there is a lag time in the costs that the tenant incurs until the unit is turned over. A savvy tenant will do what they can to prolong this period of time staying at the current rental rate," said Jania.
Other experts echoed the sentiment, saying that rent increases in response to inflation are likely to be more gradual and less severe than the impact of rising interest rates on variable-rate mortgages.
"Second, to a certain extent, renters pay for more freedom of choice. It's far easier for someone living in an apartment or studio to move than it is for a homeowner to sell their house and move or transfer," said Peter C. Earle, an economist at American Institute for Economic Research. "That has always been the case, but with the recent lack of turnover in the housing market the latitude that renters have is a decisive advantage, where shelter is concerned."
That's the case for Jay Zigmont, CFP, founder of Childfree Wealth, who said that "the good side of renting is that you can move somewhere else for no more than the cost of a Uhaul and pizza for your friends."
"Housing in the U.S. is expensive, no matter if you rent or own. House prices are still rising in many areas even while mortgage rates are over 7%," said Zigmont. "My wife and I just sold our house and are renting for the foreseeable future.  We are doing this because it allows more flexibility and hope that at some point housing prices will cool down. In most major metropolitan areas, renting is more affordable than buying, and if you don't plan on staying for more than 5 years, renting is normally a better choice."
More From GOBankingRates