3 Surprises First-Time Homebuyers Experience and How To Navigate Them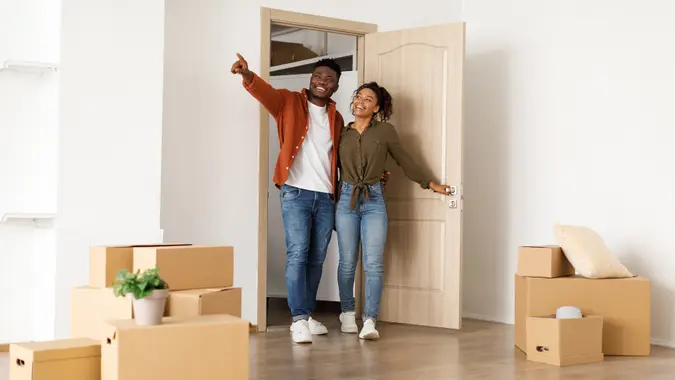 Prostock-Studio / iStock.com
Buying a home for the first time can be a daunting process, and even well-prepared buyers can be in for some surprises along the way — and in fact, most first-time homebuyers are. A recent Opendoor report on first-time buyers found that 94% experienced a surprise during the purchasing process.
Read: 7 Florida Cities That Could Be Headed for a Housing Crisis
Find Out: 5 Things You Must Do When Your Savings Reach $50,000
If you're preparing to buy a home for the first time, here's a look at some of the most common unexpected aspects — plus, how to be ready to take these surprises on.
Unexpected Costs
Over one-third of first-time buyers (38%) said they were surprised by unexpected costs during the home-purchasing process. These can include appraisal fees, home inspections, broker fees, earnest money deposits, closing costs and homeowners insurance.
Here's a closer look at what each of these costs entails.
Appraisal Fees
When purchasing a home, your mortgage lender will hire an appraiser to assess the property's value for the mortgage.
"The appraisal fee is typically paid upfront by the homebuyer, and the cost could range from $300 to $450," said Jennifer Patchen, a broker at Opendoor. "This cost can vary depending on the loan type the buyer is using, but an appraisal is usually a required expense to get a mortgage."
Home Inspection Fees
"Home inspections are important for buyers to make sure the home is in the condition expected to avoid any surprise repairs," Patchen said. "According to the U.S. Department of Housing and Urban Development, a typical home inspection costs $300 to $500, but this number will vary depending on your geographic location. Inquire about any available discounts when scheduling your inspection; many inspectors have a variety of discounts available."
Patchen recommends starting with the basic inspection and then adding on others if there are concerns.
"Buyers can add on additional inspections they feel necessary — for example, a pool inspection, chimney [inspection], sewer [inspection], termite inspection, etc. — which will cost more," she said.
Take Our Poll: How Do You Typically Split the Restaurant Bill?
Broker Fees
Real estate agents representing the homebuying transaction receive a commission on the sale.
"While this commission is always negotiable, the commissions often total 5-6% of the purchase price," Patchen said. "Roughly half goes to the seller's agent — also called the listing agent — and half goes to the buyer's agent. Since these costs are typically paid for by the seller, a homebuyer typically doesn't need to budget for these costs."
Earnest Money
"This is a 'good faith' deposit that shows your seriousness about buying the home," Patchen said. "Earnest money is typically 1-3% of the purchase price and is due when the contract to purchase is accepted. The earnest money deposit can go towards your closing costs or down payment at closing."
Closing Costs
Patchen notes that closing costs can be a big expense, and should be accounted for when you are figuring out your homebuying budget.
"They cover fees like escrow, title services and property taxes," she said. "The property taxes will be prorated, which means the seller pays for the time they lived in the home and the buyer will pay the taxes from the date they close the home. I estimate that closing costs are roughly 2% of the purchase price, but your mortgage lender can provide a closer estimate based on your individual scenario."
Homeowners Insurance
"Your home is likely the biggest financial purchase you'll make, and protecting it from theft, fire, accidents and weather is incredibly important," Patchen said. "Though rates vary by state, the average policy for all homeowners in the U.S. is $1,249 per year, according to data analyzed by the Insurance Information Institute. Home insurance can be paid annually, or be built into the mortgage loan if preferred. I suggest getting multiple quotes to determine the coverage amounts and rates that are best for your unique situation."
Home Upkeep and Unexpected Repairs
Thirty-four percent of first-time homebuyers said they were unprepared for the maintenance and repairs that come along with owning a home.
"Homebuyers should factor in costs associated with home maintenance and repairs to their final budget," Patchen said. "According to Angi, the average American spends $3,018 a year on home maintenance."
There are some ways to cut down on unexpected home costs.
"One of the best ways to get ahead is to buy a home warranty policy, which is an insurance policy that typically costs roughly $500 annually and covers the systems and appliances in the home," Patchen said. "This way, if the air conditioner starts acting up, you know who to call and can have it fixed."
It's also a good idea to be fully financially prepared for any potential future costs.
"Bringing in a contractor to get estimates on any repairs or upgrades you're considering for the future is another way to budget for the future," Patchen said. "This often helps homeowners make a plan for when they might be able to take on new projects, and how much money they will need to save for each one."
In general, Patchen recommends being prepared to spend about 1%-4% of your home's value on maintenance per year.
"My advice to new homeowners is to stay on top of upkeep," she said. "Not only are well-maintained homes likely to sell for more than the average home, but you will likely end up spending less if you stay on top of upkeep rather than waiting until things in your home break and you're given no choice."
Impact on Monthly Budget
Thirty-two percent of first-time buyers said they were surprised by the impact owning a home had on their monthly budget.
"In terms of impact on a monthly budget, leave some wiggle room and always have an emergency fund," Patchen said. "It's important to consider where you live and the climate-induced disasters your home could endure. For example, if you live in a seasonal city with cold winters, be prepared to have an emergency fund on hand in case pipes freeze, your heater goes out or your roof needs repairing after a brutally snowy season."
Patchen also recommends sticking to buying a home with a monthly mortgage payment that will be less than 28% of your gross monthly income.
More From GOBankingRates