7 Unexpected Cities To Invest in Property in 2022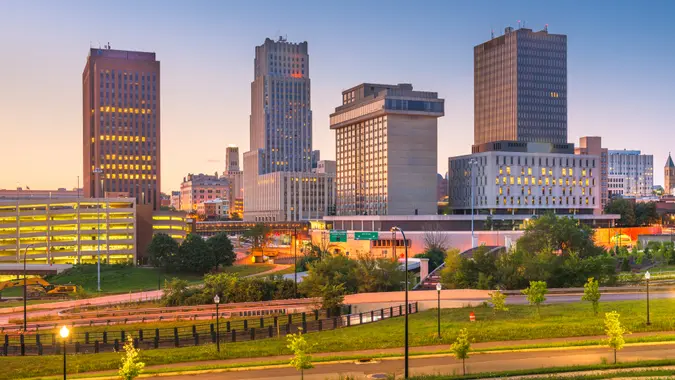 Sean Pavone / Getty Images/iStockphoto
When thinking about where to invest in real estate, large metros in the South — such as Houston and Orlando — come to mind for many people. These cities are still good places for your investment dollars, but there's nothing surprising about those names. They will likely be good places to invest for years to come.
See: Why Buying Property in These Vacation Destinations Could Be a Great Investment
Take a Look: 5 Surprising Cities Set To Become Boomtowns in 2022
But perhaps those common investment havens don't suit your needs right now. After all, there continues to be strong demand in the real estate market and not enough supply to go around. Housing starts, for instance, have been on the rise since the Great Recession but are still lower than in 2006.
This has some buyers looking to less popular metros for their real estate investment. Let's take a look at some of them here — with the help of some experts.
Meridian, Idaho
Population growth: 5.94%
Home price change: +23.6%
Median sale price: $537,445
Idaho has gained the attention of investors as of late, and cities like Boise have become popular among renters and investors alike. However, the cat is already out of the bag on Boise, says Mayer Dallal, managing director at MBANC. "Last year, Boise, Idaho was one of the hottest cities for real estate, but the secret is long out, and their home prices are starting to rise as the city becomes a well-known affordable housing destination," Dallal says.
According to Dallal, this is driving people to even lesser-known cities, such as Meridian, Idaho. "Fewer people know about Meridian, Idaho, where appreciation is at 118%. It's a really good choice for investors," Dallal says. Meridian is one of the 10 fastest-growing cities in the country, according to U.S. News.
Find: The 7 Most Stressful US Cities for Homebuyers
St. Augustine, Florida
Population growth: 5.23%
Home price change: +27.2%
Median sale price: $365,576
St. Augustine is a small town that lies to the south of Jacksonville on the east side of the state. The city has around 15,000 people but is the perfect place to invest, says Corey Ashton Walters, founder & CEO at Here. "This hotspot is perfect for today's traveler looking for incomparable entertainment opportunities," Walters says. "From the pristine beaches to the vibrant historic district, tourists can experience the city's culture in a rental that feels like home."
Perhaps more important for investors, Walters notes that St. Augustine has an average cap rate of 7.4% and a median sale price of $365,576. "This is a profitable location that can provide a great return for new or seasoned investors."
Akron, Ohio
Population growth: -0.15%
Home price change: +18.7%
Median sale price: $101,732
Ohio isn't often the first state anyone considers for real estate investment, and Akron is likely no exception. Akron may be the birthplace of the now ultra-wealthy LeBron James, but the average rent in Akron was $792 in October 2021. However, the typical home in the city sells for just above $100,000. As a result, it's possible to buy a rental property in Akron for under $100,000 with a cap rate in excess of 8%.
Read: Here's How Much You Need To Earn To Be 'Rich' in Every State
Lakeland, Florida
Population growth: 1.48%
Home price change: +25%
Median sale price: $299,995
Lakeland, Florida lies roughly halfway between Tampa and Orlando. As its name suggests, there are numerous lakes in the area, both big and small. The area is also known for its antique shops and early 20th-century architecture. For investors, Lakeland is attractive due to its 6.43% rent yield. Plus, it currently ranks #20 on Realtor.com's list of the hottest real estate markets in the country.
Birmingham, Alabama
Population growth: -0.52%
Home price change: -7.1%
Median sale price: $195,000
Depending on who you ask, Birmingham might be tagged as a great place to purchase a rental unit — or not so great. The biggest red flags are the city's negative population growth and a rare decline in median sale price. However, the city's rent yield is 7.6%, which is one of the highest in the nation right now. The average rate for a single-family home rental in Birmingham is $1,927, which is high, especially given the median sale price.
Stockton, California
Population growth: +0.24%
Home price change: +18.6%
Median sale price: $415,000
Stockton is sometimes regarded as an unaffordable place to buy a home and, thus, not the ideal place to buy a rental unit. However, there are plenty of affordable markets in the state, especially when you move away from the coast. Around two hours east of San Francisco, Stockton is no exception. With a median sale price of $415,000, Stockton is fairly reasonable.
Plus, the average rent in Stockton is $2,360 with a rental yield of 5.37%. Home prices in the area are increasing, too — a positive sign for growth.
Learn: How Much It Costs To Buy a Home in These Popular Winter Vacation Destinations
Springfield, Massachusetts
Population growth: -0.48%
Home price change: +59.5%
Median sale price: $238,500
Springfield is another city that makes the list despite a slightly declining population. That's because the city's homes are much more affordable than homes in other cities in Massachusetts, especially Boston. Although the home price is up nearly 60% year-over-year, its price chart is a bit of a roller coaster on Redfin. For instance, the median price there was nearly $500k in August 2020; it dropped to about $150k by January 2021.
Nevertheless, homes in Springfield are affordable, and the rent yield there is 5.5%. This makes it an overall great place to buy real estate investment properties.
More From GOBankingRates