This AI Stock Broke Records After 88% Increase in Revenue — Should Investors Stick With Nvidia for the Rest of 2023?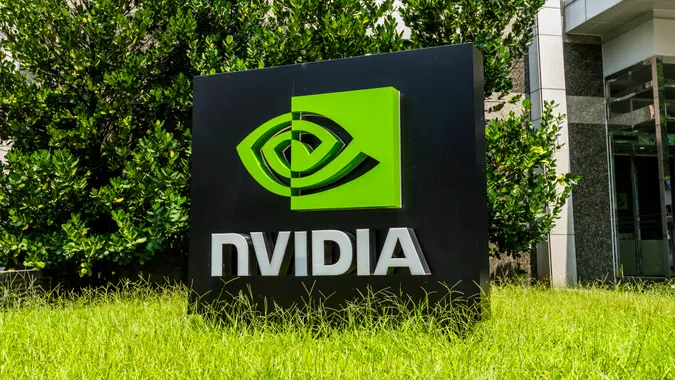 BING-JHEN HONG / Getty Images
Artificial intelligence darling Nvidia released blowout earnings on Aug. 23, a report some analysts called a "drop the mic moment that will have a ripple impact for the tech space for the rest of the year." The company reported revenue up a whopping 88% from the first quarter, and 101%  from a year ago, according to the earnings report.
In addition, the company reported $6.7 billion in net income in the quarter, a 422% increase over the same time last year.
Nvidia shares jumped and were up 8% in pre-market trading on Aug. 24, bringing them up an eye-popping 229% year-to-date.
Wedbush Securities analyst Dan Ives wrote in a research note that this was "a historical moment for the broader tech sector and a sneak preview of what is on the horizon."
"Very simply, Nvidia's guidance and commentary was at 'drop the mic' level as investors now recognize crystal clear this AI demand story is as real as any tech trend we have seen in the last 30 years only comparable to the Internet in 1995 and Apple's iPhone launch in 2007," wrote Ives. "We view this as a table pounder time to own tech stocks as the 2nd, 3rd, 4th derivatives of AI now are set to play out."
Nvidia also released optimistic guidance, with expected fiscal third-quarter revenue of $16 billion, according to the earnings report.
Where will it go from here?
Peter Cohan, associate professor of management practice at Babson College and author of the forthcoming book "Brain Rush: How To Invest and Compete in the $7 Trillion Generative AI Ecosystem," said he would not be surprised to see Nvidia stock triple from here.
"It targets markets worth over $1 trillion and controls 80% of the AI GPU [graphic processing units] market," said Cohan.
Cohan added that the company has a plethora of competitive advantages, including more than a decade of investment in collaboration with AI developers and partners, its ability to build chips that suit the emerging needs of customers and its software libraries that enhance developer productivity.
"This will keep competitors from taking market share from Nvidia. Until the industry slows down, Nvidia will enjoy expectations-beating growth to propel its stock," he added.
Other experts nuanced the sentiment, however, saying that while the company "is a machine because it dominates a sector in very high demand, the risk is that the hyper-growth may not continue beyond a few more quarters."
 Phil Siegel, founder of CAPTRS, explained that this could happen for several reasons, including the fact that others such as AMD (Advanced Micro Devices) are launching competitive products that will potentially pressure margins in 2025.
"All that being said, it's not a ridiculous price for the stock even after hours trading," Siegel added. 
Is the stock overvalued?
Meanwhile, some analysts said that the stock is overvalued and investors should take a look at smaller names.
For instance, Ark Invest CEO Cathie Wood, wrote in a post on X, formerly known as Twitter, that "the days of relying solely on mega-cap companies for tech innovation are waning and an era of AI-centric small-cap companies is emerging. Find out where we see potential growth opportunities built on AI."
Ives, on the other hand, wrote in his note that while this bearish sentiment is not surprising, as in the past 23 years "valuation centric bears" have missed every major transformational tech name, such as Facebook, Amazon, Tesla, Microsoft, Google, Apple and Netflix.
"Nvidia, among others and this trend/theme will be no different. Is Lebron just a basketball player? Messi just a futbol/soccer player, Djokovic just a tennis player?, Tiger just a golfer? Mahomes just a football player? Caitlin Clark just a college basketball player?…they are special, generational talents, and different and so is this AI tech theme in our opinion," he wrote.
More From GOBankingRates