3 AI Stocks Warren Buffett Is Betting On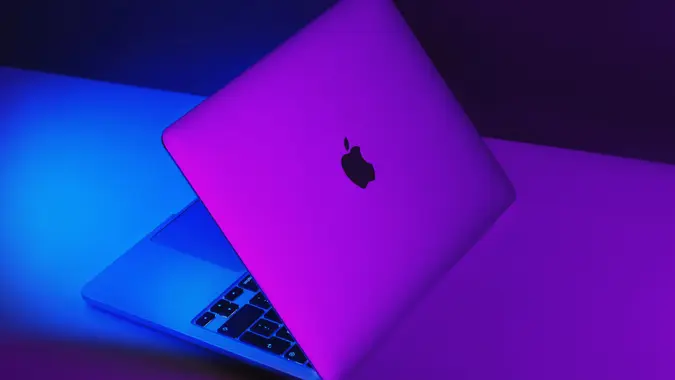 ardasavasciogullari / Getty Images
Warren Buffett, the billionaire CEO of Berkshire Hathaway, hasn't earned the nickname "The Oracle of Omaha" for nothing. His company's stock doubled the annual return of the S&P 500 from 1965 to 2022, returning 19.8% on average annually vs. the S&P 500's 9.9%.
How To Buy ChatGPT Stock: Your 2023 Guide to AI Investing
Learn: 3 Things You Must Do When Your Savings Reach $50,000
In addition to his folksy wisdom, Buffett is also known for his general reluctance to buy tech stocks. But what may surprise some investors is that one popular tech stock — with important exposure to artificial intelligence — actually makes up nearly half of the Berkshire Hathaway investment portfolio, and the company has small stakes in other AI-related companies as well. Here's a look at some of the prominent AI stocks that Warren Buffett is betting on.
Apple (AAPL)
When it comes to AI-related stocks — and tech stocks in general — Apple is really the beginning and the end of the discussion. After shunning tech stocks for decades, Buffett made a major shift on May 16, 2016, picking up nearly 10 million shares of Apple at a split-adjusted price of about $6.81.
Now trading at about $171 per share, Apple has posted huge gains on Buffett's original purchase. Although Buffett has occasionally trimmed Berkshire's Apple position, it now sits at a whopping 47% of the company's entire investment portfolio.
Take Our Poll: Who Has Given You the Best Money Advice You Have Ever Received?
Regardless of what other AI stocks Berkshire might dabble in, it's clear that the company's big bet is on Apple.
Buffett has said he views Apple not as a tech company but as a consumer products business. In that field, Buffett sees Apple as the best of the best. In fact, at the Berkshire Hathaway annual shareholders meeting in May 2023, Buffett said Apple "just happens to be a better business than any we own." Regarding Apple's iPhone, Buffett said that if people "had to give up a second car or give up their iPhone, they give up their second car."
Apple already has begun integrating AI into its product line. CEO Tim Cook said AI will eventually "affect every product and service we have." Two of the company's signature products, the iPhone and the Apple Watch, already use an AI-powered crash detection feature, and the Apple Watch also has an electrocardiogram feature.
In its quest to continue its dominance in the consumer products world, Apple seems poised to rapidly integrate AI into its stable.
Amazon (AMZN)
Amazon is Berkshire Hathaway's other primary bet in the tech/AI industry, although it's a far cry from the company's love of Apple. Currently, Amazon represents just 0.4% of Berkshire Hathaway's portfolio — although it's still a $1.2 billion investment.
Berkshire Hathaway began buying Amazon in 2019, and Buffett has said he was "an idiot for not buying it [sooner]." Even though the stock still appears in the Berkshire Hathaway portfolio — and Buffett is a fan — the CEO wasn't the one who actually initiated the position.
As Buffett told CNBC at the time, "One of the fellows in the office that manage money … bought some Amazon," referring to either Todd Combs or Ted Weschler, his two main portfolio managers.
Although Amazon might not seem like a "classic" Buffett stock, it does have many of the competitive advantages that he has long espoused. From the economic "moat" around its business — which is hard for competitors to breach — to its customer satisfaction levels and excellent management, Amazon has many of the characteristics that make it a so-called "Buffett stock." But Amazon's also becoming a big player in the AI world.
The company recently made a big splash with its rollout of Bedrock, a direct competitor of ChatGPT that could revolutionize the industry. As told to TechCrunch, Vasi Philomin, VP of generative AI at Amazon Web Services, said Bedrock will apply "machine learning to the real world — solving real business problems at scale. … We think every application out there can be reimagined with generative AI."
Snowflake (SNOW)
A somewhat lesser-known AI name favored by Buffett is Snowflake. Representing just 0.3% of the Berkshire Hathaway portfolio, the Snowflake position is worth "only" about $907 million. But it does reflect Buffett's evolving opinion of the types of stocks he should own, even though it's likely one of his portfolio managers did the actual buying.
Snowflake's platform, according to the company itself, "was designed from the ground up to support machine learning and AI-driven data science applications." The cloud data warehouse company stores, processes and analyzes company information in conjunction with prominent cloud platforms Amazon Web Services, Google Cloud Platform and Microsoft Azure.
While this could position the company for explosive future growth, it's possible that Berkshire Hathaway bought into Snowflake because it was able to get shares in what was a very hot IPO in 2020.
More From GOBankingRates