Is Costco a Worthwhile Long-Term Investment?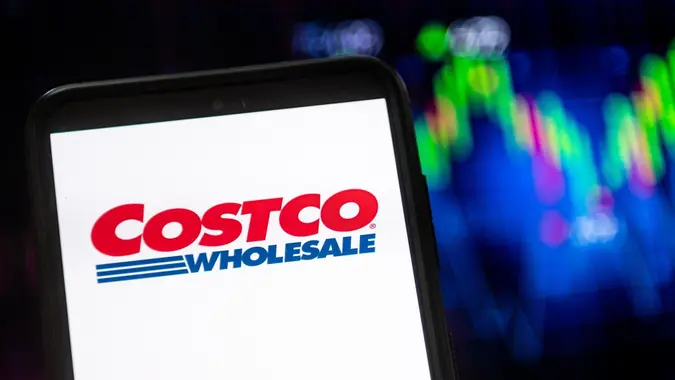 Mateusz Slodkowski / SOPA Images / Shutterstock.com
Knowing when to take advantage of cyclical trading and trends is the sign of a savvy, disciplined investor. Betting on an industry giant to turn things around after a recent stock slide might seem like an easy wager, but buying the dip is only a winning strategy if you can forecast healthy profits down the road.
See: How Much You'd Be Worth If You Invested in Costco in 2013
Diamonds Aren't Forever: Why You Should Invest in This Luxury Alternative
It doesn't get any more "giant" than the multinational retail corporation Costco. In general, retail performance over the past year has been adversely influenced by consumers changing spending patterns amid consistently high inflation. But even with shoppers restricting their spending on discretionary items in-store and online and the company currently riding out a bumpy patch, this might be an opportune time to invest long-term in Costco.
Recent Performance Struggles for Costco
According to Refinitiv data, the membership-only retail chain's total revenue for the second quarter was $55.27 billion, down slightly from estimates of $55.54 billion and up only 6.5%. The company experienced net revenue increases of 17.7% and 16% in fiscal 2021 and 2022, respectively.
While this $270 million dip might seem negligible when looking at such large sums of money, The Motley Fool noted that same store sales have also slowed as of late, increasing only 3.5% in February and 5.2% in the last quarter.
Overall, shares have decreased 21% since highs in Apr. 2022 and COST stock is down about 7% over the past year. In 2023, it has shown signs of life, but only by a mild 6% rise. Shares are trading around 35.7 times trailing-12-month earnings, which is below their five-year average of 36.5, per the Motley Fool.
Should You Invest in Costco Stock in the Long Term?
It's hard to be an optimistic investor amid market instability, sell-offs and Fed hikes, but being the third-biggest retailer in the world (behind Walmart and Amazon), Costco can absorb market impacts and tolerate dips better than most companies and will continue to win market share — as it has done for decades — through economic peaks and valleys. It's just that durable and will remain resilient in this tough market and during any downturns in the long-term.
Although Zacks has Costco pegged as a hold for the time being, TipRanks lists Costco as a strong buy based on 23 Wall Street experts, citing an average price target of $555.61 (indicating a 17.9% upside) with a high forecast of $635 and a low forecast of $475.
The research-driven investment advisor points to Costco's strong membership renewal rate of nearly 93% in the U.S. and Canada and 90.5% globally as a healthy harbinger. Costco generates most of its profits from its annual memberships fees and membership rose 7% last year.
Furthermore, its executive membership group (paying a premium $120/year) gained 630,000 customers during the fiscal second quarter, per the Motley Fool. Executive members make up 45% of total membership but account for 73% of total sales.
Learn: $60 Costco Membership Will Increase, It's 'A Question of When, Not If,' CFO Says
Find: Warren Buffett's Company Keeps Investing in One Stock — Should You?
Costco shares aren't cheap ($471.14 at open today), but could drop further, making it a more enticing grab. With high membership retainment and growth and impressive customer loyalty in its pocket, investors will be in good standing when the market turns bullish. When it does, you don't want to be left out on potentially significant long-term gains from investing in one of the best run and most consistently reliable companies.
More From GOBankingRates