Can Dollar Tree Stock Help You Become a Millionaire?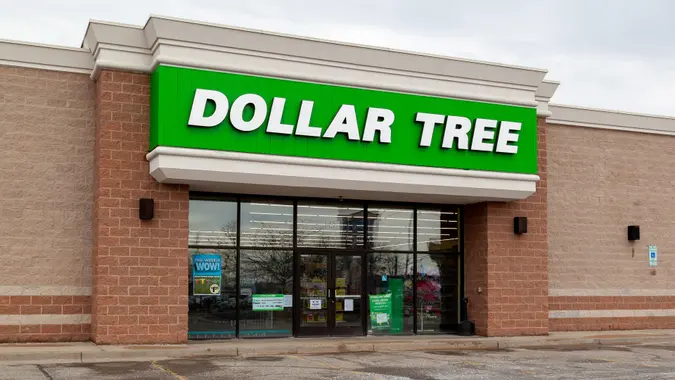 JHVEPhoto / iStock.com
If you had invested $10,000 in Dollar Tree Inc. in 1995 when it was trading as a penny stock for $1.16 per share, you'd be sitting on a cool $1.14 million today. Currently trading at $131.77 per share, the company earned its investors an 11,259.48% return in that time.
But does Dollar Tree still stand as a buy that can make you a millionaire in the future? Let's check it out.
DLTR Has Not Been in the Millionaire-Making Business Lately
While historical gains and losses are not necessarily indicators of future performance, it's good to know where Dollar Tree (DLTR) has been to gauge its prospects in the coming years.
Over the past five years, DLTR has underperformed the market, although not by much. As of June 8, the stock has gained 49.7% compared to 54.65% for the S&P 500.
The post-pandemic era has not been quite as kind.
Dollar Tree investors suffered 15% losses over the last year and a little over 6% year to date. The S&P, on the other hand, gained nearly 15% over the last year and is up more than 12% in 2023.
First, the Bad News
DLTR's failure to keep pace with the recent market recovery is one cause for pessimism, but the more worrisome consideration is the reason why it remains in the red.
The company's most recent earnings report underwhelmed investors and missed Wall Street's expectations.
It reported $7.32 billion in Q1 sales, which beat analyst estimates of $7.28 billion — but the problem was with the bottom line. Wall Street expected adjusted earnings per share (EPS) of $1.52, but DLTR delivered just $1.47 in per-share profits.
On top of that, Dollar Tree's earnings for the year are in the range of $5.73 to $6.13 per share, which represents a downward revision from its previous $6.30 to $6.80.
The earnings release triggered a steep selloff that nixed all of the company's gains to that point.
There's Plenty of Silver Lining, Though
When investors zoom out, Dollar Tree does not appear to be a struggling retailer. The company has averaged revenue growth of roughly 5% over the last five years and its more recent performance has been even stronger.
Last quarter, its same-store sales were up 3.4% — 6.6% at its subsidiary Family Dollar — and the good news doesn't stop there.
DLTR is currently undervalued. Although shares are just a few bucks away from their 52-week low, the stock is trading at 23 times trailing earnings. This is a bargain compared to the earnings multiple of 28 it averaged in the five years leading up to the pandemic.
Now might be a good time to buy for another reason, too — management expects the company's financials to improve by the end of this year.
What Is Wall Street Saying?
Markets Insider states, "Dollar Tree stock has received a consensus rating of buy. The average rating score is based on 37 buy ratings, 24 hold ratings, and one sell rating."
MarketBeat is also optimistic, labeling the stock a buy after citing seven buy ratings, four hold ratings and zero sell ratings.
Eleven brokerages issued one-year price targets ranging from $138 to $177. The average prediction is $158.71 in the next 12 months, which means it's reasonable to expect gains of 20.4% from the DLTR's current price.
Shoppers Are Spending Less — but They're Spending It at Dollar Tree
No one can say if DLTR will make you a millionaire. Picking individual stocks is risky business, and most experts would advise you to instead buy one of the more than 200 ETFs that count Dollar Tree among their holdings.
But if you're game for the risk, Dollar Tree shows some promising signs.
According to Motley Fool, Dollar Tree is by no means the only retailer to stumble recently. Inflation and general economic anxiety have forced consumers to rein in spending, yet traffic increased by 6% at Dollar Tree and 4% at Family Dollar.
It's a testament to the company's business model. When times are tough, people spend their money where they can stretch it the farthest — and many are stretching it at Dollar Tree.
More From GOBankingRates