Here's How Much You'd Be Worth If You Invested in Costco in 2013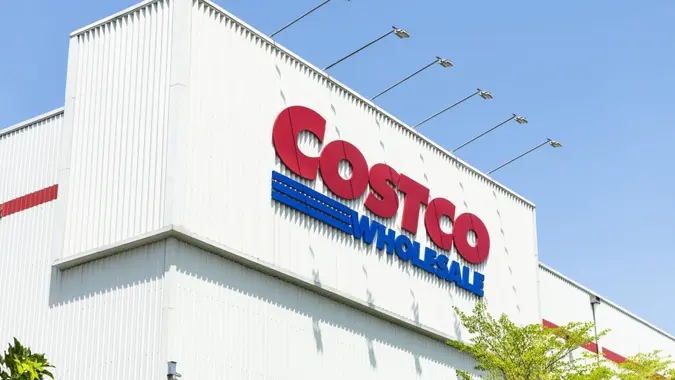 BING-JHEN HONG / Getty Images
Costco may be known for its $1.50 hot dog and soda combo (which arguably remains the best lunch deal around), but savings aside, the warehouse giant is also a major — and profitable — player in the grocery market.
See: Costco's Best Deals? Employee Reveals 10 Standout Buys for Your Money
Find: 3 Things You Must Do When Your Savings Reach $50,000
According to Zippia, the chain brings in $222.7 billion in revenue every year and ranks as the sixth-biggest retailer globally. Costco ranks as the third-largest retailer in the U.S., trailing Walmart and Amazon.
This comes as good news to investors, especially those who banked on future returns early in the process. In fact, CNBC has put together a chart showing how much you'd be worth today if you bought $1,000 worth of Costco stock in 2013, 2018 and 2022.
You Could Have Been Up Over 5x Your Investment
If you did so a decade ago, you'd be worth 5x as much as the net value of your $1,000 investment would now be $5,124. If you started in 2018, that same investment would be worth $2,639 today. However, purchasing $1,000 in Costco stock in 2022 would actually have provided a loss (so far), as today's value would be $898, per CNBC.
The devaluation of Costco stocks comes after news that insider investors have sold their shares en masse this year, giving up about $13 million of stake in the company. This, Simply Wall St. suggested, could be a sign of "impending weakness." It could be that savvy investors are forecasting a drop in shoppers due to the impending membership card price hike that has been prophesied by analysts, as well.
Costco last increased their membership prices in 2017, per Yahoo — these currently cost $60 annually or $120 for an executive membership. The current costs have still remained competitive, with Yahoo reporting that 92% of Costco members renewed last year, bringing in $1.03 billion in the last quarter of 2022 alone. CNBC reported that the number of current Costco memberships rests at 123 million people and counting.
Take Our Poll: Do You Have a Second Job or Backup Plan in Case You Are Laid Off?
More: 6 Incredible Perks of Being a Costco Employee
However, there still could be good reason to start investing in Costco stock now, if you are so inclined. Costco stock could be headed for a hike and has been trending for much of 2023 (so far). As CNBC pointed out, though, caution is necessary — "If you're interested in investing in Costco, Walmart or another company, remember: The stock market is unpredictable, and you shouldn't use a stock's past performance to predict how well it will do in the future."
More From GOBankingRates