Millionaire Investor Cathie Wood Ditches 'Overvalued' Nvidia — Her 3 Stock Picks for an 'AI-Dominant Era'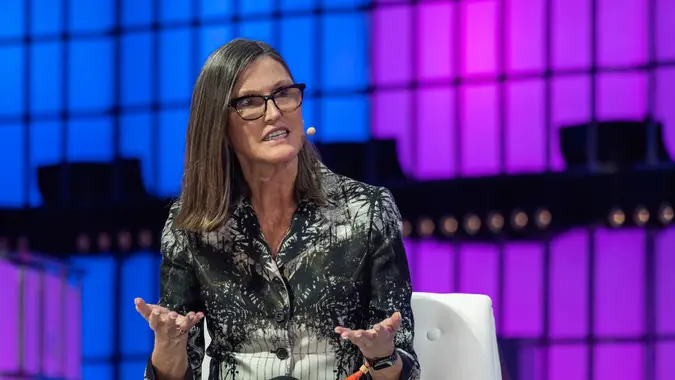 Hugo Amaral/SOPA Images/Shutterstock / Hugo Amaral/SOPA Images/Shutterstock
Regardless of what you think about AI and related technology systems, there is no denying the dramatic impact artificial intelligence will have on every industry in the near future.
Investors looking to gain an advantage will need to be vigilant, as the AI revolution has already arrived, resulting in hyper competition and overvalued prices — including Nvidia's, according to Ark Invest founder, CEO and lead investor Cathie Wood. To find the next Nvidia before it reaches that point, it helps to follow what the big-time players are doing.
Wood made her name investing in disruptive innovation and bold bitcoin predictions, and when it comes to investing in AI, she and Ark Invest are all in. Speaking to Benzinga CEO Jason Raznick in an interview for "The Raz Report," Wood said she believes that any company with "proprietary data, domain expertise in their own business, as well as AI expertise" can become more competitive.
Even though mega-cap companies like Apple, Microsoft and Alphabet stand to gain even more ground in an AI world, they could be reaching market saturation levels. Wood has spoken of the need to be open to small-cap investing, and Ark Invest's recent selling of Nvidia stock confirms that opinion.
Citing an overpriced valuation, Ark Invest has been dumping Nvidia holdings throughout the past year. In October 2022, Ark's exchange-traded funds owned 1.3 million shares, but in May it owned just 390,000 shares after shedding a large portion at the beginning of 2023, per The Street. Following Nvidia's remarkable latest earnings call, Wood sold another 2,230 shares worth more than $1 million.  
"We believe the days of relying solely on mega-cap companies for tech innovation are waning and an era of AI-centric small-cap companies is emerging. Find out where we see potential growth opportunities built on AI," Ark Funds tweeted last week.
Posting to X, formerly known as Twitter, at the end of May, Wood wrote, "In 2014, most investors considered $NVDA, priced at ~$5, simply a PC gaming chip stock. In contrast, @ARKInvest's first principles research pointed to #Nvidia as the premier equity play on #AI. Now up ~80-fold, investors seem to think NVDA is the only AI play. It is not!"
What are Wood's stock picks for an AI-dominant era? Here are three companies using AI to accelerate business, not including Tesla, which Wood still supports enthusiastically.
UiPath (PATH)
Wood is betting on the business-automation software company UiPath. Ark's Innovation ETF (ARKK), and Next Generation Internet ETF (ARKW) holdings include 5.76% and 4.74% UiPath assets, respectively, and UiPath ranks in the top 10 holdings in Ark's Fintech Innovation ETF (ARKF), its Autonomous Technology & Robotics ETF (ARKQ) and its Ark Space Exploration & Innovation ETF (ARKX).
"Our research suggests that other companies in this space rely too heavily on API's that are far-removed from natural human behavior and decision making," the company said in an investment report. "UiPath's emphasis on low-code no-code interfaces emphasizes flexibility, scalability and ease."
Twilio (TWLO)
Speaking about Twilio, the customer engagement and cloud communications platform provider, Ark said, "ARK has long-term conviction in Twilio and values the company's potential to power modern enterprise-to-customer communications as mobile phone adoption grows globally."
Earlier this month, shares of Twilio increased after it reported solid Q2 results and raised its full-year outlook. The tech company now expects annual adjusted income to be between $350 million and $400 million, per Yahoo.
MosaicML (MOS)
MosaicML is a generative AI start-up from Nervana Systems founder Naveen Rao, whose goal is to make efficient training of machine learning models more accessible. "As an AI training software layer between customers and compute resources, we believe MosaicML is likely to capture a significant share of AI compute spend," the Ark Invest commentary stated.
Ark's hunch has paid off. "In June, Databricks announced that it will pay $1.3 billion to acquire MosaicML, representing an approximate 5x return on this name since its addition to our Venture Fund as the first investment in September 2022," the company reported.
More From GOBankingRates