US Bancorp Stock (USB): Is It a Good Buy?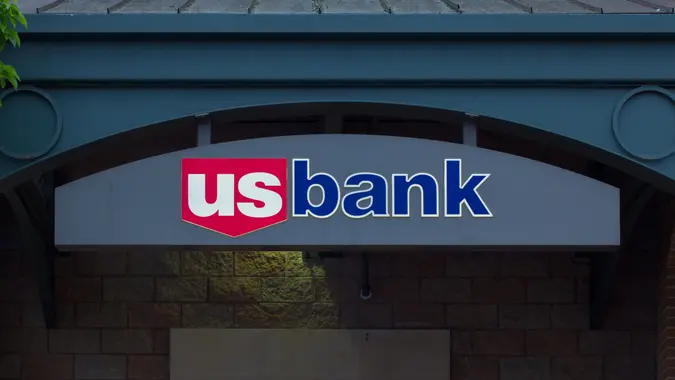 Ken Wolter / Shutterstock.com
U.S. Bancorp is a bank holding company. This means it invests in other banks without actually offering any traditional banking services itself . Its subsidiaries include dozens of banks and businesses like U.S. Bank and Chime.
The financial service subsidiaries offer services like:
Brokering and leasing services
Check cashing and deposits
Checking and savings accounts
Consumer and business lending
Foreign exchange
Insurance
Mortgages
Online and mobile banking
Trusts and investment services
Is US Bancorp Stock a Good Buy?
As with anything, there are pros and cons to U.S. Bancorp stock. Even though it is generally considered a good buy, better financial services options may be available to you.
US Bancorp Stock Experiences Gains Over the Last Year
U.S. Bancorp stock prices increased 30% in 2021. This is 5% more than the S&P500 average of 25% in the same time span. U.S. Bancorp reported quarterly revenue of $5.9 billion, which was 1% lower than the same quarter one year ago.
Some of U.S. Bancorp's segments grew, while others suffered financial loss over the year. For example, corporate and commercial banking decreased 13% compared to the same quarter last year. At the same time, payment services increased 3%.
Total 2020 revenues were $23.2 billion in 2020, up from 2019. Experts say that the increase in revenue came from consumers and businesses spending more money. The organization anticipates 2021 revenues to also be around $23 billion, without a significant increase or decrease over the previous year. This makes it a stable investment option for the coming year.
More Lucrative Investment Options from Competitors
U.S. News compares investment options to other peers in the industry based on factors like: 
Company fundamentals
Industry trends 
Investor preferences 
Overall performance metrics
U.S. News released its top ten bank stocks for 2022, and U.S. Bancorp didn't make the cut. In fact, the U.S. News website has U.S. Bancorp ranked no. 57 in defensive picks and 63 in top dividend stocks. This means there may be other options that are more lucrative for your investment portfolio in the coming year.
Recent U.S. Bancorp Stock Activity
On Thursday, Dec. 23, 2021, U.S. Bancorp (USB) stock gained for the fourth day in a row. The share price increased by $0.24, from $56.07 to $56.31. Over the previous 10-day period, U.S. Bancorp was down 1.57% for the period.
While share prices increased, volume fell on Dec. 23 by approximately 204,000 shares A total of five million shares were traded that day for a total of around $261.74 million.
Previous predictions showed USB stock falling over the next three months for a total of 9.36%, ending at a price between $48.32 and $53.13. However, if the stock continues its upward trend, it will break this prediction, and a new forecast may emerge.
Tip

Experts say that when you see prices rise as shares fall, you can anticipate changes in the coming days for a stock.
What the Future Holds for U.S. Bancorp Stock
A signal is an alert that indicates it may be a good time to invest in a particular stock. Investors often set conditions based on predictions to invest at the optimal time.
On the other hand, U.S. Bancorp stock trends vary for long-term and short-term investments. Short-term USB stock trends point toward a buy signal, while long-term U.S. Bancorp stock trends point toward a sell signal.
Did You Know?

December 1, 2021, was a signal day in which USB stock reached a bottom point that piqued the interest of investors. The move toward share price trending upward and volume trending downward was a positive signal.
U.S. Bancorp (USB) Stock Risk Evaluation
U.S. Bancorp shows promise of holding at a steady level of value. Experts consider the stock a low-risk overall. Changes — whether positive or negative — are usually not significant enough to cause concern for investors.
Expert Advice
Each investor should assess U.S. Bancorp as it compares to your overall investment portfolio. What may be a good time to sell for you may be a good time to buy for someone else.
Final Take
U.S. Bancorp stock is a stable investment option for long-term and short-term investors. It has a long history of stability in the stock market with no indication of significant problems in the future.
In fact, investing in financial services alternatives shows that the U.S. Bancorp team has a diverse vision for the future of banking. This may prove to be a smart business move as the financial services landscape changes with alternative payment options and cryptocurrency becoming more prevalent.
US Bancorp Stock FAQ
Here are the answers to some of the most frequently asked questions about buying U.S. Bancorp stock.
Is U.S. Bancorp a bank?

No. U.S. Bancorp is a larger institution that invests in banks and other financial services businesses. Bancorp invests in U.S. Bank, The Bancorp and Chime, among dozens of others. It does not offer any actual banking services to businesses or consumers.

Is U.S. Bancorp (USB) a better buy for long-term or short-term investors?

Experts currently rate U.S. Bancorp as a better short-term investment based on market trends. This could change at any time based on market fluctuations and changes.

Does U.S. Bancorp pay dividends to investors?

Yes. In September 2021, Bancorp announced an annual dividend of $0.46 per share to investors. This may not seem like much, but if you own a large number of shares, the dividend adds up quickly.
Our in-house research team and on-site financial experts work together to create content that's accurate, impartial, and up to date. We fact-check every single statistic, quote and fact using trusted primary resources to make sure the information we provide is correct. You can learn more about GOBankingRates' processes and standards in our editorial policy.