The Most Valuable Public Company in Every State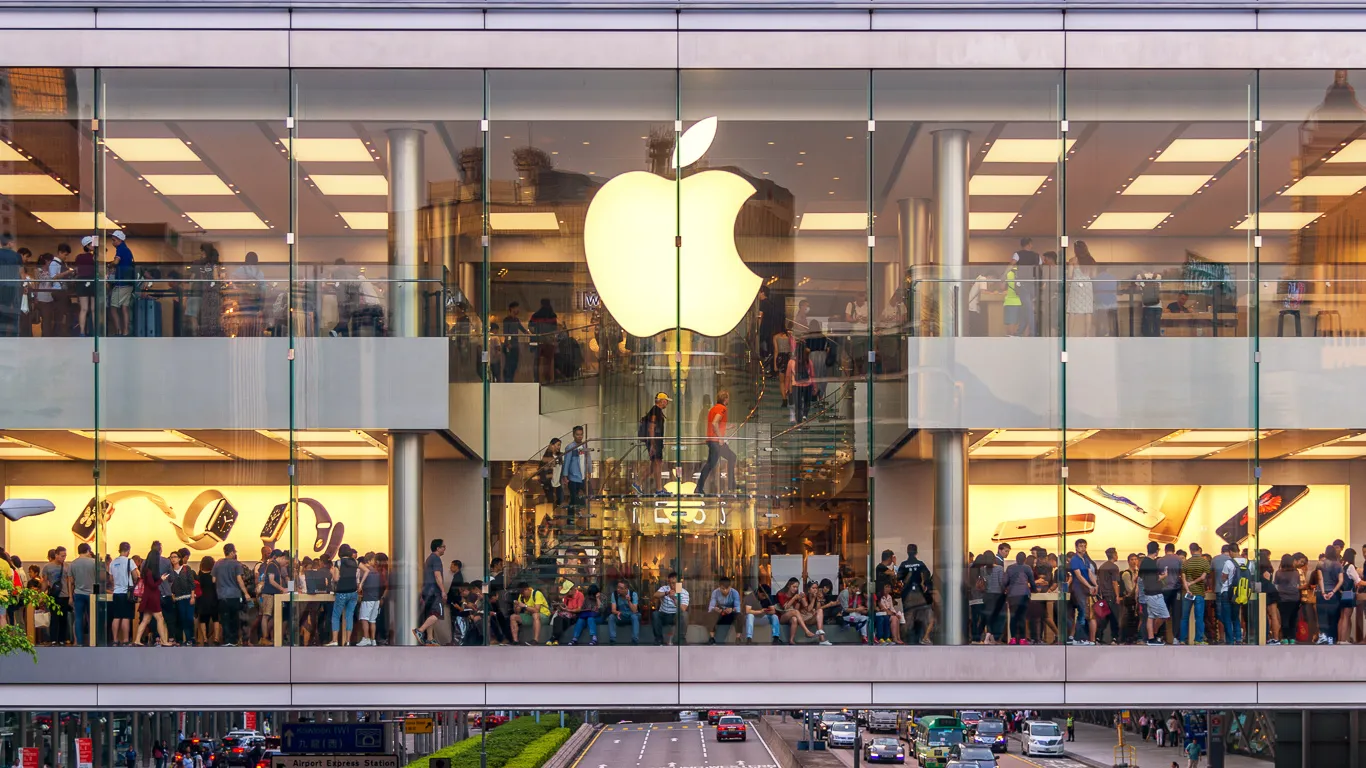 The term market capitalization, or market cap, represents the value of all of a company's outstanding shares. Market cap is a commonly used measurement of a company's publicly traded value, and we've applied that standard to identify the most valuable publicly traded company in each state. From Alabama to Wyoming, click through to see the heaviest hitters in the corporate world across the United States.
Alabama: Regions Financial Corporation
One of the biggest full-service commercial and consumer financial firms in America, Regions Financial is listed on the Standard & Poor's 500 Index. The company, which manages $125 billion in assets, operates across the South, Midwest and Texas. Regions Bank boasts 1,600 branches and 2,000 ATMs. Regions Financial Corporation has a market cap of $16.99 billion.
Alaska: General Communications Inc.
With a market cap of $780.6 million, General Communications is the largest public company in Alaska, which happens to be on of the best states to start a business.
The company is engaged in a unique push to connect the Arctic region with the rest of the world's business and consumer markets. It specializes in providing distance learning and telemedicine to Alaskans and improving the quality of life for state residents through communication technology.
Arizona: Southern Copper Corporation
One of the world's biggest copper producers, Southern Copper Corporation has a market cap of $27.74 billion. With listings on both the Lima, Peru and New York Stock Exchanges, Southern Copper conducts smelting, refining and mining operations in Peru, Mexico and Chile. In 2016, the company reported sales of $5.38 billion and paid its shareholders $139 million in dividends.
Arkansas: Walmart Stores Inc.
Although the world's biggest retailer is headquartered near Silicon Valley in the San Francisco Bay Area, Bentonville, Ark., is the birthplace of Walmart. That's the town where Sam Walton opened his first store, which remains in town today. In the most recent fiscal quarter, Walmart reported growth of 1.8 percent, with its e-commerce division reporting 36.1 percent growth. Its market cap is $214.82 billion.
California: Apple Inc.
Apple is the king of California, which is saying a lot considering the state is also home to Facebook, Google, Visa, Chevron and Disney. The iPhone maker is also one of the most valuable companies in the world.
Apple recently announced a record-breaking first quarter for fiscal year 2017, with quarterly revenue topping $78.4 billion. Apple's market cap is $733.68 billion.
Colorado: Dish Network Corporation
With a market cap of $28.79 billion, Dish Network Corporation is the biggest fish in Colorado's pond. The satellite TV company has more than 13 million paying subscribers. The company has more than 465 million shares of stock out, and it reports a float of 177 million shares. In the most recent fiscal quarter, Dish reported revenue of $3.72 billion.
Connecticut: General Electric Company
GE has a market cap of $255.95 billion, making it Connecticut's largest company by more than three times the next biggest company in the state. GE predicts its next wave of expansion will be due to its position as a potential leader in the Industrial Internet of Things through the use of big data, software and sensors.
Delaware: Walgreens Boots Alliance Inc.
Walgreens Boots Alliance, which is traded on the NASDAQ, has a market cap of $89.82 billion. The company, which employs more than 400,000 people, is the largest retail destination of its kind in both the United States and Europe. The company's stock is currently trading at $83.03, with a 52-week high of $88.
Florida: NextEra Energy Inc.
Florida-based NextEra Energy has a market cap of $61.65 billion. As part of a plan to increase shareholder dividends by 12 to 14 percent every year through at least 2018, the company boosted dividends by 13 percent in the most recent quarter compared to the prior year's quarterly dividend. The Fortune 200 company, which is listed on the S&P 100 index, has been lauded for its ethics and sustainability efforts.
Georgia: The Coca-Cola Company
Atlanta is home to one of Warren Buffett's favorite investments: Coca-Cola. With a market cap of $182.41 billion, Coca-Cola is the largest company in the state, just ahead of The Home Depot. Its net revenues were $41.9 billion for 2016, a 5 percent decline from 2015. In May 2017, Coca-Cola veteran James Quincy will succeed Muhtar Kent as the company CEO.
Hawaii: First Hawaiian Bank
Headquartered in Honolulu, First Hawaiian has a market cap of $4.13 billion. In terms of loans, assets, profitability, capital and deposits, First Hawaiian is not just the largest company in the state, but also the oldest and biggest bank. Its good credit quality and low percentage of non-performing assets place it in the top tier of major U.S. banks, according to the most recent publication of its Dodd-Frank Act Stress Test results.
Idaho: Micron Technology Inc.
With a market cap of $28.14 billion, Micron Technology delivers storage and memory solutions for a range of products and industries. Earnings from the most recent quarter topped $3.97 billion, which represents an increase of 23 percent compared to the previous quarter and 19 percent compared to the same quarter of the prior year.
Illinois: The Boeing Company
With a market cap of $107 billion, Boeing is not just the biggest business in Illinois, but the largest aerospace company in the world. The firm has an order backlog of a whopping $500 billion. The company is moving toward a 10-year, $7.5 trillion market opportunity, and it has returned $33 billion to shareholders over the last five years.
Indiana: Eli Lilly and Company
With roots dating back to a tiny lab founded in 1876, Eli Lilly now has a market cap of $92.38 billion. The company had good results with its plaque psoriasis drug Taltz, which performed well over a competitor called Stelara. Its earnings increased by 7 percent in the most recent quarter while its operating expenses stayed the same.
Iowa: Principal Financial Group
With a market cap of $17.61 billion, Principal Financial Group reports operating earnings of nearly $1.9 billion. The company provides both income and retirement services, as well as insurance solutions for individuals and corporations. Company brass regularly travels to events around the world to meet with investors and shareholders.
Kansas: Sprint Corporation
With a market cap of $33 billion, mobile giant Sprint reigns as the largest firm in the state of Kansas. In the most recent financial quarter, Sprint reported to shareholders that its record of year-over-year growth continues, with an increase of more than 5 percent for a net operating revenue of $8.5 billion.
Kentucky: Humana Inc.
Humana, which maintains its headquarters in Louisville, provides insurance and health and wellness services. The company recently completed a public offering of $1 billion in senior notes, from which management expects to reap $988 million for general corporate purposes and use. Humana has a market cap of $30.81 billion.
Louisiana: Entergy Corporation
Entergy Corporation, which has a market cap of $13.73 billion, reported losses of $9.88 per share in the most recent fiscal quarter. The company, which credits its vegetation management and tree-trimming efforts in helping to reduce service outages, rewarded shareholders with a dividend of 87 cents per share on March 1, 2017.
Maine: IDEXX Laboratories Inc.
Water testing, dairy testing and animal health firm IDEXX is the largest company in Maine with a market cap of $13.45 billion. The company has been listed on the NASDAQ since 1991 and is also a member of the S&P 500. IDEXX reported revenue gains of 11 percent in the most recent fiscal quarter.
Maryland: Lockheed Martin Corporation
Lockheed Martin, which is one of the world's largest operators in the arenas of engineering, aerospace, defense, energy and emerging technologies, has a market cap of $78.08 billion. In 2016, the company reported sales of $47.2 billion and paid dividends of $6.77 per common share of stock, both of which were increases from the previous two years.
Massachusetts: Thermo Fisher Scientific Inc.
Thermo Fisher, an industrial and applied science giant that employs 55,000 people, recently surpassed Biogen Inc. as the biggest company in Massachusetts with a market cap of $60.64 billion. Thermo Fisher boasts revenues of $18 billion with most of its resources, 37 percent, dedicated to laboratory products and services. Its life sciences solutions efforts consume another 26 percent of revenue.
Michigan: The Dow Chemical Company
A global producer of chemicals, Dow has a market cap of nearly $76.18 billion. Although the company reported a per-share loss of three cents in the most recent quarter, Dow's sales grew by 14 percent — with gains in all departments — to $13 billion. The company returned nearly $3 billion to shareholders through share repurchases and dividends in 2016.
Minnesota: UnitedHealth Group Inc.
Minnesota's biggest company is UnitedHealth Group, whose $159 billion market cap is nearly $45 billion more than 3M, the next biggest company in the state. In the most recent quarter, the healthcare giant reported that year-over-year gains grew by 18 percent to $185 billion, while operating earnings were up 20 percent.
Mississippi: Hancock Holding Company
Hancock, a financial institution with a market cap of $3.72 billion, has history dating back to the 19th century. At the end of the most recent quarter, the company reported an earnings increase of 64 cents per common diluted share and a $51.8 million increase in net income for the same time period.
Missouri: Charter Communications Inc.
Cable provider Charter Communications, which has a market cap of $98.71 billion, is listed on the NASDAQ exchange. As of the end of 2016, the company had 49.2 million subscribers. Charter reported an earnings increase of 7.2 percent in revenues, which reached $10.3 billion, in the most recent fiscal quarter. It was also one of Warren Buffett's best-performing stocks last year.
Montana: Glacier Bancorp, Inc.
With a market cap of $2.5 billion, Glacier Bancorp is the biggest company in the state of Montana. Glacier's current dividend yield is 2.45 percent, which is based on a payout ratio of 69.18 percent. The company offers its shareholders access to a dividend reinvestment plan, which automatically applies their dividends toward the purchase of more shares.
Nebraska: Union Pacific Corporation
Railroad Giant Union Pacific generated earnings of $5.07 per share even though it was operating in what the company referred to as a "difficult environment" in a shareholder report. Union Pacific, which invested $3.5 billion in 2016 toward infrastructure and safety, has a market cap of $84.68 billion.
Nevada: Las Vegas Sands Corporation
With a market cap of $44.35 billion, luxury hotel and resort developer Las Vegas Sands is nearly three times bigger than its next closest rival in Nevada, MGM Resorts International. The company employs more than 51,000 people worldwide. In the most recent financial quarter, Sands reported a net revenue increase of 7.4 percent to $3.08 billion.
New Hampshire: White Mountains Insurance Group Ltd.
White Mountains Insurance Group is a financial services company with a market cap of $4.06 billion. It is listed on both the New York and Bermuda stock exchanges. The company's adjusted book value per share has increased year-over-year, every year, since 2011. On March 2, 2017, the company elected a new CEO.
New Jersey: Johnson & Johnson
Global juggernaut Johnson & Johnson has a market cap of $342.28 billion, which makes it the biggest company in New Jersey. The drugs and biotech firm is one of just a handful of companies on the S&P 500 considered a "dividend king." Dividend kings are stocks that have raised dividends every year consecutively for at least 50 years.
New Mexico: PNM Resources Inc. Holding Co.
With a market cap of $2.97 billion, electrical utility PNM Resources Inc. dominates the business landscape in New Mexico. More than 750,000 homes and businesses in the Southwest get their power from PNM, which is actually a holding company of two utilities owned by investors. A full 70 percent of its capacity is split evenly between coal and natural gas.
New York: JP Morgan Chase & Co.
From Goldman Sachs and Citigroup to Verizon and Pfizer, New York state is filled with household name global corporations. With a market cap of $312.65 billion, Chase is on top of them all. The financial juggernaut, with a history dating back more than 200 years, manages a whopping $2.5 trillion in assets and employs 240,000 people. Chase Bank is also one of the best banks in America.
North Carolina: Bank of America Corporation
With a market cap of nearly $230 billion, Bank of America is valued at roughly three times higher than North Carolina's next most valuable company, Reynolds American. In the most recent financial quarter, Bank of America reported that revenue increased 2 percent to $20 billion. Pretax earnings were also up 27 percent to $6.1 billion.
North Dakota: MDU Resources Group, Inc.
The biggest business in North Dakota is mining and quarrying company MDU Resources, which has a market cap of $5.31 billion. The asset-based natural resource company boasts a balance sheet with equity of 56 percent of total capital. MDU has paid quarterly dividends for an uninterrupted stretch of 79 years.
Ohio: Procter & Gamble
Packaged goods and cosmetics giant Procter & Gamble dominates the state of Ohio with a market cap of $232.61 billion. After 179 years in business, P&G products, which span 10 different categories, can be found in more than 180 countries. The company has increased its dividend payout for 60 consecutive years.
Oklahoma: Williams Partners L.P.
Williams Partners L.P. is a natural gas distributor with a market cap of $37.53 billion, making it the highest valued public company in Oklahoma. The company, which has been in business for more than 100 years, boasts healthy growth through fee-based revenues. It has access to sources in the Rockies, the Gulf Coast, the Mid-Continent region and the Marcellus-Utica region.
Oregon: Nike Inc.
With a market cap of $89.21 billion, Nike is nearly 20 times the size of Oregon's next-biggest company. Nike, which includes the Hurley and Converse brands, is a globally known household name, yet it still considers itself a growth stock. In the most recent quarter, Nike reported revenue growth of 6 percent to $8.2 billion.
Pennsylvania: Comcast Corporation
Philadelphia-based Comcast Corporation towers high above the state of Pennsylvania with a market cap of $176 billion. The cable giant, which is affiliated with NBC Universal, recently announced a leadership shakeup, with the company bringing in a new CEO and a new vice chairman. The company recently traded at $37.04 per share.
Rhode Island: CVS Health Corporation
Pharmacy, medical and nursing services giant CVS boasts a market cap of $80.48 billion, making it the biggest company in the nation's smallest state. Offerings include CVS Caremark, CVS MinuteClinic, CVS Specialty and the familiar CVS pharmacy chain. The company recently launched a program designed to help customers pay for medication.
South Carolina: Scana Corporation
Power generation company Scana Corporation has a market cap of $9.68 billion. It's made progress on a new nuclear construction project, raised its quarterly cash dividends, and it ranks in the top 25 percent of its utility peer group, according to a March 2017 proxy statement.
South Dakota: Black Hills Corporation
South Dakota's largest company is the Black Hills Corporation, an electrical utility with a market cap of $3.52 billion. The company, which grew 12 times its original size in 10 years, now serves 800,000 customers and employs 2,000 people in seven states. The company recently unveiled plans for a new corporate headquarters.
Tennessee: FedEx Corporation
With a market cap of $52.21 billion, FedEx is bigger than Tennessee's next biggest company by more than $20 billion. The air and freight delivery service giant recently extended a contract with the U.S. Postal Service and launched the new FedEx Fulfillment program through FedEx Supply Chain, one of its subsidiaries.
Texas: ExxonMobil Corporation
With a market cap of $339 billion, ExxonMobil is not just the biggest company in Texas — it's also the biggest oil and gas company on the planet. Its varied business lines include marine lubricants, crude oil sales, commercial vehicle lubricants, wholesale fuels, passenger vehicle lubricants, white oil and wax, asphalt and base stocks.
Utah: Extra Space Storage Inc.
Extra Space Storage Inc. is a real estate investment trust (REIT) with a market cap of $9.5 billion. The country's second-largest self-storage facility operator, Extra Space Storage added $1.8 billion in new acquisitions in 2015 alone. The company's portfolio includes properties in 38 states, Washington, D.C., and Puerto Rico.
Vermont: Casella Waste Systems Inc.
Environmental services corporation Casella Waste Systems is the largest company in Vermont with a market cap of $535.36 million. It provides services for businesses, residences and organizations. Their competencies include dumpster rentals, routine and customized waste pickups, and recycling services.
Virginia: Altria Group Inc.
With a market cap of $145.59 billion, Altria Group dominates the business landscape in Virginia. Altria's main division is Philip Morris, the country's leading producer of cigarettes since 1983. Other tobacco interests include U.S. Smokeless Tobacco, Black and Mild producer John Middleton and NuMark.
Washington: Microsoft Corporation
Washington state is packed with corporate heavy hitters like Amazon, Starbucks, Costco and T-Mobile. With a market cap of $502.52 billion, however, Microsoft towers above them all. Microsoft, which purchased LinkedIn in 2016, announced revenues of $24.1 billion for the most recent financial quarter.
West Virginia: PDC Energy Inc.
Oil and gas production company PDC Energy is the biggest company in West Virginia with a market cap of $4.15 billion. The company specializes in the development of low-risk organic oil and natural gas from tight reservoir rocks and shale, as well as horizontal drilling. The company promotes a fiscal strategy based on a conservative balance sheet.
Wisconsin: Fiserv Inc.
Electronic data processing services provider Fiserv, which has a market cap of $24.86 billion, offers banking software, risk management, payment and data services solutions. The company, which serves 13,000 clients in more than 80 countries, claims more than 150 patents and employs more than 22,000 people across the world.
Wyoming: Cloud Peak Energy Inc.
Coal mining company Cloud Peak Energy rules Wyoming with a market cap of $305.11 million. One of the largest coal producers in the country, Cloud Peak is the only coal company in the Powder River Basin. It maintains three surface-based mines in the region, from which it shipped 59 million tons of coal in 2016.
Disclaimer: Market cap figures are accurate as of March 22, 2017.
Editorial Note: This content is not provided by Chase. Any opinions, analyses, reviews, ratings or recommendations expressed in this article are those of the author alone and have not been reviewed, approved or otherwise endorsed by Chase.