Stock Trading: A Beginner's Guide to the Markets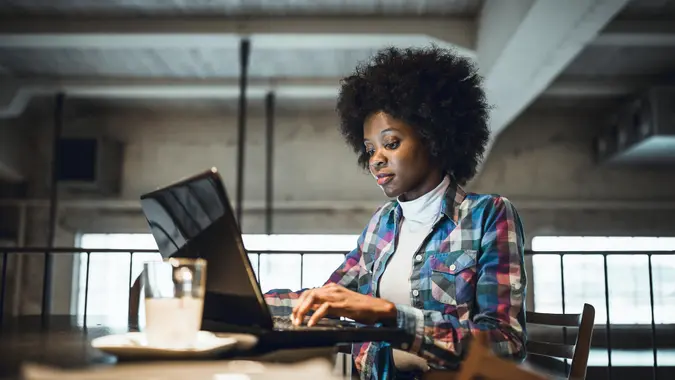 NoSystem images / Getty Images
Investing in the stock market is one of the best ways to build and preserve wealth over the long term. Average 10-year stock market returns for the last 140 years have been 9.2%. That figure is way higher than the average return of a savings account in the United States.
New investors have several ways to invest in the stock market. While there are plenty of stock market guides for "dummies," this is the best online stock trading guide for beginners, providing you with the terms, strategies and other information needed to get started as a stock trader.
Find Out: Do You Invest Like These Millionaire Stars?
What Is Stock Trading?
One of the most popular ways to invest in public markets is to trade stocks. Stocks are an investment that represents an ownership stake in a publicly traded company. When you buy a share of a company's stock, you are purchasing a percentage of the company.
The stock market operates much like a public auction house. Investors buy and sell shares of a company's stock by negotiating prices on an exchange. Ideally, you buy a stock that you expect will go higher, and you sell when you believe the stock will head lower.
Learn More: 4 Investing Lessons the Pandemic Has Taught Us 
Types of Stock Trading
Stock trading is not a one-size-fits-all activity. Check out this guide on stock trading for some common strategies:
Trading and Investing Strategies

Active trading: This is an investing strategy in which an individual buys and sells stocks in a more short-term way. Active traders might place 10 trades or more in a given month and attempt to time the market by buying and selling to earn profits.
Passive investing: This is a long-term strategy of buying and holding stocks for months or years. Passive investors typically invest in index funds that track the performance of an index like the S&P 500 or the Dow Jones Industrial Average.
Day trading: This is the strategy of actively buying, selling and flipping stocks over a very short period — even within the same trading session. Day trading is considered risky and is not recommended in stock trading for beginners.
How To Start Trading Stocks
Here's a look at a few simple steps you'll need to follow to get started trading stocks.
1. Open an Investing Account
You can sign up with a broker who will purchase shares and make recommendations in exchange for commissions. Or you can do online stock trading yourself by applying for an account with a discount brokerage.
First-time investors can also choose from a variety of mobile apps that can save time and money when trading. For example, Robinhood is a digital application that allows users to buy stocks without commission costs.
2. Set a Budget for Stock Trading
No stock market trading guide is complete without the reminder that every type of investment has a degree of risk. Stocks are the riskiest, and the risk increases with the potential return.
Set limits for yourself so you're not tempted to spend money earmarked for other expenses. Even better, add an investment category to your budget. Then you can invest freely.
3. Learn the Different Types of Orders and Start Trading
When you're ready to buy stock, you place an order through the trading platform or brokerage. The order gives specific instructions for when to buy or sell a particular stock. There are two main types of orders:
Market order: An order to buy or sell stock at the current market's best available price. Investors place market orders when they want to buy or sell a stock immediately.
Limit order: Places restrictions on when to buy or sell stock. You specify the most you're willing to pay for a stock or the least you're willing to accept when selling stock.
Individual brokers may have additional order types. Ask your broker about their specific policies for investing in the stock market.
Investing for Beginners: What First-Time Investors Need To Know
4. Measure Your Returns Against the Right Benchmark
Market benchmarks are indexes that represent the market. Investors use them to evaluate the performance of their portfolios. When using a benchmark, make sure its asset allocation matches your account.
For example, don't use the S&P 500 as a benchmark for real estate investment trust stock. You won't get an accurate comparison. The S&P 500 tracks the performance of large-cap U.S. stocks — not real estate.
5. Invest for the Long Term
In most cases, investors who use a long-term approach are more successful than those who try to time the market. Stock markets can fluctuate dramatically over short periods of time as they react to what's going on in the headlines.
Invest Now: 26 Smartest Ways To Invest Your Money During the Pandemic
Smart Strategies for Stock Trading
Many strategies for trading stocks are available in beginner's guides. It's important to start with a few basics.
Pay Off Your Debt First
Before you start investing in the stock market, consider paying off debt or establishing a portfolio that will provide you with a return that's higher than your interest payments. Investing is as much about opportunity costs as it is profits.
Don't Borrow To Buy
If you can't afford to buy a stock outright, don't buy it. And you should only trade stocks with money that you can afford to lose. This is one of the most basic stock trading guidelines.
Build Gradually
As you earn more money, you can purchase more shares and use different strategies to build your position. For example, you can use dollar-cost averaging. Buying a fixed amount of the same stock each month averages out the price and reduces risk.
Always Have Cash on Hand
Never invest all of your money in the stock market. It's essential to have cash available in an emergency fund, for example, and you might keep some aside for discretionary spending. If the market pulls back, a price dip might present a terrific buying opportunity to buy a stock you want to own.
Use Fundamental and Technical Analysis
To understand the value of a company and a stock's upside or downside, consider learning about the following forms of stock analysis:
Fundamental analysis: The process of evaluating a company's financial health by examining the underlying economic and financial factors impacting a firm. You can determine the perceived value of the stock and decide if it's undervalued.
Technical analysis: The evaluation of a stock's price trends and patterns on a historical chart. Technical analysts believe that past trading activity and movement in prices can determine future moves in a stock price.
Get Help From Experts
Take the time to research the expertise of anyone offering investment advice. In addition to this stock market investment guide, there's plenty of information available online and on stock market guide apps.
Something New: 13 Investing Rules You Should Break During the Pandemic
FAQ on Stock Trading
Here are some frequently asked questions — and answers — beginners have about investing in stocks and stock trading.
Which Stock Trading Site Is Best for Beginners?
The best online stock brokerages for beginner traders include Charles Schwab, TD Ameritrade, Merrill Edge, E-Trade and Fidelity. These companies offer easy-to-use platforms and provide plenty of advice about how to invest.
What Is a Good Trading Strategy?
The best trading strategy is the one the helps you reach your financial goals. This is why it's helpful to work with a financial advisor. They can guide you through goal setting and explain your options.
What Is the 3-Day Rule in Stock Trading?
The three-day settlement rule is a rule issued by the Securities and Exchange Commission. It says trades must be completed within three days.
What's the Difference Between Stock Trading and Investing?
Stock trading is buying and selling shares of stock. Investing refers to a long-term approach of buying stocks and holding on to them until they increase in value.
Refer to this stock market beginner's guide as you start investing, but don't let all the great advice take the place of a financial advisor. This is your money at stake. Always double-check with an expert before making any substantial money moves.
More From GOBankingRates
Last updated: May 14, 2021
Our in-house research team and on-site financial experts work together to create content that's accurate, impartial, and up to date. We fact-check every single statistic, quote and fact using trusted primary resources to make sure the information we provide is correct. You can learn more about GOBankingRates' processes and standards in our editorial policy.