5 Best Investments for Retirees in 2023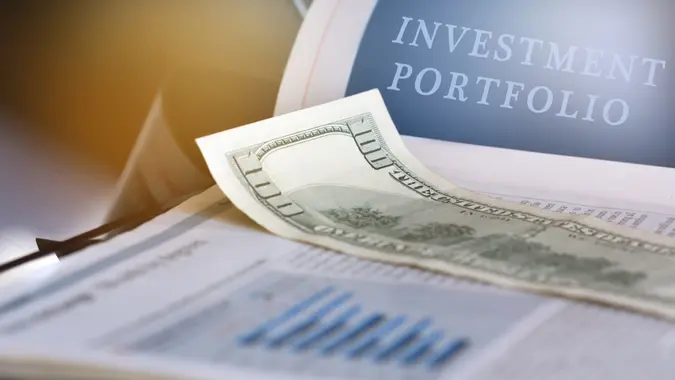 ©Shutterstock.com
Inflation is still very high, interest rates are set to rise again and talks about a potential recession have been picking up steam. Against this backdrop of a very uncertain economic landscape, choosing where to invest for retirees, who typically look for the least risky assets, can be tricky.
"We work with clients regularly to make sure their asset allocation — or mix of stocks, bonds and cash — makes sense for them given their overall financial picture in retirement," said Leanna Devinney, VP branch leader at Fidelity Investments. "Particularly when markets are rocky, this is something that's top of mind for retirees. With a strong plan in place, retirees can weather market volatility with the peace of mind knowing their investment strategy is aligned to the goals they have."
Experts agree that the key to weathering this landscape for retirees is to have a very diversified portfolio, but the definition of "safe investment" varies depending on the risks you are willing to take, your goals and your understanding of what you invest in. 
"When it comes to investments, follow the general rule of only investing in what you understand," said Jay Zigmont, PhD, CFP, founder of Childfree Wealth. "You don't need your investments to be sexy; you just need them to work. Being in the 'safest' investment may not be the best for you. The challenge in retirement is that your investments must get you to your goals, including not running out of money."
In any case, most experts agree that, even in retirement, it is crucial to continue to invest for several reasons, including increased life expectancy. 
Too many retirees rely on savings and Social Security to get by, said Jim Penna, manager of retirement services at VectorVest. He said one reason to continue to invest is that you cannot know how long you will live. 
"As retirees live longer than ever, we need to have those savings last longer," he said. "The income generated in later years is important. And in this time of high inflation, savings are a victim of inflation, so it is important to return at least the cost of current interest and inflation rates to stay ahead."
Here are some options for retirees' investments.
Treasury Bills
Treasury bills — or T-bills — are short-term financial instruments that are issued by the U.S. Treasury with maturity periods ranging from a few days up to one year. They are considered among the safest investments because they are government-backed. 
"Right now, one of the safest investment options for retirees is both six-month and one-year Treasury bills," said Kevin M. Curley II,  financial advisor at Global Wealth Advisors. "Currently, they are yielding over 5% and offer no credit risk."
Curley added that investors can buy them directly through treasurydirect.gov in small increments of $100 and without any commission or fees. 
"While bills mature in one year or less," Curley said, "if retirees are concerned about selling them before maturity, they can move them to a bank, dealer or brokerage account after purchase."
While an investor's risk profile generally decreases in retirement, Curley added, the need to beat inflation never ends. Because of this, it's beneficial for retirees to continue investing, even in their golden years.
Real Estate Investment Trusts (REITS)
A REIT is a company that owns and typically operates income-producing real estate or related assets. REITs enable investors to earn a share of the income produced through commercial real estate ownership, without having to go out and buy commercial real estate.
John Worth, EVP of research and investor outreach at Nareit, explained that REITs offer investors access to a wide range of real estate sectors while historically providing a steady stream of high dividends, the potential for long-term capital growth and diversification.
"Given that REITs typically provide strong dividend income," Worth said, "they are an important investment both for retirement savers and for retirees who require a continuing income stream to meet their living expenses."
Worth noted that Morningstar research shows that adding REITs to a portfolio that contains stocks, bonds and cash often can extend retirees' savings and reduce the probability of them outliving their money. 
Worth added, "Our own research and analysis also show that REITs' strong balance sheets have helped them remain resilient to higher interest rates and are helping them navigate ongoing economic uncertainty." 
Stocks
With volatile markets, investing in stocks can be extremely risky — something that retirees should avoid. Nonetheless, several experts agree that stocks still should be part of their portfolios. 
"Stocks can and should be a part of a retiree's investment portfolio," VectorVest's Penna said. "We know they can provide both capital appreciation and dividend income." 
According to Penna, the first objective of any retiree should be capital preservation, followed by generating a safe and steady income. Lastly, the retired investor may still look to capital appreciation as a strategy but needs to proceed with caution.
"In turn, when investing in stocks, they must be safe as far as consistency and predictability of their financial performance are concerned," he said. "Blue chip dividend payers are the type of stocks a retiree should look for to populate their portfolio." 
Real Estate
Real estate investments are a great way to derive steady income streams in retirement as well as capital appreciation. 
"It's also seen as one of the safest investments because it provides physical collateral to back it up, which makes it less volatile than other types of investments," said Jon Sanborn, co-founder of SD House Guys. "It also has the potential for tax deductions and benefits, depending on the structure of the investment."
Diversified Portfolio
All in all, to avoid the pitfalls inherent to the current economic landscape, to navigate inflationary pressures and to be safe, most experts agree that diversifying is the way to go. 
"I would caution against approaching investing with the mindset that any asset is safe," said Eric Satz, CEO and founder of Alto, a self-directed IRA provider. "Last year's dismal stock and bond performances is a good reminder that any asset can see negative returns."
Satz added that you also have to consider the trade-off between risk and return and what that means for your individual goals and time horizon. 
"Ultimately, the best allocation strategy is going to be one that not only balances higher-risk, higher-reward investments with lower-risk, lower-reward investments but also includes a variety of asset classes," he said. "This is key to a truly diversified portfolio."
More From GOBankingRates