What History Tells Us About Getting Through a Bear Market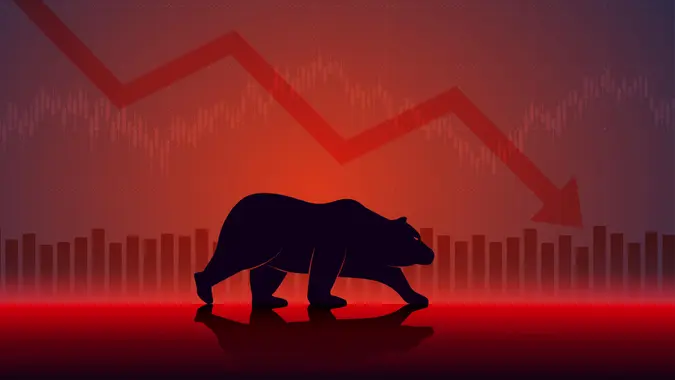 champc / Getty Images/iStockphoto
Suffering through a bear market is never pleasant, even for professionals or those with decades of investing experience. Although the Wall Street axiom of "buy low, sell high" sounds easy enough to accomplish, there's a reason why it's so difficult.
Check Out: GOBankingRates' Top 100 Money Experts
Looking To Diversify in a Bear Market? Consider These 6 Alternative Investments
In the teeth of a bear market, it's hard to buy anything. The market usually falls into bear status due to a common belief that terrible things are happening, from a crashing economy to rapidly falling earnings. Toss in the emotional pain that goes with losing 20% to 50% or more on individual stocks, and it's no wonder why no one wants to "buy low."
But history has taught us that no matter how painful a selloff may be, the stock market averages have always gone on to make new highs. In other words, even though it may not seem like it right now, "this too shall pass." Here's what history tells us about getting through a bear market.
The Average Bear Market Drops Nearly 40%
Although a 20% drop marks an "official" bear market in the eyes of many, it's rare that the damage stops right at the 20% level and immediately reverses course. Rather, the average bear market falls nearly double that amount, or 38%. But the worst part of most bear markets isn't that they fall about 40% — it's that many investors get scared out of the market after such big declines.
Seeing their portfolios decline that dramatically can make many investors try to stop the bleeding by unloading their positions in the belief that they will get back in when the market turns around. Unfortunately, timing the market is hard to do, and many investors end up selling low and buying high, long after the market has recovered.
In fact, part of the reason that markets recover is that selling pressure abates, as investors have already dumped their positions and there are fewer sellers in the market.
The Average Bear Market Lasts 16-20 Months
Historically, the average bear market lasts about one-and-a-half years, according to data from the Wells Fargo Institute. While this is certainly painful to endure, it's actually a fairly short period of time when looking at the market's long-term historical record.
By way of comparison, InvesTech research calculates that the average bull market since 1932 has lasted 3.8 years, or more than twice as long. If you can manage to endure the pain of a bear market, you're generally rewarded with a long period of recovery in which prices go on to set new highs over a relatively long time period.
Live Richer Podcast: Unexpected Ways Losing a Spouse Can Affect Your Finances and Retirement
What Market Recovery Looks Like
Most investors hate or even fear bear markets, but they are just normal parts of the business cycle. Economists typically define the business cycle as having four parts: early, mid, late and recession. Bear markets typically start just before and during recessions, which helps to set them up for recovery. But what does recovery look like?
Generally, the early part of the business cycle is when the economy flips from negative growth to positive. The hallmarks of this recovery include low business inventories, rapidly increasing sales, rising industrial production and a positive gross domestic product. Recoveries are typically prompted by the increased availability of credit and low interest rates, which is often the result of activity by the Federal Reserve. 
How To Protect Yourself in Bear Markets
Although one can never predict the onset of a bear market, understanding the business cycle can clue you in as to what economic indicators to look for that might drag down the stock market. Factors that can push the economy into recession and perhaps push stocks into a bear market include declining profits, high interest rates and/or the scarcity of credit, and contracting economic activity. 
If you find yourself in an existing bear market, it's important to avoid making emotional investment decisions. Dollar-cost averaging can be a good way to both remove emotions from your investing and to "buy low," as you'll be consistently buying shares on the way down. While this can increase your losses over the short-term, if you have a long-term investment perspective and the market recovers to new highs, you'll be rewarded for those purchases you made while the market was down. 
The best way to get through a bear market is to stick to your long-term investing plan. Review the stocks you own and prune any companies from your portfolio that have a material change in their business. For those that still have the same long-term investment thesis, continue to add money to them on a regular basis throughout the bear market.
More From GOBankingRates