9 Best Gold IRA Companies for 2022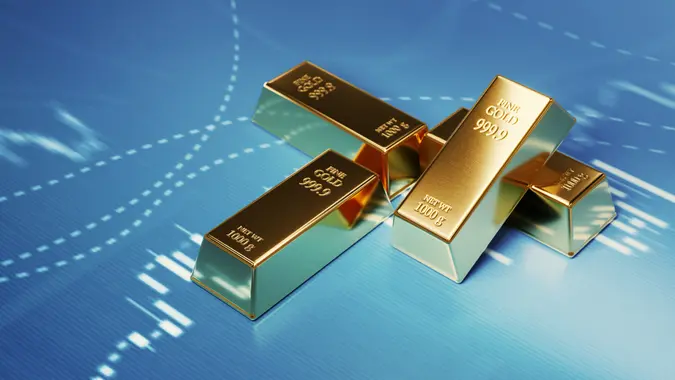 MicroStockHub / Getty Images/iStockphoto
Gold has been a popular investment option for centuries. Even before there were organized stock exchanges and gold mining companies, humans have always been fascinated by the shiny metal, using it for everything from trade to ornamentation to coinage.
However, investing in actual gold bullion can be difficult, since it involves storage fees — and moving heavy, physical gold can be a challenge. This is one of the reasons that gold IRAs are popular. Unlike with traditional IRAs, gold IRAs are set up in a special way so that account owners can hold on to physical gold bullion, such as bars or ingots. When it comes time to take withdrawals in retirement, a gold IRA owner can withdraw actual gold from the account.
Top Gold IRAs
If you want to invest in a gold IRA, here are nine to consider.
1. Noble Gold
Best for: Low storage fees
Noble Gold has a host of online resources that make the company a good option for those looking to open their first gold IRA. Noble Gold offers segregated storage for an annual fee of $80, which isn't particularly high especially compared with competitors who charge higher fees for commingled storage. The annual storage fee jumps to $150 if you store in Delaware or Texas, however. Investment minimums are relatively low, at $20,000.
Pros
Low storage fees
Relatively low investment minimums
Cons
Increased storage fees in Delaware and Texas
2. Advantage Gold
Best for: First-time investors
Advantage Gold has a generous buy-back program that guarantees investors will receive at least the spot gold price for their investments at any time, typically within 24 hours. The company also provides extensive educational research and content that the company claims is worth at least $3,000. That may or may not be true from the perspective of investors, but nevertheless the company is dedicated to educating its customers, which is particularly helpful for first-time gold investors. 
Pros
Educational content available
Buy-back program
Cons
3. Patriot Gold Group
Best for: Hands-on investors
Consumer Affairs gives Patriot Gold Group a five-star rating, which is its top mark, for its multiple storage options, 24-hour turnaround for new accounts and no fee-for-life program. The company also has an A+ rating from the Better Business Bureau. However, the company doesn't provide information about storage, insurance or other IRA fees online, meaning you'll have to call the company. Patriot Gold Group requires $25,000 to open a gold IRA.
Pros
Excellent ratings
No fees for life on IRAs that qualify
Cons
Must call for detailed information
4. Goldco Precious Metals
Best for: Endorsements
Goldco carries an A+ rating from the Better Business Bureau and has collected a host of celebrity endorsements. Chuck Norris, for instance, says "The only trustworthy company I recommend for gold and silver is Goldco," while Sean Hannity says "Goldco is the only precious metals company I recommend."
Although the firm also carries a host of positive customer reviews, its website is a bit thin when it comes to information about fees, account minimums, storage and services, instead asking you to call the firm directly. 
Pros
Many positive reviews and endorsements
Rollover assistance available
Cons
Must call for detailed information
5. Augusta Precious Metals
Best for: Clear fees
Unlike some other firms, Augusta Precious Metals clearly lays out its fee structure on its website. Specifically, you'll pay $50 to open a gold IRA, along with a $125 annual custodian fee. Your ongoing administration fee is based on the size of your account, with those up to $100,000 paying $75 and those over $100,000 paying $125. Note that depository storage fees for investing in gold cost extra.
Pros
Clear fee structure
Buyback program with competitive prices
Cons
Must provide contact information without first learning which company you've been paired with
6. American Hartford Gold
Best for: Free services
American Hartford Gold has worked hard to build its reputation in the industry. The company receives an A+ rating from the Better Business Bureau and has hundreds of positive reviews from a variety of sources. Television personality Bill O'Reilly is featured prominently on the firm's homepage, stating that "The ONLY company I recommend for your gold & silver needs is American Hartford Gold."
The company offers a free investor kit, free IRA rollovers, a buyback commitment and up to $10,000 in free silver delivered to your front door on qualifying purchases.
Pros
Buyback program

Qualifying purchases can receive up to $10,000 in free silver
Cons
Must call for detailed information
7. Birch Gold
Best for: Investment variety
Birch Gold is one of the few gold IRA groups that offers a high level of transparency and great customer service. Right on the Birch Gold website, you can find out what fees you'll be charged and that the minimum investment is a relatively small $10,000. To set up your account, you'll pay a one-time fee of $50, with an additional $30 if you need to use wire transfer services. Annual management fees are $100, which is on top of the $100 fee you'll pay every year for storage and insurance.
Customer service can be reached via the 800 number listed on the firm's webpage, where you can also request a free information kit.
Pros
Investments available in multiple categories beyond metals, including real estate and cryptocurrency
Relatively low minimum investment
Specialists assist with the investing process
Cons
Must call to begin investing process
8. Oxford Gold Group
Best for: Tailored investment strategies
Oxford Gold Group charges an annual fee of $225 for accounts larger than $100,000 and $175 for accounts of less than $100,000. However, there aren't any additional fees, and larger accounts can reduce the cost through a rebate program. According to the customer reviews, the average gold IRA client at the group doesn't pay any fees for the first three years on average.
Pros
Rebate program can reduce fees
Excellent reviews
Educational materials available
Cons
High annual fees
Must call to invest
9. Regal Assets
Best for: Fee-free IRA rollovers
Regal Assets changes no fees for IRA rollovers, but it charges a flat $250 per year for storage and service. Unlike some other firms, Regal Assets keeps customer assets segregated, providing a further level of protection. The company has over 1,800 five-star ratings on BirdEye, but it should be noted that it isn't accredited by the Better Business Bureau, which gives the firm a rating of F.
Pros
Assets are segregated for security
Cryptocurrency also available
Account can be opened online
Cons
High annual fees
Not BBB-accredited
Final Take
Gold IRAs are convenient accounts for those looking to hold physical gold bullion rather than investing in gold stocks. However, there are some drawbacks. Fees on most gold IRAs are relatively high, and gold bullion investments don't take full advantage of the tax-deferred benefits of an IRA, since they don't pay interest or dividends.
FAQ
Investing can be complicated, so here are the answers to some common questions about gold IRAs.
Which gold IRA company is best?

If it's your first time investing in a gold IRA, consider Advantage Gold for its educational resources or Birch Gold to be paired with a specialist who will assist you through the process. If you're looking to do more hands-on investing, Patriot Gold Group might be best for you. For investing options beyond precious metals, consider Regal Assets or Birch Gold.
The "best" gold IRA company is the one that best meets your needs. Whether you're looking for low costs, good customer service or other variables, you'll have to shop around to find the company that's a good match for what you need.

Are gold IRAs a good idea?

Gold IRAs can be a good way to own physical gold in a retirement nest egg and diversify your investments. However, it's important to understand the drawbacks as well, such as the ongoing fees and the restrictions on withdrawals.

How much does a gold IRA cost?

There are a number of fees attached to most gold IRAs, ranging from setup fees to ongoing administrative and storage fees. Setup and administrative fees can range from $50 to $150, while annual storage fees can run from $50 to $300 or more, depending on the trustee and the amount of gold being stored. This is why it pays to shop around when looking for a gold IRA.

Can you buy gold in an IRA account?

Many traditional IRA accounts don't allow investors to purchase physical gold in an IRA. However, if you establish a specific gold IRA, which is a self-directed account administered by a trustee, you can buy gold in your IRA.
Amber Barkley contributed to the reporting for this article.
Information is accurate as of Dec. 27, 2022.
Our in-house research team and on-site financial experts work together to create content that's accurate, impartial, and up to date. We fact-check every single statistic, quote and fact using trusted primary resources to make sure the information we provide is correct. You can learn more about GOBankingRates' processes and standards in our editorial policy.