How To Not Miss Out on the Next Big Investing Trend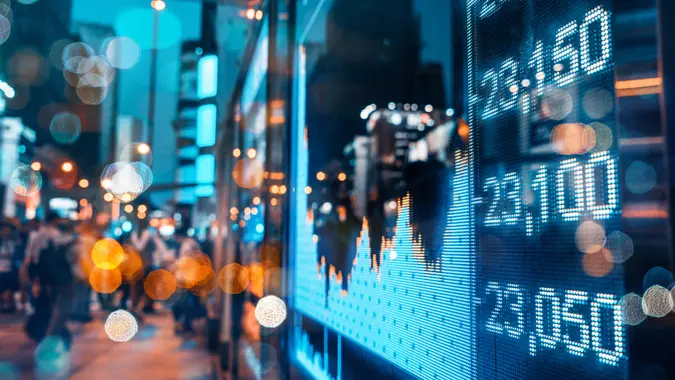 katjen / Shutterstock.com
The whole point of investing is to make money. Over the long run, investments such as housing and the stock market have proven to be money-making options. Unfortunately, over the short run, both of these investments — along with countless others — are unpredictable; and, in some cases, they can post tremendous losses.
While investing regularly over the long run is still the best option for generating wealth, if you can jump in ahead of a big investing trend, you'll be that much better off.
Here are some signs that an investment trend may be picking up steam — along with some warning signs about when it might be time to get out.
Learn More: 7 Things Most Americans Don't Know About Investing
Related: How 2021 Changed Investing Forever
Evaluate the Macroeconomic Environment
At the end of the day, the macroeconomic environment is everything to the stock market as a whole, as well as to its individual components. When interest rates are rising from low levels, for example, industries such as banking and finance actually perform better, as they are able to lend money at higher rates.
Coming out of a recession, small-cap stocks often outperform large-cap stocks, as they are able to post faster growth rates than their larger brethren. Late in an economic cycle, stocks such as energy and utilities often outperform, as growth rates at economically sensitive companies begin to slow.
Understanding where the American economy is in terms of inflation, interest rates, economic expansion or contraction can help keep you ahead of the next investing trend. 
Also See: When Will Inflation End? (And What Can You Do in the Meantime?)
Listen to What the Fed Says
The age-old Wall Street mantra that "you can't fight the Fed" still holds true today. The Federal Reserve controls monetary policy in the U.S., and what the Fed says and does holds tremendous sway over how markets perform.
For much of the past decade, for example, the Fed has added immense amounts of liquidity to markets and has maintained record-low interest rates. It should be no surprise to learn that, as a result, the S&P 500 return over the past 10 years has been an incredible 13.95% annually, well above the long-term average of about 10.5%.  
While the Fed can create boom times in the market with its policy, it also can act as an albatross across its neck. In late 2021, for example, the Fed telegraphed that it would have to start tightening interest rates for the first time in years. Not surprisingly, the markets sold off in late 2021 and into 2022, with high-flying growth names taking the biggest hits. If you watch and listen to the Fed closely, you can anticipate how certain sectors of the market — and the market as a whole — may react. 
What's Next: How Much Will the Fed Raising Interest Rates Affect You?
Watch for Government Legislation
Just like the Fed can move markets, so too can legislation coming out of Capitol Hill. Laws that funnel money to certain industries can provide lifts to companies operating in those spaces, while laws that pose restrictions on others can slow their growth and hit their stock prices.
It pays to follow what legislation is under debate in Congress so you can be among the first to know what type of market-moving bills may be signed into law.
Beware of Speculative Trends
While getting ahead of major market trends can help create long-term wealth, many investors prefer instead to dabble in highly speculative trends in search of a quick buck. In 2020 and 2021, for example, meme stocks caught the attention of even the mainstream press — GameStop jumped 400% in a single week and AMC Entertainment popped nearly 1,200% in 2021.
But you have to be extremely nimble and lucky to not only earn gains in these types of bubble stocks but also to hold onto them. Investors who bought in at GameStop's peak, thinking that the buying would never end, for example, are now sitting on losses of as much as 70%.
If you're looking to get ahead of the next big investing trend, don't confuse speculation with analysis. While you can gamble your speculative money on high-flying names touted on online message boards, if you're looking to create serious wealth over the long term, do your homework on current market conditions, legislative trends, the position of the Fed and the specifics of individual companies.
More From GOBanking Rates